Can This Dividend Even Survive?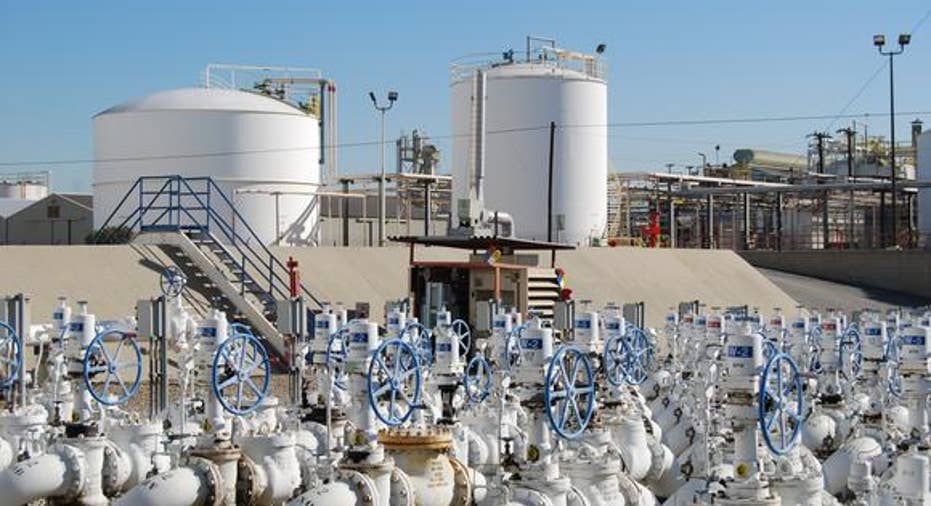 Image source: Kinder Morgan.
Dividends were once viewed as the one commitment that companies could not break with their investors. However, as the downturn in the energy sector has taught us, nothing is sacred anymore when survival is at issue. We've seen the once-unthinkable happen with dividend stalwarts like National Oilwell Varco , ConocoPhillips , and Kinder Morgan all choosing to ax their payouts to ensure they survive the downturn. With more of these once-sacred dividends being sacrificed, it is growing less likely thatEnergy Transfer Equity's prized payout stands a chance of surviving the downturn.
Another one bites the dustThis week, National Oilwell Varco became the latest of the energy sector's upper echelon to unexpectedly slash its dividend. After rapidly growing its payout over the past five years, it announced this week that it was reducing its dividend by a whopping 89%. According to CEO Clay Williams, the company "[...] believe[s] reducing the dividend is in the best interest of our company and our shareholders as we continue to work our way toward the bottom of this severe down cycle. Substantial decreases in 2016 E&P capital plans are driving activity levels to new record lows, resulting in significantly diminished demand for equipment and services."
It's a move being made despite the fact that the company remains financially strong, having cut over $500 million in debt over the first three months of the year. That said, with its revenue expected to fall another 20% in the first quarter, it felt the need to preserve as much cash flow as it could -- the dividend reduction saves it $615 million a year.
In cutting its payout, National Oilwell Varco continued the trend of once-solid dividends going down sharply. It's a trend that was largely started when Kinder Morgan, which was building the company around growing its dividend 10% per year, slashed that payout 75% last year, deciding to redirect its cash flow toward capex rather than shareholder distributions. It was a cut it needed to make in order to maintain its investment grade credit rating. Not that long after ConocoPhillips, which was likewise building the company around its dividend, cut its payout by more than 66%, even after repeatedly saying the dividend was safe and the top priority. As it turned out, staying alive amid a worsening downturn really was the top priority.
Image source: ConocoPhillips.
The next shoe to drop? That brings us to Energy Transfer Equity, which is likewise built around its prodigious investor payout. It's a payout that CEO Kelcy Warren is pretty adamant isn't going to be cut. On the company's most recent conference call, he said that "there's no contemplated distribution cuts at Energy Transfer, whatsoever. We've not looked at any scenario where that would be appropriate or necessary." He would go on to say that the company "take[s] our obligation to our unitholders very, very seriously. We have a duty to maintain our distributions."
Having said that, like its industry peers, it needs to survive first in order to be able to pay its investors in the future. As such, he did say that Energy Transfer does have the option to reassess the distribution to maintain its financial health, though that would be the last bucket that the company would reach into.
At issue, however, is the fact that its financial situation is deteriorating and poised to worsen if it completes its pending merger with Williams Companies . It's a merger transaction that would require the company to take on $6 billion of incremental debt in order to pay Williams Companies' investors the cash portion of the cash and stock deal. It's that debt, which would further leverage a company with credit that is already below investment grade, that's at issue because of the crumbling energy market and credit within the sector. The company might have no choice but to cut deeply into its payout to provide it with the cash flow it needs to pay down some of that debt in order to stay financially healthy.
Investor takeawayWith another big energy dividend being cut, it only increases the likelihood that Energy Transfer Equity will need to clip its payout. If it doesn't, it runs the risk of getting well over its head in debt at a time when debt is a big burden to the sector. Bottom line: Don't bet too heavily on this payout's survival, especially if the company's deal with Williams Companies goes through.
The article Can This Dividend Even Survive? originally appeared on Fool.com.
Matt DiLallo owns shares of ConocoPhillips, Kinder Morgan, and National Oilwell Varco andhas the following options: short Jan. 2018 $30 puts on Kinder Morgan and long Jan. 2018 $30 calls on Kinder Morgan. The Motley Fool owns shares of and recommends Kinder Morgan and National Oilwell Varco. The Motley Fool has the following options: short June 2016 $12 puts on Kinder Morgan. Try any of our Foolish newsletter services free for 30 days. We Fools may not all hold the same opinions, but we all believe that considering a diverse range of insights makes us better investors. The Motley Fool has a disclosure policy.
Copyright 1995 - 2016 The Motley Fool, LLC. All rights reserved. The Motley Fool has a disclosure policy.