Can T-Mobile Stock Keep Climbing in 2016?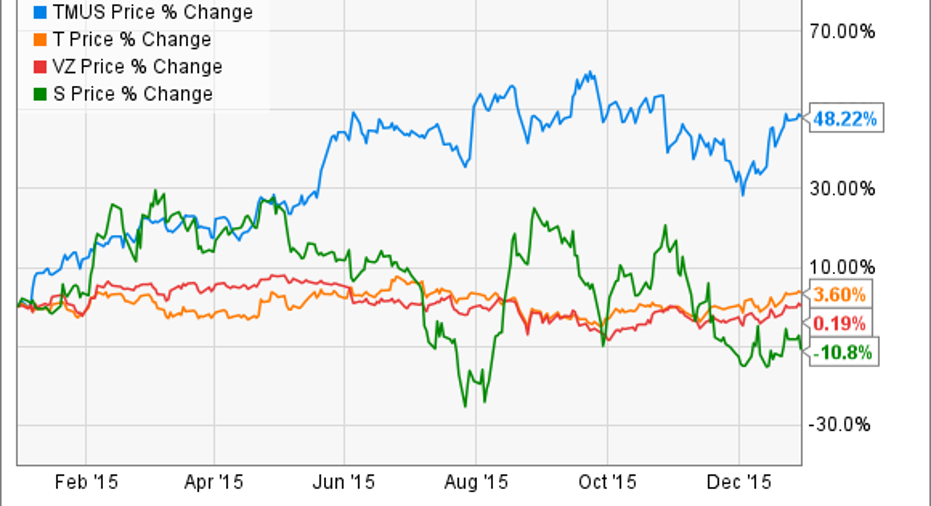 If it weren't for T-Mobile , U.S. wireless carrier stocks would have had a pretty uninteresting year. Instead, the group -- including AT&T , Verizon , andSprint (as well as T-Mobile) -- outperformed the S&P 500 index handily in 2015. While AT&T and Verizon shares remained mostly flat and Sprint stock fell 10%, T-Mobile has climbed 48% as of this writing.
After a stellar performance in 2015, where T-Mobile surpassed Sprint to become the nation's third-largest carrier, can T-Mobile stock keep up the pace in 2016?
Not fighting on price anymoreThe big shift in 2015 is that T-Mobile stopped competing on price alone. It passed that baton to Sprint, which has been promoting its "cut your bill in half" deal for customers that switch from another carrier, now including T-Mobile.
Instead, T-Mobile is steadily improving its LTE network and competing on value with promotions like Binge On, which lets customers stream content from popular streaming apps without it counting against their data caps.
LTE coverage has expanded rapidly over the last two years, moving from 200 million covered people in 2013, to more than 300 million in the company's most recent update. That puts it more in line with coverage from AT&T and Verizon. Additionally, T-Mobile is working to deploy the 700 MHz spectrum it acquired from Verizon in 2014, which will help with coverage indoors. The company covered 175 million people over 204 markets as of the end of the third quarter, with plans to cover more than 350 markets by the end of 2015.
Opening up new opportunitiesThe impact of that better coverage is twofold. First, it keeps existing customers from fleeing to the competition. Second, and more important for 2016, it opens up new markets in which T-Mobile can compete.
During the Morgan Stanley European Technology, Media & Telecom Conference, Chief Strategy Officer Peter Ewen noted, "We currently sell in about 230 million POPs, so that's our effective selling footprint." With the expanded coverage, T-Mobile is capable of marketing to tens of millions of more potential customers currently using AT&T or Verizon, and Ewen indicates that's the company's intention in 2016.
That's bad news for AT&T and Verizon, which have seen their postpaid phone subscriber growth struggle as T-Mobile lures customers away. Verizon added just 430,000 postpaid phone subscribers in the third quarter, down from 457,000 during the same period a year ago. AT&T, meanwhile, is losing more phone subscribers than it's adding, with a net loss of 545,000 in the third quarter compared to a net addition of 351,000 in the third quarter of 2014.
At the same time, T-Mobile continues to add loads of subscribers -- 843,000 postpaid phone customers, to be exact. T-Mobile has led the industry on that mark for seven straight quarters, and there's no sign that it will slow down in 2016.
What to look for in 2016T-Mobile looks poised to lead the industry once again in 2016. Look for its participation in the upcoming 600 MHz incentive auction to improve its low-band spectrum license holdings and further its chances of competing with AT&T and Verizon on cellular coverage instead of on price. That could help it attract more customers down the road and increase its pricing while reducing churn.
In the near term, the biggest impact on subscriber growth will likely be footprint expansion and continuing UnCarrier promotions. Both are certainly in the works, but pay attention to what CEO John Legere announces every few months to bring in more subscribers to T-Mobile.
The article Can T-Mobile Stock Keep Climbing in 2016? originally appeared on Fool.com.
Adam Levy has no position in any stocks mentioned. The Motley Fool recommends Verizon Communications. Try any of our Foolish newsletter services free for 30 days. We Fools may not all hold the same opinions, but we all believe that considering a diverse range of insights makes us better investors. The Motley Fool has a disclosure policy.
Copyright 1995 - 2016 The Motley Fool, LLC. All rights reserved. The Motley Fool has a disclosure policy.