Can T-Mobile "Offer" Its Way Around Net Neutrality Complaints?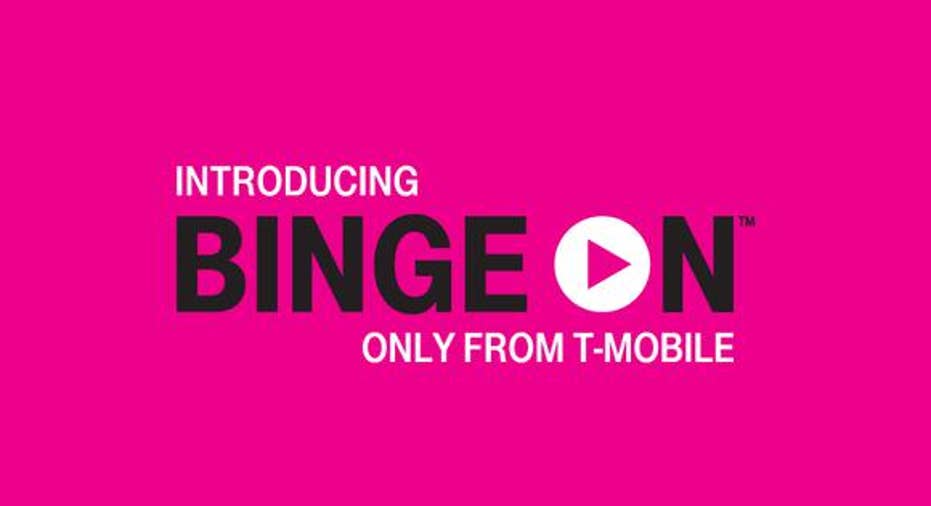 T-Mobile ruffled some feathers with its Binge On promotion. Source: T-Mobile.
At T-Mobile's latest Un-carrier event, CEO John Legere revealed that customers will be able to stream unlimited video from content providers such as Netflix, HBO, and Hulu with its new Binge On promotion. But Binge On doesn't include some services, most notably YouTube. This exclusion sparked a debate about whether promotions such as Binge On or T-Mobile's Music Freedom -- which allows unlimited music streaming from select services -- violate net neutrality.
Will this help address the issue? Kicking off the holiday season, T-Mobile is offering unlimited LTE data to its Simple Choice customers for the next three months. The move may help T-Mobile address the net neutrality allegations, convert more customers to higher-tiered data plans, and win more customers from Sprint , AT&T , and Verizon .
How much data do you really use?There's an interesting psychological aspect to T-Mobile's promotion. Before users have access to the unlimited LTE data pool, they have to go through their own Data Stash rollover data. Rollover data includes any unused data from monthly allotments going back 12 months. That restriction could put a psychological constraint on users who may want to keep their rollover data after the promotion. Yet T-Mobile can run this promotion, look good in front of the FCC, and still not increase the amount of data bandwidth it uses.
Meanwhile, customers who do go all out and take advantage of T-Mobile's promotion period will have an opportunity to find out exactly how much data they use. Last year, the average monthly data traffic overall per smartphone was just over 1 GB. That number is expected to rise to close to 5 GB by 2020. Those numbers are skewed lower by the impact of data caps.
Taking away data caps gives consumers the freedom to find out exactly how much data they need to get everything they want out of their smartphone plans. That situation could get some customers to decide to move up to a higher-tiered data plan.
More importantly, it could provide the necessary data for T-Mobile to decide that Music Freedom and Binge On can include any and all streaming services. T-Mobile currently says those promotions are open to every service, but it requires them to meet certain standards. T-Mobile could remove the barriers to entry if it finds users don't end up using that much more data when there's no cap. That would certainly appease those claiming that Binge On and Music Freedom violate net neutrality.
Winning customersT-Mobile has been using promotions such as Binge On and Music Freedom to win customers from AT&T, Verizon, and Sprint. Last quarter, T-Mobile added 1.1 million postpaid phone subscribers -- the most valuable subscribers for wireless companies. Comparatively, AT&T lost 459,000, Sprint added 239,000, and Verizon added just 430,000.
If the FCC rules against T-Mobile's exempted data offers, it could reduce the company's ability to attract new phone customers. That's distressing to investors, because T-Mobile's average revenue per subscriber declined over the past year in inverse correlation with its extensive list of promotions.
As a result, it's relying on scale to drive profits, and that means drawing customers away from Sprint, AT&T, and Verizon -- which its promotions have been shown to do. The decline in average revenue per subscriber resulted in missing analysts' expectations for both revenue and profits.
Ensuring that the FCC finds nothing wrong with its Binge On and Music Freedom promotions could have a big impact on T-Mobile's financial future. This unlimited-data promotion may give the wireless carrier what it needs to ensure that it can handle any requests necessary while dodging allegations.
The article Can T-Mobile "Offer" Its Way Around Net Neutrality Complaints? originally appeared on Fool.com.
Adam Levy has no position in any stocks mentioned. The Motley Fool owns shares of and recommends Netflix. The Motley Fool recommends Verizon Communications. Try any of our Foolish newsletter services free for 30 days. We Fools may not all hold the same opinions, but we all believe that considering a diverse range of insights makes us better investors. The Motley Fool has a disclosure policy.
Copyright 1995 - 2015 The Motley Fool, LLC. All rights reserved. The Motley Fool has a disclosure policy.