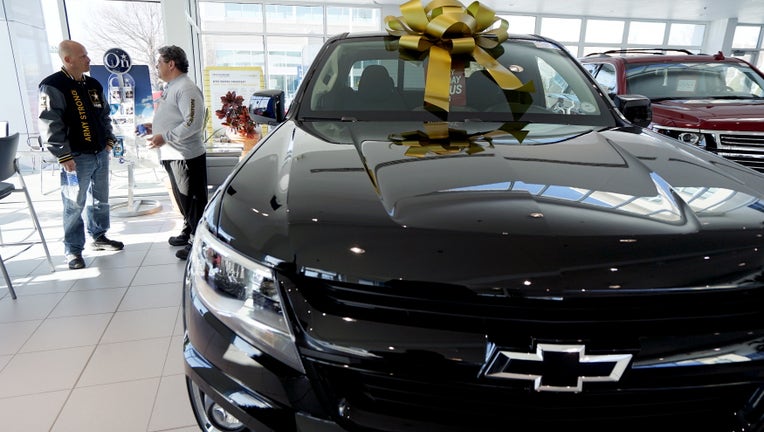 The U.S. auto industry may continue to roll along at a healthy clip in 2017 thanks to a rising stock market, consumer optimism and bigger paychecks, analysts and industry executives say.
Even though automakers have posted all-time highs in each of the past two years, Americans continue to show a strong appetite for new sport-utility vehicles and pickup trucks. IHS Markit is looking for total light-vehicle sales of 17.4 million units this year, a projected decline of less than 1% compared to a record 17.55 million vehicles sold in 2016. Forecasts have cited the shrinking popularity of sedans and rising interest rates.
Stephanie Brinley, a senior automotive analyst at IHS Markit, said higher rates may offset the positive impact that wage growth would have on consumer demand. However, brighter economic trends will help the industry maintain healthy sales volumes.
"We don't expect sales to be higher than 2016, but that doesn't mean we're heading into a weak market. We're talking about supporting a strong market," Brinley explained. "We do expect economics to support current levels."
David Einhorn, the founder of hedge fund Greenlight Capital (NASDAQ:GLRE), cited the economy as a reason to bet on the auto industry. The billionaire investor added to his stake in General Motors (NYSE:GM) in the latest quarter.
"We think the current cycle could go further, especially if employment strengthens and translates into higher wages," Einhorn said during an earnings call last week.
Average hourly earnings for U.S. workers grew 2.5% year-over-year in January. In December, wages jumped 2.9% from a year earlier, the best growth rate since 2009.
Meanwhile, consumer confidence in the U.S. economy is at its highest level in 15 years, the Conference Board said Tuesday in its monthly report. Optimism in February was driven by the labor market. The percentage of Americans who say jobs are "hard to get" dropped to 20.3% last month, an eight-year low.
General Motors (NYSE:GM) noted that "strong small business deliveries are a clear sign of growing confidence in the economy," U.S. vice president of sales operations Kurt McNeil said in a statement.
Also, growing household wealth—the stock market climbed to record highs Wednesday—is allowing more consumers to spend on big-ticket items.
Even during a period of higher incentive spending, final purchase prices ticked higher in February. Average transaction prices (ATP) came in at $33,307 last month, a 1.9% increase, as more expensive pickup trucks and SUVs account for a majority of U.S. sales. IHS Markit is estimating that light trucks will have a 63% share of the market this year.
Incentive spending climbed $409 to $3,443 per vehicle, based on data from ALG, TrueCar's (NASDAQ:TRUE) research division. Manufacturers typically inflate discounts to stoke demand and reduce inventories on dealer lots.
Presidents Day deals and strong demand for trucks like Ford's F-150 (NYSE:F) and the Chevrolet Silverado buoyed sales in February. Car sales continued to be a drag.
GM said its monthly sales grew 4% from February 2016. Ford's sales dropped 4%, thanks to a 24% decline in car deliveries. Fiat Chrysler Automobiles (NYSE:FCAU) sold 10% fewer vehicles during the month.