Can SodaStream Keep Going After Last Week's 24% Pop?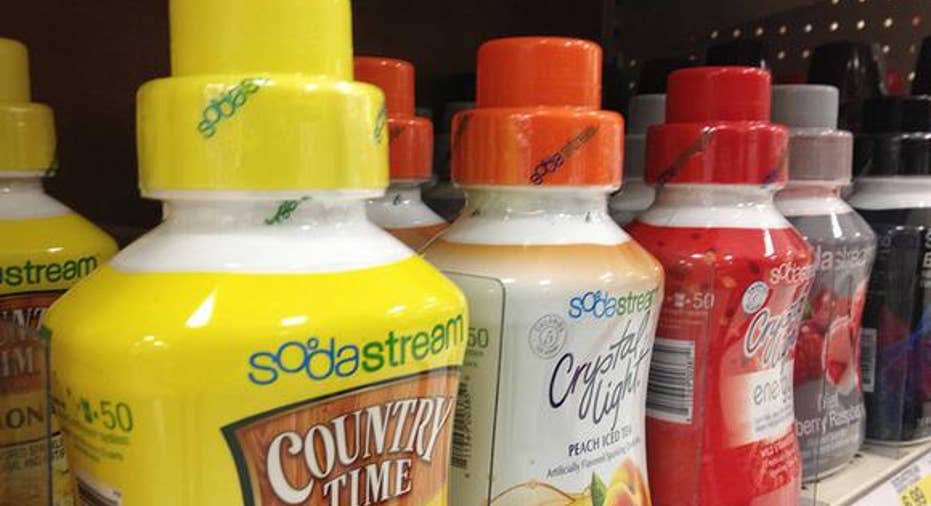 One of last week's biggest winners was SodaStream -- yes, SodaStream -- soaring 24% after surprising investors with a much earlier resumption of growth than the market was expecting.
SodaStream's revenue clawed back into nine figures during the first quarter, rising 10% to $100.9 million. Wall Street pros were holding out for a 3% decline. It was a welcome return to growth after posting five consecutive quarters of year-over-year declines on the top line before that.
SodaStream's gross margin improved sequentially, and it sees gross margin staying north of 50% for the balance of the year. Its profit of $0.29 a share was nearly three times the $0.11 a share that analysts were targeting.
It had been a long way down for the company with its maker of carbonated beverages until last week's redemptive bounce. SodaStream stock traded as high as $77.80 three summers ago, as a business publication in SodaStream's home turf of Israel reported that PepsiCo was in talks to acquire SodaStream. It never happened. PepsiCo and SodaStream may have had meetings, but the only real development was a partnership where PepsiCo would put out select flavors of its beverages for SodaStream machines.
Unfortunately for SodaStream and PepsiCo, the rollout of Pepsi Homemade syrups came just as SodaStream starter systems and flavors were in a state of decline. Soda consumption in general has been waning, a trend that ultimately found SodaStream repositioning its machine as a maker of sparkling water.
The distinction may seem petty. SodaStream still keeps "soda" in its corporate and flagship product's name. However, it is fizzing up a lot of water that isn't being sweetened these days. SodaStream claims that 86% of the 375 million liters of its product that was consumed during the first three months of the year was non-flavored sparkling water. That's a robust 21% year-over-year spike in consumption. That's bad news for PepsiCo and SodaStream's high-margin flavors business, but it will obviously help propel sales of CO2 refills and starter systems higher.
More than syrup
Despite the shift away from pop in favor of seltzer, SodaStream's flavors did post its first year-over-year increase during the quarter in more than a year. Beverage maker sales also moved higher after a few quarters of going the wrong way. It was also SodaStream's first quarter of top-line growth in the Americas in more than a year, though it was a case of strength in Canada offsetting yet another period of decline in the U.S. market.
A lot of good things are happening, and SodaStream now expects to grow its revenue for all of 2016. It had previously been targeting flat growth. With cost savings continuing to shine, growth in the mid-teens in Western Europe, and the executive responsible for the turnaround in Canada now working on the U.S. recovery, SodaStream may be a sparkling water company these days but there's still a lot of ways for things to sweeten up for the stock in 2016.
The article Can SodaStream Keep Going After Last Week's 24% Pop? originally appeared on Fool.com.
Rick Munarriz owns shares of SodaStream. The Motley Fool owns shares of and recommends PepsiCo. The Motley Fool owns shares of SodaStream. Try any of our Foolish newsletter services free for 30 days. We Fools may not all hold the same opinions, but we all believe that considering a diverse range of insights makes us better investors. The Motley Fool has a disclosure policy.
Copyright 1995 - 2016 The Motley Fool, LLC. All rights reserved. The Motley Fool has a disclosure policy.