Can Smart Gun Technology Ever Find a Market? This Gunmaker Thinks So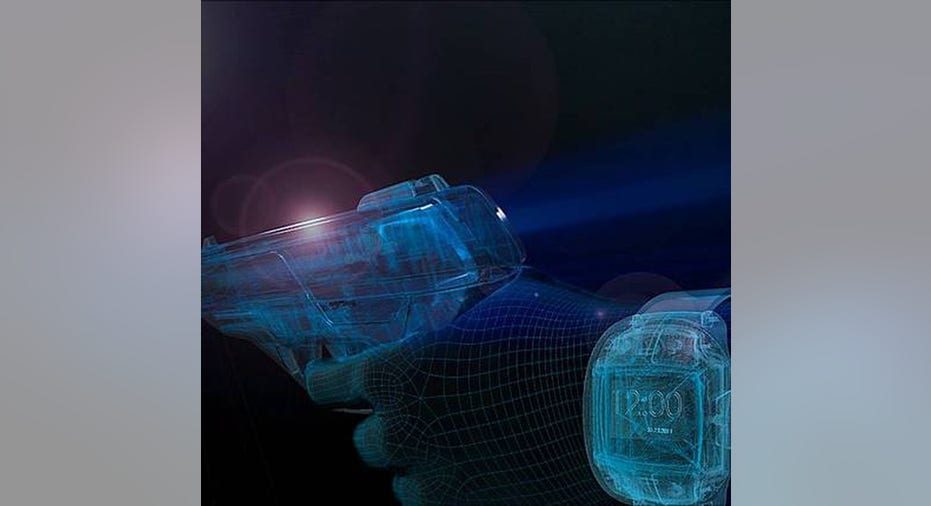 Although the concept behind smart gun technology is sound, the feeling among the majority of gun owners for its adoption seems to run along the lines of "no way, no how." While there are many good reasons for the hesitation to embrace it, one ofthe biggest limitations to their adoption has been a lack of firepower.
A firearms manufacturer has finally overcome that hurdle, and it believes that if it can get its nose under the tent, we'll see smart guns become commonplace. That's still a tall order considering the depth of resistance to the technology, and it faces more hurdles created by those who think they're helping.
Image source: Armatix.
Too smart by half
Smart guns are manufactured with several types of limiting designs built into them, whether it's RFID chips that connect wirelessly with a watch or wristband to activate them, PIN codes that need to be punched in before a gun can be fired, or some other personalized locking mechanism.
For example, when President Obama signed his executive orders on firearms last year, he touted the potential for biometric recognition by saying, "if you can't unlock your phone unless you've got the right fingerprint, why can't we do the same thing for our guns?"
But there are lots of problems with smart gun technology, regardless of whether it's typing in a PIN code or an advanced "iPhone of guns" solution. While the biggest concern may be the technology failing just when it's needed most, such as a watch battery going dead, a circuit shorting out, or the device getting hacked, it's also possible the gun and its enabling device will simply be stolen together.
Also, because some smart guns can still be fired by someone not authorized to use the weapon if it's in the vicinity of the limiting device -- if a gun is taken from a homeowner, for example, it could still be fired if the weapon is near the activating watch or wristband -- they'renot as foolproof as some people might think.
Image source: Armatix.
Lack of firepower
Another problem is they haven't been particularly powerful weapons, either. The smart gun that gained the most notoriety in recent years, the Armatix iP1, was a .22 LR pistol that lacks the kind of stopping power people look for in a personal defense firearm.
It also meant virtually no police department would ever adopt them as a duty weapon. While police unions generally object to officers being used as test subjects on unproven technology, Obama's executive orders tasked the Departments of Justice, Homeland Security, and Defense to compile a report on how to effectively jump-start smart gun usage, and the solution was to use the power of the purse. They recommended product improvements that would meet the rigorous needs of protecting both officers and the communities they serve.
Perhaps sensing an opening, Armatix has now developed a more powerful 9mm version of its smart gun, the iP9, that incorporates several enabling technologies, including wristbands, PIN codes, anda smartphone app.
According to gun control advocacy site The Trace, Armatix's CEO told it, "The 9mm is the most popular caliber of handgun in the world. Now that we have this new model, we can get smart guns out to the world."
Still a hard sell
Possibly, but it's still not going to be an easy sell, regardless of the firepower it packs. Although some police departments may try them, at $1,365 each, they're about twice as expensive as other 9mm guns on the market, and individual gun buyers will be even harderto convince.
That's because of laws like the one in New Jersey that would come into effect as soon as smart guns are available in the U.S. It would begin a 30 month countdown that would ban traditional firearms sales. Massachusetts is considering a law that would ban them six months after smart guns were commercially available.
Image source: Armatix.
When the Armatix iP1 was heading for market, two gun stores that said they would carry them faced a ferocious backlash from some gun owners that nearly cost them their businesses because of the fear that it would trigger New Jersey's law. Since it is believed by some that the smart gun would crowd out traditional firearms, there are a number of gun owners who refused to support it, or those who sold them, and the New Jersey attorney general was forced to perform some linguistic gymnastics to declare the iP1 was not a firearm that would trigger the law.
None of the 5,000, $1,300 smart guns Armatix made were ever sold.It should be noted that Armatix doesn't support laws like New Jersey's because it feels politics cloud the technology. "We are not here to replace [conventional guns]," its CEO told Computerworld. "If people would take that approach, there would be far fewer political issues."
Resistance is not futile
Over the years, other gunmakers have also faced blowback from the gun community for pursuing smart gun technology. Colt's CEO essentially lost his job after the storied gunmaker started developing its chip-embedded Z40 model, a project that was eventually killed after the outpouring of opposition to it. And American Outdoor Brands' (NASDAQ: AOBC) Smith & Wesson suffered a boycott at the hands of the National Rifle Association after it embraced President Bill Clinton's call for smart guns.
So long as laws are on the books that mandate smart gun technology be implemented, it makes it more difficult for them to be embraced by the gun-buying public, and puts gun stores that offer to sell such weapons at risk.
There's nothing inherently wrong with smart gun technology existing in the marketplace and competing alongside traditional firearms. If people are willing to place their trust in technology during a critical time when it's needed, that should be their right. However, in their attempts to create a market for smart gun technology, politicians have actually killed it.
Armatix and other gunmakers are also free to pursue such technological advancements, but in today's market, it seems foolhardy to do so, and in the current environment, it does not look like there will be a market for smart gun technology in the near future.
10 stocks we like better than American Outdoor Brands CorporationWhen investing geniuses David and Tom Gardner have a stock tip, it can pay to listen. After all, the newsletter they have run for over a decade, Motley Fool Stock Advisor, has tripled the market.*
David and Tom just revealed what they believe are the 10 best stocks for investors to buy right now...and American Outdoor Brands Corporation wasn't one of them! That's right -- they think these 10 stocks are even better buys.
Click here to learn about these picks!
*Stock Advisor returns as of February 6, 2017.
Rich Duprey has no position in any stocks mentioned. The Motley Fool has no position in any of the stocks mentioned. The Motley Fool has a disclosure policy.