Can Ruby Tuesday Bounce Back From Last Week's 15% Drop?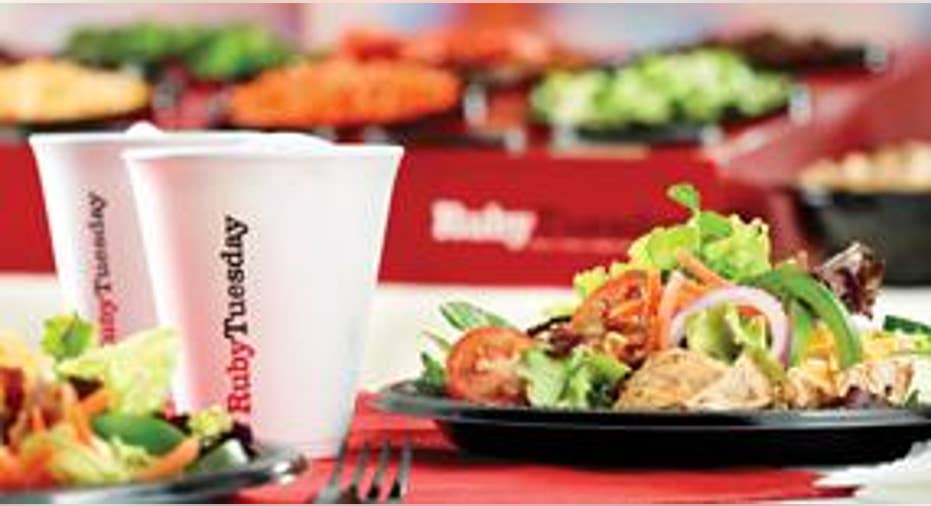 Source: Ruby Tuesday.
One of the casual dining market's meandering players was one of last week's biggest losers. Shares ofRuby Tuesday declined 15% last week after announcing poorly received financial results and the resignation of its CFO.
Jill Golder stepping down as the chain's top bean counter stings. She lasted less than two years, and it's always going to be problematic when a CFO leaves for greener pastures. However, the real sticking point here is Ruby Tuesday's quarterly results.
Revenue clocked in at $271.5 million for its fiscal third quarter, 5% below where it was a year earlier. Restaurant closings and another period of negative comps weighed on Ruby Tuesday's performance. It shuttered more than half of its company-owned Lime Fresh eateries, putting a dent in investor plans of approaching the stock as a play on fast casual. It also closed out the period with nine fewer Ruby Tuesday locations than it did a year earlier.
Comparable-restaurant sales took a 3.1% hit. Temporary store closures as a result of severe winter storms played a factor in weaker sales at the individual eatery level, but even without the limited closures comps would've still checked in with a decline of 1.7%.
It's hard to find a silver lining. Margins contracted, and there were year-over-year dips in adjusted net income and EBITDA. Ruby Tuesday's adjusted profit of $0.03 a share fell shy of the $0.05 a share that analysts were forecasting. This isn't a new development. Ruby Tuesday has fallen short of Wall Street's profit targets in three of the past four quarters.
Even the one thing that Ruby Tuesday seems to be doing right -- earmarking some of its money for share buybacks -- it's actually doing wrong. It spent $10 million during the quarter to repurchase 1.9 million shares, but the stock is trading for 13% less than its buyback price. In other words, it overpaid for the Ruby Tuesday stock it gobbled down.
The chain has a problem. Folks may be spending more since the average check has risen 2.8% over the past year, but that's more than offset by a 5.9% slide in guest counts. Ruby Tuesday is hoping that a revamped Garden Bar and refreshed decor will help, but the numbers tell a different story.
This seems to be the never-ending story at Ruby Tuesday. Every few years it goes in for a redo, and any improvement proves to be short-lived. We've gone from imitation Tiffany lamps and bric-a-brac decor to leather banquettes and dark wood, and now it's tweaking with a new remodel. The only constant is that Ruby Tuesday continues to shrink. This will be the fifth consecutive time in which it closes out a fiscal year with fewer restaurants than it had when the period started.
It's not a surprise that Ruby Tuesday also revised its guidance lower following Thursday's weak report. It now sees negative comps and a much smaller profit than it was originally forecasting. With its presence and growth prospects shrinking, it's getting a lot harder to feel that Ruby Tuesday stock will ever claw its way out of the single digits again.
The article Can Ruby Tuesday Bounce Back From Last Week's 15% Drop? originally appeared on Fool.com.
Rick Munarriz has no position in any stocks mentioned. The Motley Fool has no position in any of the stocks mentioned. Try any of our Foolish newsletter services free for 30 days. We Fools may not all hold the same opinions, but we all believe that considering a diverse range of insights makes us better investors. The Motley Fool has a disclosure policy.
Copyright 1995 - 2016 The Motley Fool, LLC. All rights reserved. The Motley Fool has a disclosure policy.