Can RPX Earnings Bounce Back?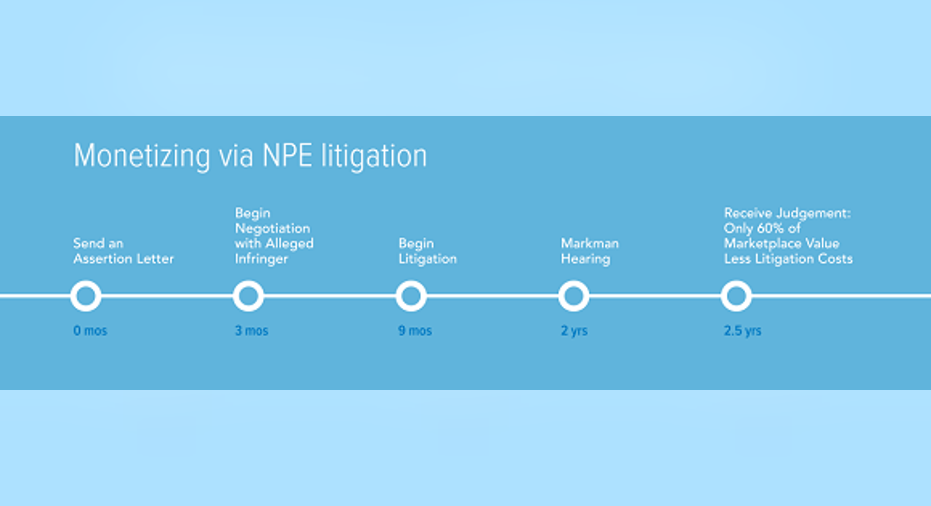 Image source: RPX.
Providing protection from litigation is a key element of risk management for technology companies looking to fend off patent trolls, and RPX has made a name for itself with its unusual business model to defend its clients from potential intellectual property lawsuits. Yet despite the company's innovative approach, RPX's stock hasn't made the strides that investors had hoped to see, and coming into its May 3 first-quarter financial report, RPX investors want to avoid a repeat of the disastrous quarterly results that the company posted earlier this year. Let's take an early look at how RPX has fared recently and what investors should look to see in its quarterly report.
Stats on RPX
| | |
| --- | --- |
| Analyst EPS Estimate | $0.13 |
| Change From Year-Ago EPS | (66%) |
| Revenue Estimate | $78.97 million |
| Change From Year-Ago Revenue | (5.2%) |
| Earnings Beats in Past 4 Quarters | 4 |
Data source: Yahoo! Finance.
Can RPX earnings avoid a big decline? In recent months, investors have gotten much more negative on RPX's near-term earnings outlook. They've sliced more than a third from their first-quarter projections on the company, and they've reduced their full-year estimates by a dime per share. The stock has gone on a roller-coaster ride, rising 6% since mid-January after having recovered from a one-day plunge of nearly 20%.
The cause of that one-day disruption was RPX's fourth-quarter earnings report, at which the company shocked investors with downbeat guidance for the full 2016 year. Revenue for the fourth quarter of 2015 rose an encouraging 7.5%, but a 7% decline in adjusted net income foreshadowed some of the earnings pressure on RPX despite exceeding much gloomier expectations among investors. Client counts continued to rise, but RPX said that it doesn't expect its growing business to be as profitable as investors were counting on seeing. Shareholders didn't hesitate to sell first and ask questions later, leading to the big share-price drop.
Since then, though, investors seem to have had a change of heart. CEO John Amster was quite clear that RPX's focus for the year will center on building out its patent clearinghouse, establishing itself as a growing player in the discovery services business, and working to expand its coverage of the legal market in search of new opportunities. That will likely require further investments in research and development that will eat into short-term earnings, but the longer-term benefits could easily outweigh the pain that investors will see in 2016.
Moreover, RPX has seized opportunities to raise debt financing to invest in its own business and to provide return of capital to shareholders. In March, the company obtained a $150 million credit facility, including a $100 million term loan and a $50 million revolving credit line. RPX said it would use the capital for a wide array of purposes, including possible expansion and syndicated acquisitions. It also boosted its stock buyback authorization by $25 million. Terms of the five-year facility include a floating rate of LIBOR plus 2.5 percentage points, which is a fairly narrow spread for such a small borrower.
Yet RPX also faces an activist investor threat. In March, shareholder Mangrove Partners issued an open letter to the RPX board, choosing to "express our great displeasure with numerous important aspects of the performance of RPX" recently. Poor capital allocation, high employee compensation, wasteful growth projects, and stagnant core growth were among the allegations that Mangrove made, and the firm also said that failing to return more capital to shareholders and poor corporate governance demand changes. As a result, Mangrove has nominated three directors for election to the board, and a proxy battle could ensue if RPX can't find a way to meet the demands.
In the RPX earnings report, investors will want to look closely at how the company's initial calls for an earnings contraction end up playing out. If earnings are temporarily depressed for reasons that will foster long-term business growth, then that shouldn't be a major concern. If the company seems to be moving in the wrong direction, however, then RPX shareholders could see continued pressure on the stock price into the future.
The article Can RPX Earnings Bounce Back? originally appeared on Fool.com.
Dan Caplinger has no position in any stocks mentioned. The Motley Fool recommends RPX. Try any of our Foolish newsletter services free for 30 days. We Fools may not all hold the same opinions, but we all believe that considering a diverse range of insights makes us better investors. The Motley Fool has a disclosure policy.
Copyright 1995 - 2016 The Motley Fool, LLC. All rights reserved. The Motley Fool has a disclosure policy.