Can Philip Morris International Protect You From the Next Bear Market?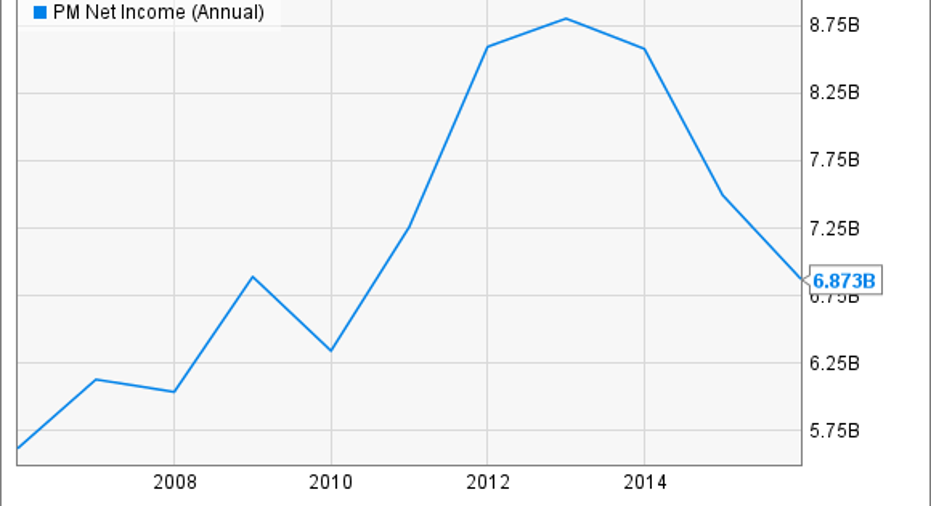 Image source: Philip Morris International.
International tobacco giant Philip Morris International has endured more than its fair share of difficulties during the past couple of years. The U.S. dollar's strength against most major foreign currencies has hurt the company's ability to generate dollar-based profit growth, and the increasing tide of regulation within many of its most-important markets poses a longer-term threat to its ability to sustain revenue.
Yet as global markets reel from the U.K.'s decision to leave the European Union, many believe that a bear market in stocks could finally be upon us, and they wonder if Philip Morris International is the defensive stock that could get them through tough times intact. Let's look at Philip Morris, and how it has managed during tough times in the past during its short history as an independent company.
How Philip Morris International did during the last bear market
The same arguments that support claims of U.S. tobacco companies being bear-market proof often get applied to Philip Morris International, as well. Demand for tobacco products tends to be relatively inelastic in relation to economic conditions, and tobacco likely falls somewhere between a necessity and a true discretionary-luxury good in most consumers' eyes.
One key thing to remember, however, is that Philip Morris does business around the world. That gives it exposure not just to the globe's largest economic powers that felt the brunt of the economy's near collapse in 2008 and early 2009, but also to emerging-market countries that are less prosperous.
On one hand, some of those countries didn't see the same economic impact as the U.S. and other developed nations. Yet lower standards of living make even small reductions in discretionary income more critical for smokers in making decisions about tobacco consumption.
Because of those competing factors, you can see that Philip Morris International didn't manage to avoid the full hit from the financial crisis.
PM Total Return Price data by YCharts.
It's important to put these losses in context. By early 2009, Philip Morris International had indeed fallen by more than 30% from where it started trading as a public company in 2008. Broad benchmarks of international stocks posted even more-severe losses, falling by half or more. By that measure, Philip Morris did relatively well, even if it didn't meet the ideal definition of a defensive stock in avoiding losses entirely.
The way Philip Morris International held up its top line
Even though Philip Morris stock didn't behave perfectly during the financial crisis, its gains since have been strong. The primary reason is that the international tobacco giant's business held up well during and after the crisis. As you can see below, revenue grew throughout the period, and recent declines have been due to currency-related pressures rather than fundamental business performance.
PM Revenue (Annual) data by YCharts.
Philip Morris' bottom line tells the same story. Profits took a mild hit in 2008, but jumped back upward in 2009. A boom in the early 2010s produced impressive growth, and only the strong dollar has been enough to hit the company's profits since then.
PM Net Income (Annual) data by YCharts.
Dividends could help Philip Morris International in the next bear market
The other key for Philip Morris International is its dividend policy. The company did an extremely good job of boosting its payouts during and immediately after the financial crisis, rewarding shareholders who stayed the course with the tobacco company.
PM Dividend data by YCharts.
Again, the strong dollar has been the culprit in the slowdown in Philip Morris' dividend growth in recent years. Once the foreign-exchange markets calm down, it's likely that the cigarette maker's local-currency growth will show up in the company's dollar-based figures, as well.
Philip Morris isn't a perfect stock to survive a bear market, but it has done a good job of holding its own in the past. As defensive plays go, Philip Morris is worth considering for investors who are comfortable with the risk that its international exposure brings to the table.
The article Can Philip Morris International Protect You From the Next Bear Market? originally appeared on Fool.com.
Dan Caplinger has no position in any stocks mentioned. The Motley Fool has no position in any of the stocks mentioned. Try any of our Foolish newsletter services free for 30 days. We Fools may not all hold the same opinions, but we all believe that considering a diverse range of insights makes us better investors. The Motley Fool has a disclosure policy.
Copyright 1995 - 2016 The Motley Fool, LLC. All rights reserved. The Motley Fool has a disclosure policy.