Can Netflix Rein in Skyrocketing Costs?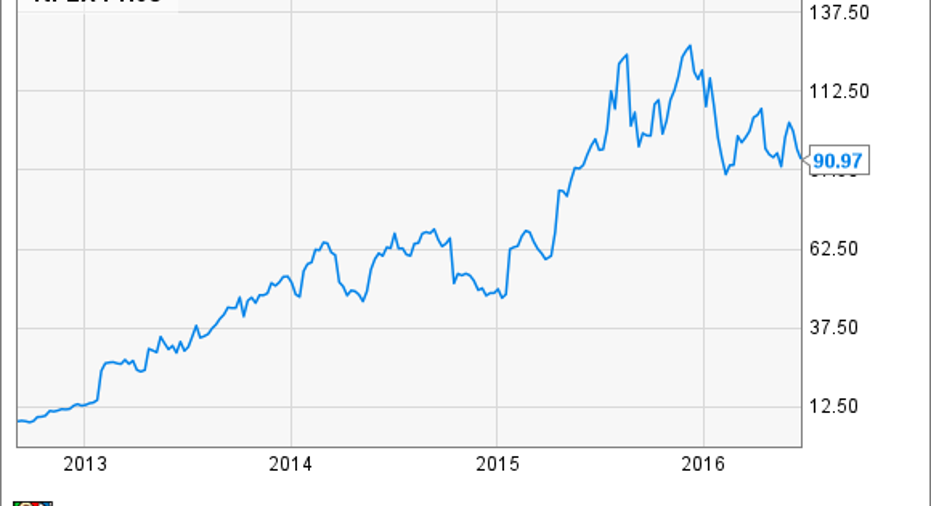 Netflix shares have performed phenomenally in the last few years, surging more than tenfold since bottoming out in late 2012. Yet Netflix stock has fallen considerably in 2016, as domestic growth has started to slow and international growth hasn't been quite as fast as some bulls had hoped.
Netflix Stock Performance, data by YCharts
It is virtually inevitable that growth will gradually slow in the coming years as Netflix starts to saturate its most successful markets. As that happens, it will become critical for Netflix to generate strong earnings and cash flow to justify its high valuation. To do that, it will need to do a better job of controlling costs than it has managed thus far.
Content costs get most of the attention
When people discuss cost inflation at Netflix, they mainly focus on content costs. Indeed, Netflix plans to spend about $5 billion on content this year -- and $6 billion when measured on a cash basis. Content costs appear to be rising at an annual rate of about 30% -- slightly faster than Netflix's revenue growth rate.
However, a significant portion of this content cost growth relates to Netflix's rapid expansion into new international markets. In the U.S., Netflix has consistently grown revenue faster than content costs in recent years. This has allowed it to expand its domestic contribution margin from 14.3% in the first quarter of 2013 to 35.5% last quarter.
Netflix's investments in original content have also put upward pressure on its content costs. But in the long run, Netflix's focus on originals should actually help it control its content costs. Whereas third-party content owners can demand more money as Netflix grows, it costs the same amount to film an original series regardless of whether Netflix has 50 million or 150 million subscribers.
Netflix has been spending a lot of money on original content lately. Image source: The Motley Fool.
As Netflix builds out its stable of original content and as its new international markets mature, content cost growth should start to slow relative to revenue growth. That will allow Netflix to start growing its earnings.
Can Netflix control its overhead costs?
Overhead costs get less attention from analysts. In the past two years, Netflix has accelerated its spending on technology and development in order to support international growth and improvements to its streaming platform. General and administrative expenses have also skyrocketed due to Netflix's original content push and its international growth.
In total, technology and development spending soared 72% between 2013 and 2015, while general and administrative expenses more than doubled. Together, these two line items rose from 13% of Netflix's revenue in 2013 to 16% of revenue in 2015.
Both of these expense items have continued to soar in 2016. In Q1, technology and development costs jumped 42% year over year while general and administrative expenses rose 39%. That far outstripped Netflix's revenue growth of 24%.
Clearly, some of Netflix's overhead cost growth can be traced directly to the increasing pace of its international expansion. Now that Netflix is available in almost every country, this source of cost inflation should be more moderate.
Still, it's somewhat concerning that Netflix hasn't been able to control these costs better. Overhead expenses are typically a key source of operating leverage for growth companies: It's usually possible to keep these cost items growing slower than revenue. Even taking Netflix's international growth into account, the 143% increase in overhead costs between Q1 2013 and Q1 2016 calls the company's financial discipline into question.
Looking for a slowdown in overhead cost creep
To generate the massive earnings growth that it needs to justify its sky-high valuation, Netflix will need to leverage content costs and overhead costs over the next decade.
For the time being, content costs are likely to continue rising at a rapid pace as Netflix invests in more original content as well as localized content for some of its new markets. On the other hand, with Netflix now available in nearly every market across the globe, the company no longer has an excuse for 30%-40% year-over-year increases in overhead costs.
Over the next several quarters, I will be closely monitoring Netflix's overhead costs. Getting these costs under control would be a clear sign that Netflix is successfully transitioning toward a focus on earnings growth rather than just spending freely to maximize subscriber growth.
The article Can Netflix Rein in Skyrocketing Costs? originally appeared on Fool.com.
Adam Levine-Weinberg has no position in any stocks mentioned. The Motley Fool owns shares of and recommends Netflix. Try any of our Foolish newsletter services free for 30 days. We Fools may not all hold the same opinions, but we all believe that considering a diverse range of insights makes us better investors. The Motley Fool has a disclosure policy.
Copyright 1995 - 2016 The Motley Fool, LLC. All rights reserved. The Motley Fool has a disclosure policy.