Can Monster Beverage Earnings Get Their Energy Back?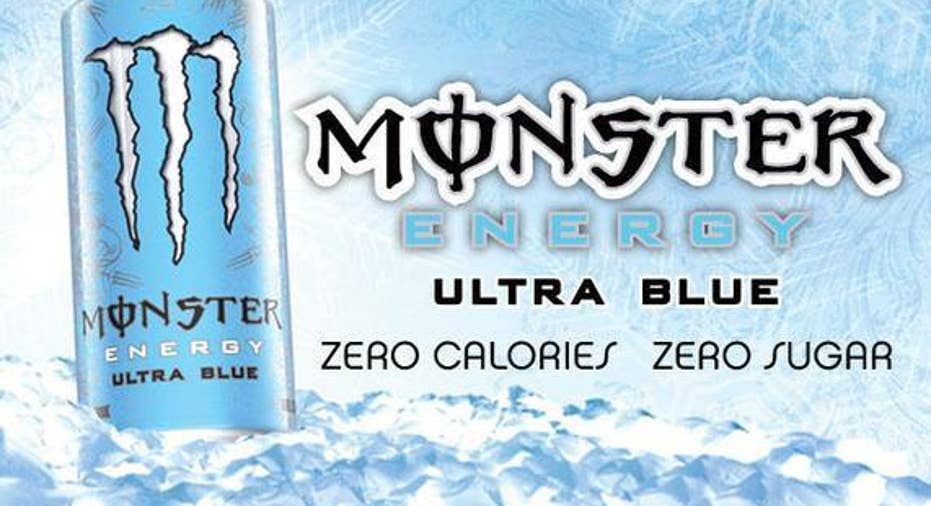 Image: Monster Beverage.
The beverage industry has changed considerably in the past decade, and Monster Beverage has played a big role in those changes. Having started from modest beginnings as the maker of Hansen Natural soda products, Monster has become one of the leading energy-drink makers in the world, attracting the interest of soft-drink giant Coca-Cola as a partner. Yet coming into its first-quarter financial report on Friday, Monster Beverage investors are nervous that disappointing results from the fourth quarter of 2015 might persist into 2016, and the stock has been under pressure all year. Let's take an early look at what's been going on with Monster Beverage and whether investors will be happy with what it says in its report.
Stats on Monster Beverage
| | |
| --- | --- |
| Analyst EPS Estimate | $0.74 |
| Change From Year-Ago EPS | 19.4% |
| Revenue Estimate | $659.51 million |
| Change From Year-Ago Revenue | 12.3% |
| Earnings Beats in Past 4 Quarters | 1 |
Source: Yahoo! Finance.
Can Monster Beverage earnings bounce back?In recent months, investors have cut their views on Monster Beverage earnings, reducing their first-quarter projections by a nickel per share and their full-year 2016 estimates by almost double that amount. The stock has done poorly, falling 12% since late January.
Monster's fourth-quarter results played a role in holding the stock back during the quarter. Revenue growth was extremely slow, coming in at less than 7% despite a long history of double-digit growth. Net income rose 11%, but an increase in shares outstanding made earnings per share actually decline from 2014's fourth quarter. Foreign-currency weakness and the one-time impact of a pricing increase were partially responsible for the poor financial performance, and Monster also said that integrating its partnership with Coca-Cola created some disruptions as well. Yet drops in average sales price offset gains in volume, and Monster investors seemed uncertain whether the future would bring a bounce or further deterioration in the company's fundamentals.
But another aspect of Monster's performance has come from mixed reviews from those following the stock. During the quarter, analysts at Merrill Lynch started covering the energy-drink giant, setting a price target that implied further share-price appreciation but rating the company neutral because of its fairly rich earnings multiple. Still, peers at Goldman Sachs put Monster Beverage on its conviction buy list, citing potential growth in the U.S. and international markets as well as potential upcoming products in the energy-water and sports-drink space.
An essential component of ensuring Monster's future success will be locking in strong relationships with bottling companies, and Monster is optimistic about how that process has been going. In last quarter's conference call, CEO Rodney Sacks reported good progress toward implementing agreements with Coca-Cola bottlers worldwide, pointing specifically to Russia, Turkey, Australia, and several countries in Europe and Southeast Asia as having already been completed. Further progress on key relationships in South America, Africa, and China was also good news, and although it may take longer than many had thought, investors should look for further news on the bottling front to see where Monster stands currently.
In the Monster Beverage report, investors should look at the beverage company's overall numbers, but also take a look for early signs of success from Monster's recent acquisition of American Fruits & Flavors. Monster is counting on the buyout to produce some additional earnings in 2016, and the clarification of the long relationship between the two companies could create some new opportunities that would be exciting for investors. If Monster demonstrates a newfound spirit of innovation and purpose, then its shares could easily earn back the ground they've lost and start marching higher again.
The article Can Monster Beverage Earnings Get Their Energy Back? originally appeared on Fool.com.
Dan Caplinger has no position in any stocks mentioned. The Motley Fool owns shares of and recommends Coca-Cola and Monster Beverage. Try any of our Foolish newsletter services free for 30 days. We Fools may not all hold the same opinions, but we all believe that considering a diverse range of insights makes us better investors. The Motley Fool has a disclosure policy.
Copyright 1995 - 2016 The Motley Fool, LLC. All rights reserved. The Motley Fool has a disclosure policy.