Can Monsanto Keep Feeding Investors Solid Returns?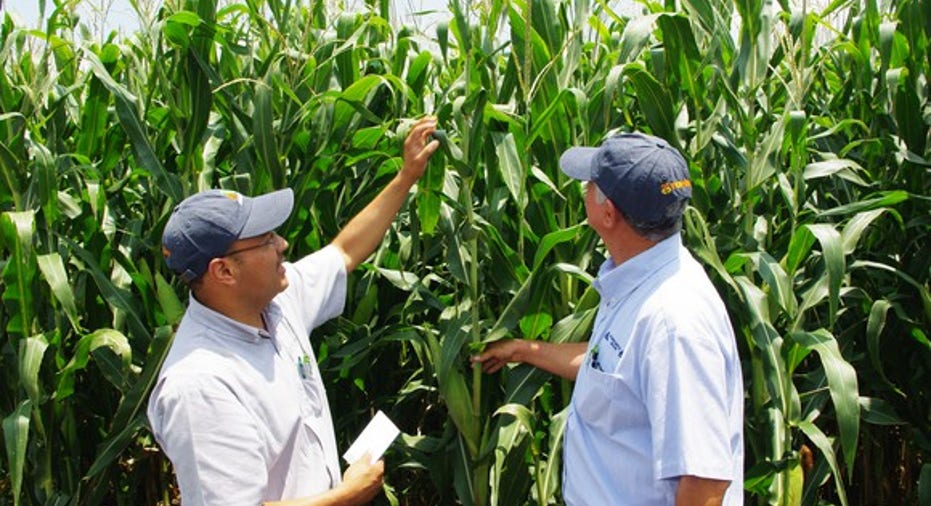 Image source: Monsanto.
The agricultural industry plays a vital role in ensuring that people across the globe get the food they need. Monsanto has made it its business to help farmers boost crop yields by making products that resist pests, disease, and adverse weather conditions. Some of its products are controversial, but Monsanto has remained a lucrative investment for shareholders. Still, times in the ag industry have been tough recently, and coming into Wednesday's fiscal second-quarter report, Monsanto investors expect only modest earnings growth on a drop in revenue. Let's take an early look at how Monsanto has done lately and what investors are likely to see in its report.
Stats on Monsanto
| | |
| --- | --- |
| Expected EPS Growth | 1.3% |
| Expected Revenue Growth | (1.7%) |
| Forward Earnings Multiple | 20.1 |
| Expected 5-Year Annualized Growth Rate | 8.1% |
Data source: Yahoo! Finance.
Will Monsanto make its earnings grow?
Investors have had mixed opinions in recent months about the strength of Monsanto's earnings. They've raised their fiscal second-quarter projections by $0.05 per share, but they've made cuts of 2% to 4% in their assessments for the current and next fiscal year. The stock hasn't reflected any uncertainty, however, rising more than 18% since late March.
Monsanto's fiscal first-quarter results showed the difficulties that the ag specialist has dealt with in recent months. Revenue plunged 23% compared to year-ago levels, and a substantial restructuring effort caused Monsanto to lose more than a quarter billion dollars. Even after making adjustments for extraordinary items, Monsanto still suffered a loss. Double-digit revenue declines hit both Monsanto's seeds and genomics segment and its agricultural productivity business, and the company said that it expected its full-year fiscal 2016 earnings to come in at the low end of its previous range of guidance.
Yet most investors have focused on Monsanto because of the potential for merger and acquisition activity related to the stock. For a long time, Monsanto has billed itself as a would-be acquirer, seeking out other companies in the agricultural productivity space in an effort to sustain its competitive advantages and find synergies to increase scale and make the business more lucrative. Yet in May, that perception got turned on its head, and Monsanto found itself the subject of a potential takeover bid from Germany's Bayer. Initial reports put the bid amount at $40 billion, but the actual all-cash offer amounted to $62 billion, or $122 per share. That had the effect of raising the share price, but many saw the Bayer bid for Monsanto as insultingly low.
Monsanto didn't take long to reject Bayer's offer, although it appeared to leave the door open to further negotiations. Monsanto said that the proposal could offer benefits to the two companies' customer base, but it called the offer "incomplete and financially inadequate" in choosing not to accept the bid. Since the rejection, Bayer hasn't made any apparent movements toward trying to make a higher offer, and rivals like BASF haven't stepped up to make counterproposals, either.
In choosing to go it alone, Monsanto still thinks it has plenty of potential. With some of its new products, the ag specialist is looking to go beyond consumable chemicals to launch solutions that can reduce the need for farmers to use other materials and resources to enhance yields. To be fully successful, Monsanto will need to see crop prices rise in order to give farmers the financial incentive they need to maximize purchases of its products. Yet Monsanto will have to maintain its competitive edge in the face of consolidation among its main rivals to create larger threats to its business.
In the Monsanto earnings report, investors should focus on what management says about the Bayer offer and its future plans for mergers and acquisitions. Whether it proves to be the target or the acquirer, Monsanto will keep tapping the M&A market to grow, and understanding its full strategy will help shareholders project what to expect from the agricultural giant in the months and years to come.
The article Can Monsanto Keep Feeding Investors Solid Returns? originally appeared on Fool.com.
Dan Caplinger has no position in any stocks mentioned. The Motley Fool has no position in any of the stocks mentioned. Try any of our Foolish newsletter services free for 30 days. We Fools may not all hold the same opinions, but we all believe that considering a diverse range of insights makes us better investors. The Motley Fool has a disclosure policy.
Copyright 1995 - 2016 The Motley Fool, LLC. All rights reserved. The Motley Fool has a disclosure policy.