Can Microsoft Dethrone Amazon in the Cloud?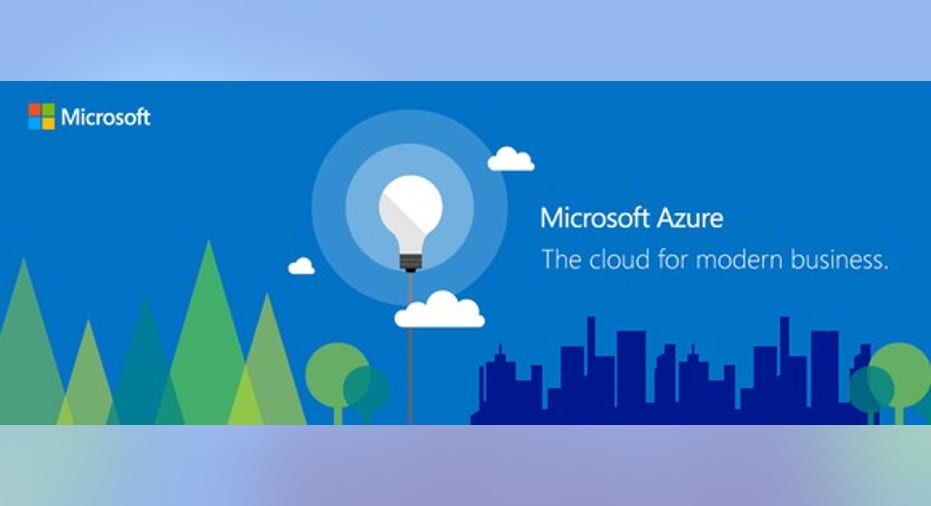 E-commerce giant Amazon's (NASDAQ: AMZN) status as the top cloud computing service provider was unchallenged in 2016. The Amazon Web Services (AWS) division maintained its 40% cloud market share last year as it took away business from smaller players. What's more, AWS' growth streak continued in the recently reported first quarter as sales jumped 43% year-over-year.
But Amazon needs to look over its shoulder thanks to the phenomenal growth of Microsoft's (NASDAQ: MSFT) Azure cloud business.
Image Source: Microsoft
Microsoft is taking the game to Amazon
Microsoft's intelligent cloud business grew 11% last quarter to $6.8 billion, thanks to a 93% jump in sales of its Azure cloud services. The Redmond-based company doesn't single out Azure's revenue contribution, but the rapid growth of this service clearly indicates that it is gaining popularity.
As it turns out, Microsoft Azure adoption has jumped to 34% from 20% among companies, according to a survey of 1,002 IT professionals conducted by RightScale in early 2017. The growth is mainly driven by the enterprise segment, where Azure adoption has jumped 17 percentage points to 43%. By comparison, AWS adoption by enterprises has only increased three percentage points to 59%.
The aggressive adoption of Microsoft's cloud service isn't surprising as the company has resorted to price cuts to challenge Amazon's superiority in this space. For instance, AWS prices were slashed 53 times last year, and Microsoft followed suit in February this year by reducing the prices of its virtual machines and storage in half.
Additionally, Microsoft implemented another round of price cuts last month. Its L-Series virtual machine got a 69% price cut, while the hyper-threaded virtual machine got cheaper by 28%. Not surprisingly, the company's strategy of slashing prices to gain market share is taking a toll on its bottom line, as the profit of the intelligent cloud division remained flat year-over-year.
But Microsoft isn't worried about the bottom line right now, believing that it can upsell premium features to its cloud clients once they come into its ecosystem. In fact, the intelligent cloud business has a 32% operating margin as compared to AWS' 24.3%, so Microsoft has more room to reduce prices.
The competition will get intense
Microsoft is expanding the availability of its cloud business to lap up more clients in fast-growing regions. In February, the company announced that it is launching two new Azure regions in Korea to tap the country's nascent cloud market. Additionally, the tech giant is using graphics specialist NVIDIA's graphics processing units (GPUs) to process artificial intelligence-related data in the cloud.
The two companies have partnered to develop a new and scalable open-source framework to tackle the complex nature of data for Internet of Things applications such as connected cars, which needs quick and autonomous decision making based on AI. Such moves can help Microsoft sustain the rapid growth of its Azure cloud business, with Morgan Stanley's 2016 CIO survey expecting the service to overtake AWS in the public cloud in the next couple of years.
But Amazon is not going to sit idle and watch Microsoft eat its lunch. The e-retailer will get into new cloud regions in China and France this year, apart from launching new services to attract more customers. For instance, the company added the Amazon Chime service to AWS in February this year to help customers communicate using high-definition video and audio for online meetings, conferencing, and voice calls through a single platform.
As it turns out, Amazon didn't have a notable presence in the SaaS (software as a service) space, while Microsoft was busy adding collaboration features to Skype to help teams communicate with each other. So, this service will fill a major gap in AWS' portfolio and help compete against Microsoft's Skype.
The Foolish takeaway
The global public cloud services market will be worth $383.3 billion in 2020 as compared to $209 billion, according to Gartner, so the battle between Amazon and Microsoft isn't ending soon. AWS leads the space right now, but investors need to keep a close eye on Microsoft's Azure strategy and growth rate since it looks like a potent challenger to Amazon's dominance.
Teresa Kersten is an employee of LinkedIn and is a member of The Motley Fool's board of directors. LinkedIn is owned by Microsoft. Harsh Chauhan has no position in any stocks mentioned. The Motley Fool owns shares of and recommends Amazon and Nvidia. The Motley Fool has a disclosure policy.