Can Microsoft Corporation's Surface Phone Succeed Where Windows Phones Failed?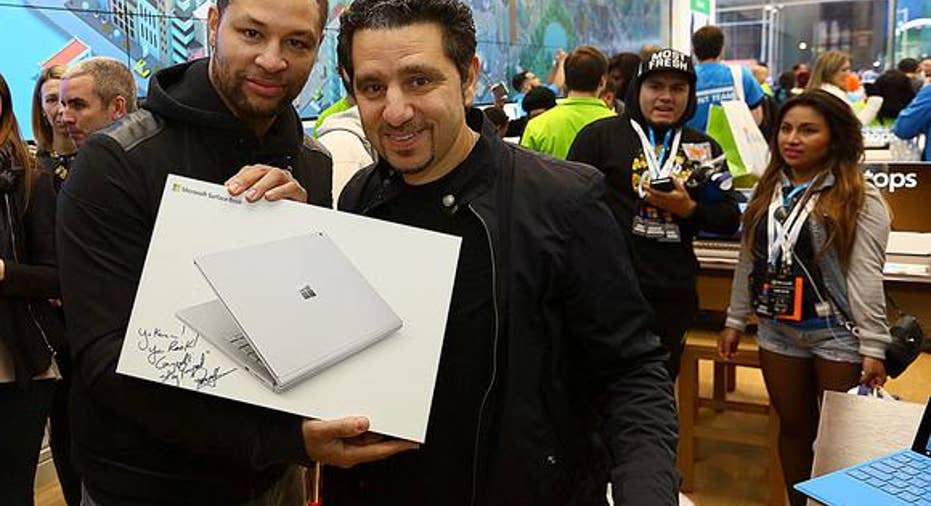 Microsoft is reportedly developing a smartphone version of its Surface tablets called the "Surface Phone,"according to insider sources cited by Windows Central. Surface VP Panos Panay and his team reportedly inherited the project after Microsoft slashed thousands of jobs from Nokia 's former handset unit earlier this year.
Panos Panay (R) sells the first Surface Book. Source: Microsoft.
The device is expected to be powered by an Intel x86 CPU, which means that older Windows software should run on the system. That could be useful for users who want to convert the mobile device into a full-fledged desktop with the new Continuum feature.
Windows Central estimates that the device could launch in the second half of 2016 to coincide with a large update for Windows 10 code-named Redstone. But will a Surface Phone realistically fare any better than its new flagship Lumia devices at gaining ground against Apple and Alphabet's Google in the high-end smartphone market?
Microsoft's mobile game plan is falling apartMicrosoft previously approached the mobile market with four key strategies. First, it kept selling Nokia-branded feature phones bundled with Microsoft services to convince first-time smartphone buyers to buy Windows Phones. Second, it launched Windows Phones at lower prices than Android devices to gain market share in emerging markets.
It then released Windows 10 Mobile to replace Windows Phone 8 and tether all those devices to a unified ecosystem. Lastly, it launched Continuum to convert its top-tier flagship devices into desktop PCs, which could theoretically convince some iOS and Android users to try Windows 10 Mobile.
Unfortunately, Google's refreshed Android One initiative is nowundercutting Microsoft's cheapest Windows Phones with $30 to $50 handsets. Continuum also only works on the Lumia 950 and 950 XL fornow, which severely limits market exposure to Windows 10 Mobile's most innovative feature.
Windows 10 Mobile now accounts for 7% of all Windows Phones, but Microsoft's market share continues to shrink. Gartner estimates that Windows Phones only accounted for 1.7% of all smartphone shipments during the third quarter, down from 3% in the prior year quarter.
Blurring the lines between devicesReleasing a Surface Phone would be in line with Microsoft's previous strategies of blurring distinctions between devices. With the Surface, it tried to bridge the gap between PCs and tablets. With a Surface Phone, Microsoft can leverage the Surface brand's recognition to blur the distinction between a tablet and a phone. It would also complement Microsoft's strategy of expanding the Surface line with new devices like the Surface Book.
But with so many device options on the market, many shoppers can't decide which devices to replace. Gartner estimates that shipments of all devices (PCs, tablets, ultramobiles, and smartphones) will fall 1% annually to 2.4 billion units this year, due to widespread indecision about replacing devices. But on the bright side, Gartner claims that 44% of current tablet users want to upgrade to "a different device" like a 2-in-1 device or a phablet. Both upgrade paths could benefit Microsoft by fueling sales of 2-in-1 Windows devices or Windows 10 phablets like the Lumia 950 XL and the Surface Phone.
The new Lumia 950. Source: Microsoft.
However, "replacement indecision" can also hurt Continuum's growth since Continuum-enabled devices generally appeal to consumers who want to replace their phone, tablet, and PC with an all-in-one device. If consumers are unwilling to ditch one of those devices, they're less likely to buy a top-tier Windows 10 Mobile device as an all-in-one solution. Mobile users who are already locked into Apple or Google's ecosystem will also be less willing to switch to Windows 10 Mobile and lose all their digital purchases.
Why the Surface Phone will likely failThe success of the Surface Phone depends on the Surface brand remaining strong and key features like Continuum and universal apps gaining mainstream awareness. Unfortunately, Surface sales already fell 26% annually last quarter. New products like the Surface Pro 4 andSurface Book might get the brand's growth back on track, but it might not be strong enough to carry a new flagship phone.
Meanwhile, Apple and Google are also blurring the lines between mobile devices and PCs to their advantage. Apple is challenging the Surface Pro 4 with the iPad Pro, while Google willreportedly merge Chrome OS and Android in the near future. Those moves could enable both companies to expand into Microsoft's territory faster than Windows 10 can expand into mobile.
The article Can Microsoft Corporation's Surface Phone Succeed Where Windows Phones Failed? originally appeared on Fool.com.
Leo Sun has no position in any stocks mentioned. The Motley Fool owns shares of and recommends Alphabet (A shares), Alphabet (C shares), and Apple. The Motley Fool recommends Gartner and Intel. Try any of our Foolish newsletter services free for 30 days. We Fools may not all hold the same opinions, but we all believe that considering a diverse range of insights makes us better investors. The Motley Fool has a disclosure policy.
Copyright 1995 - 2015 The Motley Fool, LLC. All rights reserved. The Motley Fool has a disclosure policy.