Can Lumber Liquidators Keep Going After Last Week's 17% Pop?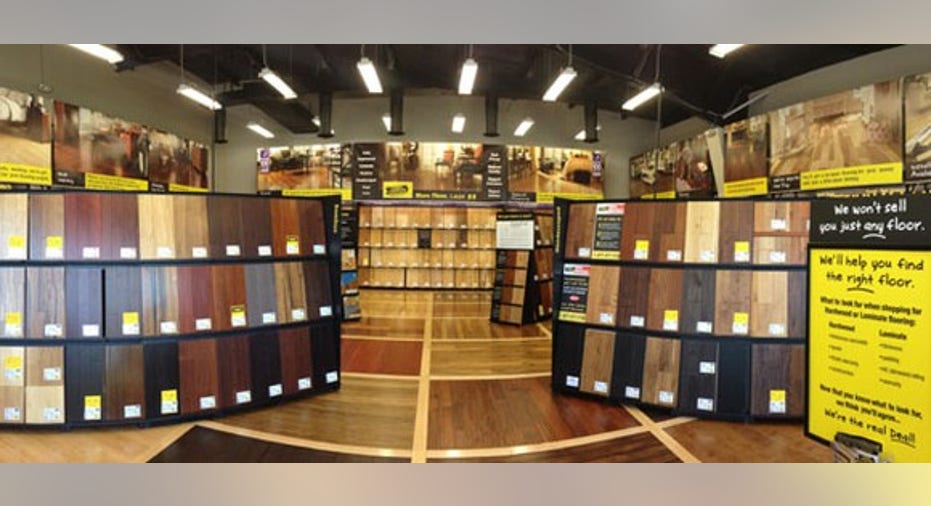 Image source: Lumber Liquidators.
It hasn't happened often since early last year, butLumber Liquidatorsshareholders caught a break last week. Shares of the leading standalone retailer of hardwood flooring soared 17% on the week after federal regulators closed an investigation on the condition that the chain no longer sell Chinese-made laminate flooring.
It's not much of a concession for Lumber Liquidators to make despite having to dump its existing inventory of China-sourced laminates. The chain had stopped selling the stuff 13 months ago, following a scathing 60 Minutes report claiming that its Chinese laminates contained noncompliant levels offormaldehyde.
That single nationally televised segment has been brutal. The stock closed at $51.86 before last year's March 1 airing of the investigational report. It is trading 70% lower now, even after last week's pop. That's nearly $1 billion in market cap that has vanished.
Walking the plank
Customers seeking flooring solutions haven't forgiven or forgotten. The 370-store chain has seen net sales fall for four consecutive quarters, widening to double-digit percentage slides in three of the past quarters. Comps have also been negative for five quarters, and that's also important because it means that we're now already pitting the store-level performance against the prior year's declines. Lumber Liquidators should be bouncing back by now. Instead we see comparable-store sales slipping by 13.9% in its latest quarter after a 6.2% slide a year earlier.
Folks don't trust Lumber Liquidators, but that mind-set could change. TheU.S. Consumer Production Safety Commission recently said that Lumber Liquidators tested more than 15,000 households, and formaldehyde levels were in line with air-quality guidelines.
The stock is a far cry from where it used to be, but it has moved 58% higher since bottoming out in February. The comparisons should get easier at this point. Comps slid 10% during the second quarter of last year. If Lumber Liquidators is able to effectively communicate that it's no longer selling potentially toxic laminate flooring, it could win back floor-hungry patrons.
Analysts see Lumber Liquidators stretching its streak of quarterly deficits to six periods here, but they do see losses narrowing. Wall Street pros see sales still declining slightly during the current quarter but turning positive during the second half of this year. A return to profitability will have to wait until next year, but it's once again the scandal-rocked retailer setting the stage for a turnaround. Clearing its name in the eyes of federal regulators last week is important. Now it's time to win back the customers that matter.
The article Can Lumber Liquidators Keep Going After Last Week's 17% Pop? originally appeared on Fool.com.
Rick Munarriz has no position in any stocks mentioned. The Motley Fool recommends Lumber Liquidators. Try any of our Foolish newsletter services free for 30 days. We Fools may not all hold the same opinions, but we all believe that considering a diverse range of insights makes us better investors. The Motley Fool has a disclosure policy.
Copyright 1995 - 2016 The Motley Fool, LLC. All rights reserved. The Motley Fool has a disclosure policy.