Can Keytruda Return Merck & Co. to Growth?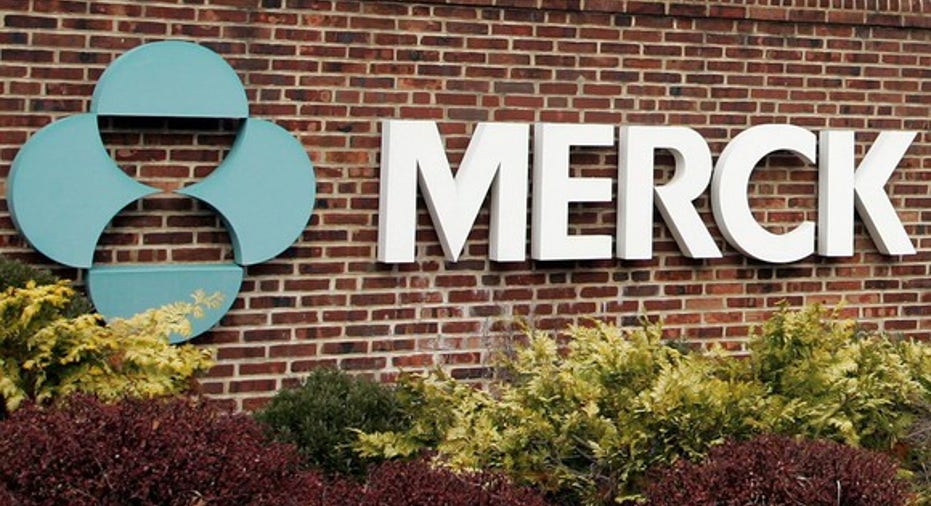 Image source: Merck & Co.
Following a speedy FDA approval, Keytruda fromMerck & Co. (NYSE: MRK) became the first drug in its class to reach the front line in lung cancer. Until recently, it seemedBristol-Myers Squibb (NYSE: BMY) would dominate this important field with Opdivo, but surprisingly poor trial results set it back a few paces.
This is great news for Merck investors who have watched the company's sales slide for years, but the cheering might not last very long.Roche (NASDAQOTH: RHHBY) isn't far behind, with a similar drug threatening to pour water on Keytruda's latest advantage before it catches fire.
MRK Revenue (TTM) data by YCharts.
Total revenue at Merck has fallen a great deal over the past several years. Let's have a closer look at Keytruda's playing field to see if its recent victory can return the big American pharma to growth.
Christmas in October
It was early September when the FDA accepted Keytruda's application for first-line treatment of lung cancer patients whose tumors express high levels of PD-L1 on their surface. Although the agency set an action date on Christmas Eve, it gave Merck a thumbs-up just seven weeks after accepting the application.
Merck's Keytruda, and Bristol's Opdivo, act on immune-system cells to prevent tumors from using PD-L1 to shut down an immune-system attack, and it does the trick. In the study that led to the label expansion, Keytruda alone reduced these patients' risk of disease progression or death by 50% compared with standard chemotherapies.
Image source: Getty Images.
Lung cancers claim more lives than breast, colon, and prostate cancer combined,so it isn't surprising that the FDA sped up the review process in light of those results. This is a huge win for Merck, and for lung cancer patients, because it makes Keytruda the first chemo-free treatment option for those newly diagnosed with this form of the deadly disease -- but how long it will have the field to itself is hard to pin down.
Big trouble from Basel
Roche's Tecentriq blocks the same pathway as Bristol's Opdivo and Merck's Keytruda, but instead of attaching to immune cells, it binds to PD-L1 on the surface of tumor cells. It was the third inhibitor of this checkpoint to earn an FDA approval, but it's making quick strides. Earlier this month, the agency approved the immunotherapy for treatment of certain lung cancer patients who progressed during or after platinum-based chemotherapy, just five months after granting its first approval in bladder cancer.
With seven ongoing trials testing Tecentriq in the first-line lung cancer setting, the Swiss oncology giant's differentiated immunotherapy could join Keytruda as a chemo-free treatment option for newly diagnosed patients.Merck investors will want to keep an eye on Tecentriq's progress here, as it appears effective for lung cancer patients regardless of PD-L1 expression levels. Remember, Keytruda's first-line approval is limited to patients with tumors that overexpress the protein.
Gaining approval for patients regardless of their tumors' PD-L1 levels is more significant than you might think. Last October, the FDA granted approval to Opdivo and Keytruda for patients who progressed on or after chemotherapy, with one big difference: Oncologists don't need to test tumors for PD-L1 expression to treat their patients with Opdivo.
In the numbers
A one-size-fits-all advantage in second-line lung cancer has been been largely responsible for the wide chasm between the two drugs' sales figures. In the second quarter, Bristol-Myers Squibb recorded Opdivo sales of $840 million.More recently, Merck's third-quarter Keytruda sales were just $356 million.
Opdivo'sdismal performance as a monotherapy infirst-line advanced non-small-cell lung cancer -- with tumors expressing moderate levels of PD-L1 -- should allow Keytruda to maintain its advantage for at least several quarters as a chemo-free first treatment option in patients with tumors that express high levels of the protein.
Image source: Getty Images.
Keytruda's future looks brighter than it did a few months ago, but its growth alone might not be sufficient to push total sales above the peaks reached several years ago. The immunotherapy's annual run rate of $1.4 billion based on third-quarter sales should pop after the recent approval. If Roche's Tecentriq doesn't muscle into its lung cancer position, Keytruda sales could eventually top $8 billion.
Hitting such a bullish estimate would send a smaller company's top line soaring, but Merck is carrying too much weight. The Januvia franchise, which comprised 15.5% of the company's total sales in first three quarters of the year, is at a standstill and in danger of losing ground to next-generation diabetes treatments. With its biggest seller at a tipping point, and half a dozen key products falling by double digits, pulling Merck's total sales to new heights will probably require more power than any single drug can provide.
A secret billion-dollar stock opportunity The world's biggest tech company forgot to show you something, but a few Wall Street analysts and the Fool didn't miss a beat: There's a small company that's powering their brand-new gadgets and the coming revolution in technology. And we think its stock price has nearly unlimited room to run for early in-the-know investors! To be one of them, just click here.
Cory Renauer has no position in any stocks mentioned. You can follow Cory on Twitter, @TMFang4apples, or LinkedIn for more healthcare industry insight.
The Motley Fool has no position in any of the stocks mentioned. Try any of our Foolish newsletter services free for 30 days. We Fools may not all hold the same opinions, but we all believe that considering a diverse range of insights makes us better investors. The Motley Fool has a disclosure policy.