Can Intrexon Regain Its Mojo?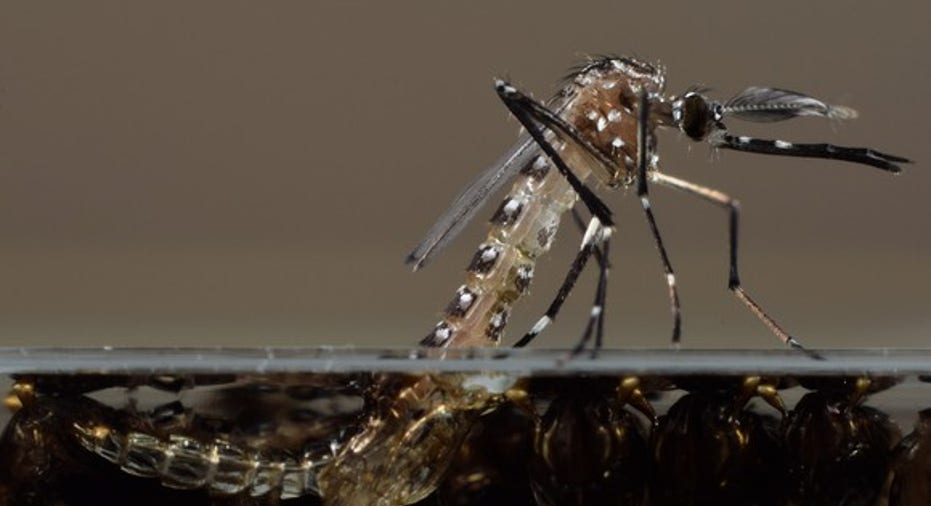 Engineered-biology conglomerate Intrexon (NYSE: XON) has a lot to offer investors. Anyone in doubt only needs to open the recent press release announcing full-year 2016 financial results, which listed 20 business highlights and recent developments before going into financial updates. That's what happens when a company views biology as technology and pursues applications in agriculture, transportation fuels, healthcare, and many other industries.
Despite a seemingly endless pool of potential -- which carried the stock after its IPO in late 2013 until recently -- the stock has struggled since last summer. Investors who purchased the stock at the IPO are now sitting on a neutral position: Intrexon shares have lost 3% of their value. The stock is down nearly 38% in the past year alone.
The potential for future growth is there, so what needs to happen for Intrexon to regain its mojo?
Image source: Oxitec.
Are investors losing interest?
One of the biggest problems for the stock is that investors seemed to lose interest after the company ran up against longer-than-expected regulatory and social obstacles, namely for its mosquito-control technology platform. Mixed voting results in two counties in Florida complicated Intrexon's plans to conduct open field trials -- a necessary step to gain U.S. approval -- which had the effect of delaying the project's advancement by at least several months.
Intrexon Chairman and CEO R.J. Kirk gave a sobering review of recent events when the company reported full-year 2016 financial results:
"Over the course of 2016, while nevertheless achieving its overall financial goals, significantly advancing a great many of its partnered programs, and meaningfully extending its technology platforms, the company faced political and regulatory headwinds in our marketable products portfolio that we had not fully appreciated at this time last year, causing us to underachieve commercially as compared with our expectations."
While the company reported impressive revenue growth for the year, the net loss jumped to $1.58 per share and cash flow from operations turned negative.
Data source: Intrexon.
Investors have come to expect double-digit revenue growth, but the impressive numbers from 2016 were driven by revenue growth from the riskiest of sources. Consider how the top line breaks down:
Data source: Intrexon.
The lowest-risk source of revenue comes from product sales, but this category experienced a year-over-year double-digit decline. That's bad news, no matter how you slice it. The good news is that the commercialization and launch of new product portfolios -- non-browning apples and mosquito-control solutions -- will provide near-term, albeit initially insignificant, relief.
Intrexon continues to rely on collaboration and licensing revenue to drive its growth. That isn't inherently bad, but when most of it is derived from small- and micro-cap companies, it can become a potential problem. Of the $22 million year-over-year increase in revenue for the category, two-thirds, or $14.5 million, was sourced from Ziopharm. The partner is completely dependent on the engineered-biology conglomerate for all of its technology, which shouldn't exactly be comforting for investors. In the event that the small-cap company goes under, it will take 17.7% of Intrexon's total revenue with it.
To be fair, blue chip companies (Merck and Sun Pharmaceuticals) increased their contributions to Intrexon's revenue in 2016, while some of the riskiest partners (Oragenics and Fibrocell Science) provided significantly less. That trend needs to continue for the stock to regain its mojo -- and adding more blue chip customers wouldn't hurt. Announcing a big, committed, and deep-pocketed partner could reinvigorate investors and would certainly make me feel better about the stock.
What does it mean?
Unfortunately for investors, there's no clear read into what's on tap for Intrexon in 2017. It will gradually earn more and more revenue from new product launches, but it will take years for these portfolios to make significant contributions. There aren't any major catalysts on the radar, either. Rather, investors will need to await regulatory decisions for mosquito-control solutions and possible updates from a bulging healthcare portfolio. And, of course, an acquisition or two can never be discounted. But whether the stock will regain its mojo is murkier to predict at the moment.
10 stocks we like better than IntrexonWhen investing geniuses David and Tom Gardner have a stock tip, it can pay to listen. After all, the newsletter they have run for over a decade, Motley Fool Stock Advisor, has tripled the market.*
David and Tom just revealed what they believe are the 10 best stocks for investors to buy right now... and Intrexon wasn't one of them! That's right -- they think these 10 stocks are even better buys.
Click here to learn about these picks!
*Stock Advisor returns as of February 6, 2017
Maxx Chatsko has no position in any stocks mentioned. The Motley Fool has no position in any of the stocks mentioned. The Motley Fool has a disclosure policy.