Can GoPro Bounce Back After Last Week's 15% Drop?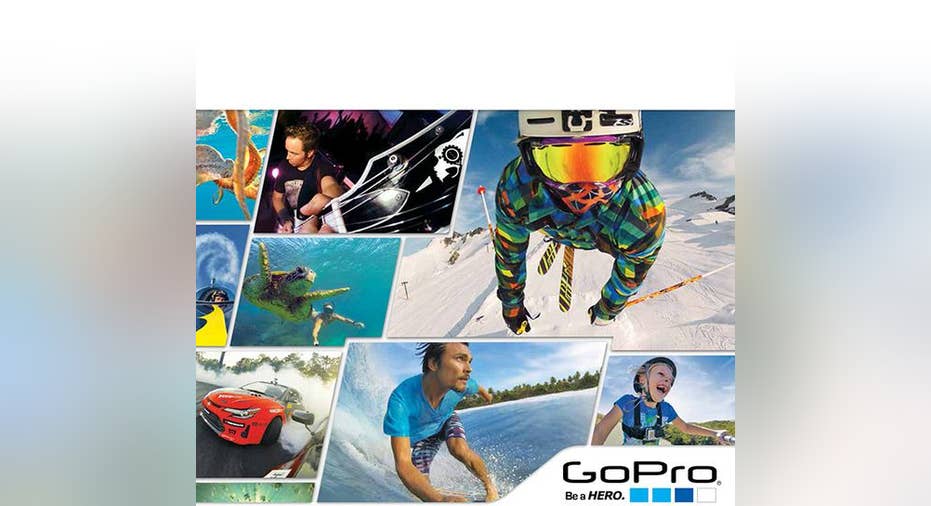 Image source: GoPro.
Investors of GoPro may want to check and see if there's a rewind button on the stock's price action this month. The leading maker of wearable cameras plunged 19% during the first week of May after announcing disappointing quarterly results and delaying its entry into a once booming market. That's now been followed by a 15% drop last week, as a potentially superior rival product has been unveiled, an important supplier received an analyst downgrade, and concerns about GoPro's growth prospects continue to mount.
The LG LTE Action Camera will make streaming easier than any of the existing products on the market because it comes with its own LTE chip. This sets it apart from other cameras including GoPro's wares that need to be tethered to an existing Wi-Fi or smartphone to push out video in real-time.
LG didn't provide pricing information for the new cellular-connected camera. That will be available closer to launch, slated for South Korea next month and the rest of the world later this year. It is unlikely to be cheaper than some of GoPro's entry-level gadgetry, and obviously wireless providers get a piece of LTE-tethered devices. However, the market is naturally concerned that someone other than GoPro is raising the bar on wearable high-def cameras by providing built-in 4G streaming support.
We also had Pacific Crest slash its earnings forecast for Ambarella , the lone provider of GoPro's video processing chips. Pacific Crest also cut its price target on Ambarella from $62 to $53. Ambarella makes chips found in dashboard cams and surveillance gear, but it also derives a big chunk of its business from GoPro's wearable camears. Pacific Crest sees GoPro's sharp decline in revenue continuing in the near term, weighing on Ambarella's prospects.
Freeze frame
GoPro was already reeling after a very challenging financial report. Revenue plunged 49.5% since the prior year's first quarter. GoPro tried to sugarcoat the gloomy report by pointing out that the actual sell-through rate to consumers was a lot better than that, but that only highlights the already crummy holiday quarter where too much inventory was left unsold at the retail level. With gross margins contracting and the bottom line checking in with a large quarterly loss, it's hard to see a turnaround happening anytime soon.
Making matters worse, GoPro's Karma drone that was supposed to hit the market this summer is now being pushed to a holiday release. The drone market is already seeing falling prices in a highly competitive market. It's only going to get more cutthroat by the time Karma sees the light of day.
GoPro doesn't see things going as poorly as Pacific Crest is portraying the situation in talking down Ambarella. GoPro's guidance for revenue to clock in between $1.35 billion and $1.5 billion this year translates into a more modest 7% to 17% decline. There's a lot riding on the latest generation of its flagship HERO wearable cameras -- HERO5 -- and the now-delayed Karma drone.
GoPro in the single digits is a big deal for a stock that was mere ticks from hitting the triple digits shortly after its 2014 IPO. Value investors will be tempted to storm in after back-to-back weeks of double-digit percentage declines, but growth investors will want to wait and see turnaround catalysts gain some kind of traction.
The article Can GoPro Bounce Back After Last Week's 15% Drop? originally appeared on Fool.com.
Rick Munarriz owns shares of Ambarella. The Motley Fool owns shares of and recommends Ambarella and GoPro. Try any of our Foolish newsletter services free for 30 days. We Fools may not all hold the same opinions, but we all believe that considering a diverse range of insights makes us better investors. The Motley Fool has a disclosure policy.
Copyright 1995 - 2016 The Motley Fool, LLC. All rights reserved. The Motley Fool has a disclosure policy.