Can GM Catch the Toyota Tacoma in the Midsize Truck Market?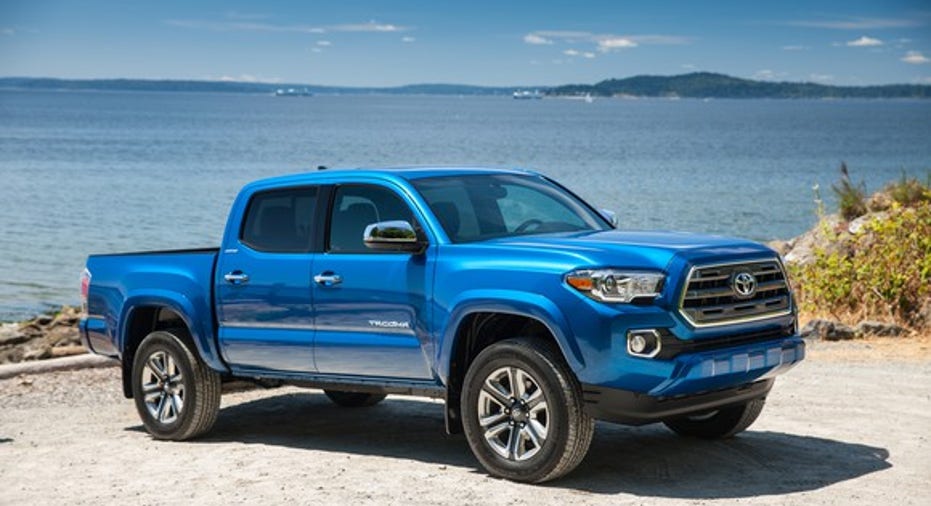 Five years ago, the U.S. midsize truck segment seemed to be dying a slow death. Ford Motor (NYSE: F) exited the market, dropping its Ford Ranger model following a short 2012 model year production run. Additionally, General Motors (NYSE: GM) dropped the Chevy Colorado and GMC Canyon in 2012, although by then the company already had plans to revive the nameplates for the 2015 model year.
This left Toyota Motor (NYSE: TM) as king of the hill. By 2013, the Toyota Tacoma represented the vast majority of midsize pickups sold in the U.S.
The redesigned Chevy Colorado and GMC Canyon trucks hit the market in late 2014 and have been gaining share ever since. However, GM's midsize trucks are finally showing signs of peaking.
The Chevy Colorado has sold even better than expected. Image source: General Motors.
Abandoning the market
Five years ago, Ford and General Motors -- and crosstown rival Fiat Chrysler, for that matter -- had good reason to stop building smaller pickups. First, demand was falling in the face of high fuel prices. Second, it was more profitable to coax some customers into pricier full-size trucks, even if it meant losing others who really wanted a midsize pickup.
Initially, this seemed to be the right move. In 2013, facing no effective competition, Toyota sold just 159,485 Tacoma trucks. While that was a big increase from the 110,705 Toyota Tacomas sold in 2011, it was still well below the number sold in 2006 and 2007.
However, as the economy has rebounded in recent years, GM and Ford have struggled at times to keep up with demand for full-size pickups. (GM and Ford have each delivered about 800,000 full-size trucks annually for the last two years.) Thus, there were practical limits on their ability to move customers from midsize trucks up to the Chevy Silverado and Ford F-150.
Additionally, fuel prices began to plunge in mid-2014. With gasoline now more likely to cost $2.00/gallon than $4.00/gallon, consumers are quickly losing interest in small cars in favor of roomier vehicles, such as crossovers and midsize pickups.
General Motors returns with a hit product
GM started selling the next-generation Chevy Colorado and GMC Canyon models in late 2014. The new models received numerous accolades, highlighted by the Chevy Colorado being named Truck of the Year by Motor Trend for 2015 and 2016.
As a result, the General has grabbed a hefty chunk of the market back from Toyota. During 2016, combined deliveries of the Colorado and Canyon surged 28% year over year to 146,174 units. Meanwhile, Toyota Tacoma deliveries reached 191,631 units. Thus, growth of the midsize pickup market has allowed Toyota to boost sales of the Tacoma by 20% since 2013 despite facing serious competition once again.
The Toyota Tacoma is still the best-selling midsize truck. Image source: Toyota Motors.
General Motors has faced almost continuous supply constraints for its new midsize trucks. However, GM has finally unclogged these bottlenecks, which could lead to further sales gains this year. Yet demand growth does appear to be cooling off at last.
In the first two months of 2017 -- admittedly a small sample -- combined sales of the Chevy Colorado and GMC Canyon reached 18,969 units, up 7.7% year over year. By contrast, Toyota Tacoma sales slipped 0.5% to 26,765 units. In other words, GM is still gradually gaining share, but Toyota retains a comfortable lead.
More competition is coming
Based on recent sales trends, it doesn't look like General Motors is about to make a run at the midsize truck sales crown. However, GM should try to grab as much market share as possible in the next two years. That's because the segment will be shaken up again when Ford returns with a new U.S. version of the Ford Ranger for the 2019 model year.
With U.S. auto sales having more or less peaked, it doesn't seem likely that the Ford Ranger will be able to grab its "fair share" of the midsize pickup segment without cutting into the sales of other models. If the midsize truck market turns into a zero-sum game, the market share battle between General Motors and Toyota will be more important than ever.
10 stocks we like better than General MotorsWhen investing geniuses David and Tom Gardner have a stock tip, it can pay to listen. After all, the newsletter they have run for over a decade, Motley Fool Stock Advisor, has tripled the market.*
David and Tom just revealed what they believe are the 10 best stocks for investors to buy right now... and General Motors wasn't one of them! That's right -- they think these 10 stocks are even better buys.
Click here to learn about these picks!
*Stock Advisor returns as of February 6, 2017
Adam Levine-Weinberg owns shares of General Motors. The Motley Fool owns shares of and recommends Ford. The Motley Fool recommends General Motors. The Motley Fool has a disclosure policy.