Can Fitbit Inc's Executive Shakeup Fix its Broken Business?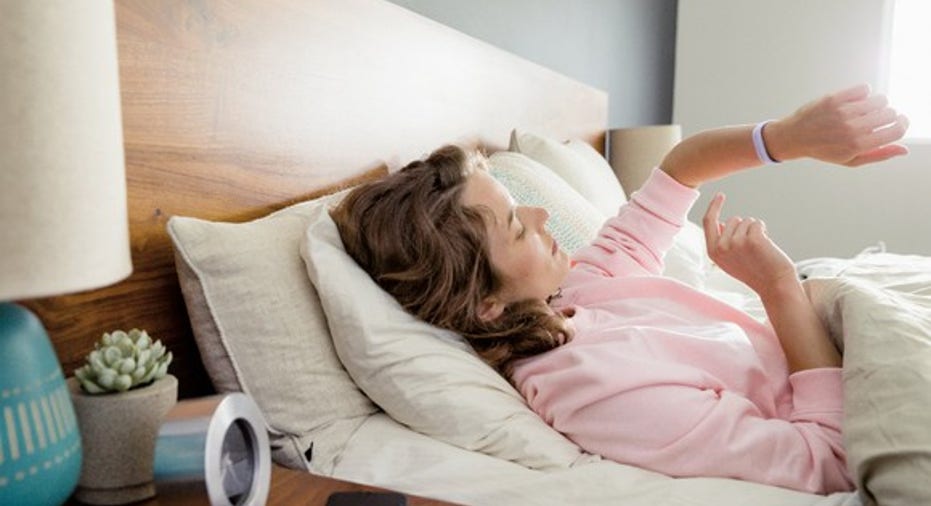 Fitbit (NYSE: FIT) recently announced an executive shakeup and business realignment to "reignite growth" at the struggling wearables maker, which lostmore than 60% of its market value over the past 12 months. Chief Business Officer Woody Scal andExecutive VP Tim Roberts, who oversaw the company's social networking efforts, announced that they would step down at the end of March. Scal and Roberts were notably two of Fitbit's first employees.
Meanwhile, Fitbit hired Jeff Devine -- a tech veteran who previously worked at Cisco, Nokia, and Hewlett-Packard -- as its new Executive VP of Operations. Devine will oversee Fitbit's operations, customer service, and quality control under CEO James Park.
A woman wearing a Fitbit Flex 2 in bed. Image source: Fitbit.
Fitbit also announced that it will realign the company under two main businesses -- Consumer Health & Fitness and Enterprise Health. The Consumer unit will focus on delivering a "streamlined set of health and fitness devices" while entering new markets like smartwatches and offering subscription services.The Enterprise unit will expand Fitbit's corporate wellness programs for companies that want to lower their employees' healthcare costs by promoting physical fitness.
These moves clearly indicate that Fitbit wants to get its growth back on track, but is it too late to make a difference?
What happened to Fitbit?
Fitbit currently trades at a 70% discount to its IPO price for two main reasons. First, its sales growth slowed down due to the arrival of new wearables, the rise of smartwatches, the lack of upgrades among existing users, and mediocre growth in Asia. Analysts expect Fitbit's revenue to decline 27% this year, compared to17% growth in 2016 and 149% growth in 2015.
Second, Fitbit tried to counter that slowdown by developing more products, buying smaller companies, and spending more on marketing. Those moves all caused its non-GAAP operating expenses to rise from 32% of revenues in thefourth quarter of 2015 to 50% of revenues in the fourth quarter of 2016. Those higher expenses, coupled with its slowing revenue growth, caused Fitbit to post a non-GAAP net loss in 2016. Analysts expect that pain to continue with non-GAAP net losses in both fiscal 2017 and 2018.
What's Fitbit's turnaround plan?
Fitbit's decision to align its business around Consumer Health & Fitness and Enterprise Health sounds fresh, but it already tried growing those businesses in previous quarters.
Fitbit bulls may believe that Fitbit can boost its revenues per customer with premium subscription services (Fitbit Premium and Fitstar) and score more bulk orders with big corporate wellness deals. Indeed, Fitbit signed a big corporate wellness win in late 2015 with Target (NYSE: TGT), which equipped its 335,000 employees with fitness trackers. Employees could either receive the basic Zip for free, or choose a pricier device with Target partially subsidizing the cost.
The Fitbit Alta. Image source: Fitbit.
However, Fitbit admits in its latest 10-K filing that Fitbit Premium and Fitstar subscriptions still generate less than 1% of its revenues, andless than 10% of its revenues come from its corporate wellness programs. Fitbit also hasn't scored any high-profile corporate wellness deals on par with the Target deal over the past year. Fitbit has also constantly struggled with questions about the accuracy of its heart rate tracking features, the usefulness of the collected data, and the medical significance ofthe 10,000 step goal set by most fitness trackers.
Expect a "transition year"
CEO James Park is telling investors that 2017 will be "a transition year", and that the company "must take important steps to chart our return to profitability and growth." Speaking about the recent executive shakeup and business realignment, Park notes that it's "essential that we are organized properly so that we can successfully execute our strategy."
Park's statement sounds somewhat generic, however, and it's short on actual details. Unless Fitbit clearly illustrates a turnaround plan that boosts its slowing sales, curbs its rising expenses, and increases the weight of its digital/enterprise initiatives on its top line, I'd take these transition and turnaround promises with a grain of salt.
10 stocks we like better than FitbitWhen investing geniuses David and Tom Gardner have a stock tip, it can pay to listen. After all, the newsletter they have run for over a decade, Motley Fool Stock Advisor, has tripled the market.*
David and Tom just revealed what they believe are the 10 best stocks for investors to buy right now... and Fitbit wasn't one of them! That's right -- they think these 10 stocks are even better buys.
Click here to learn about these picks!
*Stock Advisor returns as of February 6, 2017
Leo Sun owns shares of CSCO. The Motley Fool owns shares of and recommends Fitbit. The Motley Fool recommends CSCO. The Motley Fool has a disclosure policy.