Can Dollar General Corp. Succeed Where Wal-Mart Stores Inc. Failed?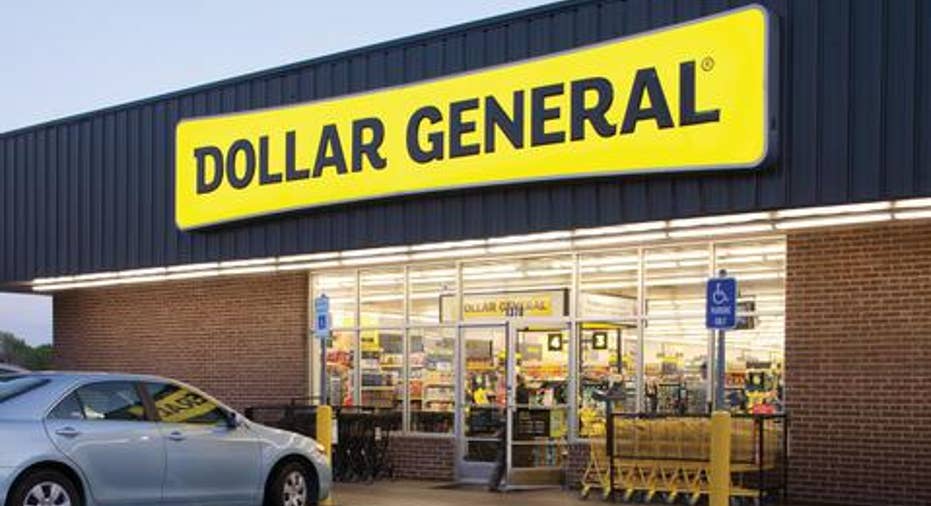 Dollar General hopes there are big things in store for its new small-footprint concept, which it hopes can take on convenience stores on their own playing field. Source: Dollar General
Wal-Mart tried to compete with smaller value chains likeDollar General and Dollar Tree by opening up small-footprint Walmart Express stores that, at 15,000 square feet, were just a fraction of its 180,000 square-foot supercenters. The experiment was a failure, and the retailer quickly began rebranding the stores as Neighborhood Markets that were, on average, three times larger. Earlier this year, it threw in the towel completely, announcing it was exiting the convenience store model altogether and was closing the 102 remaining Express stores.
The dollar store chains can claim victory in beating back the attack by the retail giant, but with Dollar General now announcing plans to expand its own smaller-footprint stores nationwide, will it be making the same mistake as its bigger rival, or can it succeed where Wal-Mart failed?
Dollar General has experimented with different formats before. Its upscale DG Markets, for example, offer customers a wider selection of goods than they're typically accustomed to finding at a traditional store, including fresh produce. Last year, it began testing a prototype that would serve as the basis for all new store openings, as well as those it was remodeling, featuring more refrigerators and freezers, as well as an enhanced checkout experience. The new model will also be around 6,000 square feet.
It's a model that seeks to combat the rise of convenience stores that have enjoyed phenomenal growth of their own as they have added groceries and fresh, prepared foods, even allowing customers to fill up their gas tanks. According to the National Association of Convenience Stores, C-stores are the largest segment of retailing, representing more than 34% of all retailers with almost 155,000 stores in operation. In contrast, dollar stores are among the smallest, with a little over 27,000 locations. Importantly, more than three-quarters of all C-store operators reported seeing food service sales increase last year, and almost 80% are optimistic about their outlook for the coming year. The most recent data available shows food service sales hitting approximately $41 billion, or almost 20% of in-store sales in 2014.
NACS says the average size of a C-store is around 2,700 square feet, but newer ones being opened average almost 3,600 square feet, making Dollar General's new smaller prototype somewhat closer to these retail outlets, though still almost twice as large.
So far, Dollar General says the tests have been generally positive. While the stores tend to have higher costs associated with them, thus pinching profits, the company hopes consumer desire for greater convenience -- to be able to get in and out of a store quickly with needed items -- will drive volumes higher at these stores, giving them more sales per square foot.
The difference between Dollar General's prototype and the one Wal-Mart launched is substantial. In the latter case, the retailer stocked significantly fewer items than customers were accustomed to finding as Wal-Mart had to limit the number of brands it carried. Dollar General, in contrast, by reducing the store size by about 20% but expanding the number of popular items available by limiting the weakest, should encounter the opposite result.
It's still a work in progress, but the company will be opening 80 such stores this year on top of the 30 already in existence.
The article Can Dollar General Corp. Succeed Where Wal-Mart Stores Inc. Failed? originally appeared on Fool.com.
Rich Duprey has no position in any stocks mentioned. The Motley Fool has no position in any of the stocks mentioned. Try any of our Foolish newsletter services free for 30 days. We Fools may not all hold the same opinions, but we all believe that considering a diverse range of insights makes us better investors. The Motley Fool has a disclosure policy.
Copyright 1995 - 2016 The Motley Fool, LLC. All rights reserved. The Motley Fool has a disclosure policy.