Can Conn's Stock Keep Going After Last Week's 34% Pop?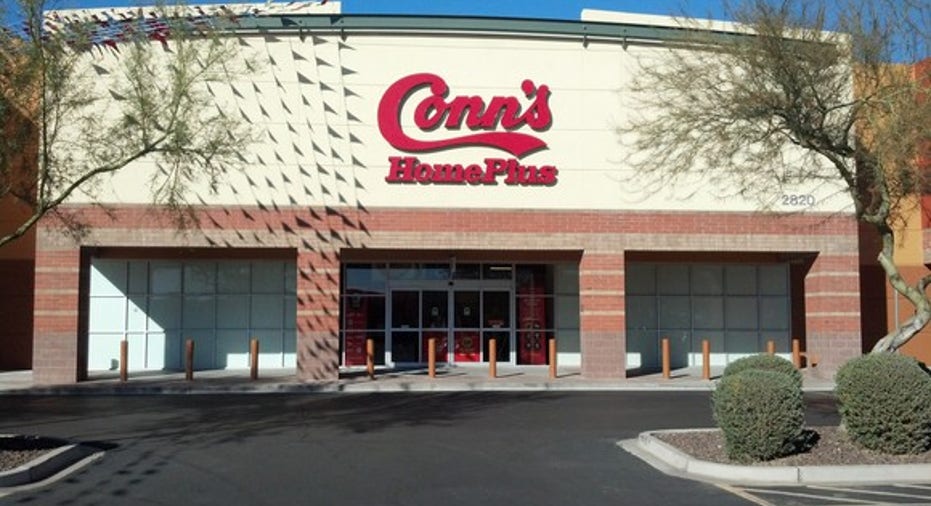 Image source: Conn's.
A quarterly report that may seem rough on the surface isn't going to slowConn's (NASDAQ: CONN)down. Shares of the consumer-electronics retailer were one of the market's biggest winners last week, soaring 33.8% after the company posted better-than-expected financial results and offered up encouraging news on the credit front.
The quarter itself may not seem like the kind of fare that would send a stock skyrocketing higher. Total retail revenue clocked in at $308.4 million, 4.5% below the prior year's showing as a few new stores that opened over the past year weren't enough to overcome a 10.1% decline in comparable-store sales. Conn's also posted its third straight quarterly deficit.
The performance may seem grim, but appearances are deceiving. Store-level sales took a big hit, but that's because Conn's got better about not selling stuff on credit to unreliable borrowers. Conn's has beefed up its underwriting model to improve the bad debt on its books, and the retailer suggests that the tightening accounted for roughly 1,000 basis points of the 1,010 basis point-decline in comps. Pair that up with a recent regulatory win in Texas to charge higher rates for big-ticket purchases, and you have a rare case in which you can achieve addition through subtraction. Notably, its provision for bad debt decreased for the first time in four quarters.
Red ink on the bottom line isn't pretty, but this is still a relative victory for Conn's. Its quarterly deficit of $0.08 a share on an adjusted basis is considerably better than the $0.19 deficit analysts were forecasting.
Pros on Conn's
Wall Street pros liked what they're hearing out of the 113-store chain. SunTrust analyst David Magee thinks credit losses at Conn's could be shaved substantially over the next two years. He now sees Conn's earning $1.25 a share in the next fiscal year, up from his earlier projection of a $1-per-share profit. He's sticking with his bullish rating, boosting his price target from $16 to $20.
Stifel analyst John Baugh is also juicing up his price goal, taking it from $16 to $19. The improving loan-loss provisions and easier same-store-sales comparisons come next year, and once the underwriting changes are the same on a year-over-year basis, Conn's financial profile should improve. Baugh sees the retailer breaking even again in the next few quarters, and two years from now annual earnings could top $2.50 a share.
The market has been bracing for the worst with Conn's, explaining why the stock soared 24% three months ago, the week it postediffy resultsfor its fiscal second quarter. The stock has now nearly doubled in the second half of this calendar year, though it's still not where it was when the year began. The important thing is that Conn's is taking baby steps forward, even if to the untrained eye it appears to be going in reverse.
10 stocks we like better than Conn's When investing geniuses David and Tom Gardner have a stock tip, it can pay to listen. After all, the newsletter they have run for over a decade, Motley Fool Stock Advisor, has tripled the market.*
David and Tom just revealed what they believe are the 10 best stocks for investors to buy right now... and Conn's wasn't one of them! That's right -- they think these 10 stocks are even better buys.
Click here to learn about these picks!
*Stock Advisor returns as of Nov. 7, 2016
Rick Munarriz has no position in any stocks mentioned. The Motley Fool has no position in any of the stocks mentioned. Try any of our Foolish newsletter services free for 30 days. We Fools may not all hold the same opinions, but we all believe that considering a diverse range of insights makes us better investors. The Motley Fool has a disclosure policy.