Can Bristol-Myers Squibb And AbbVie's Empliciti Become a Top Seller?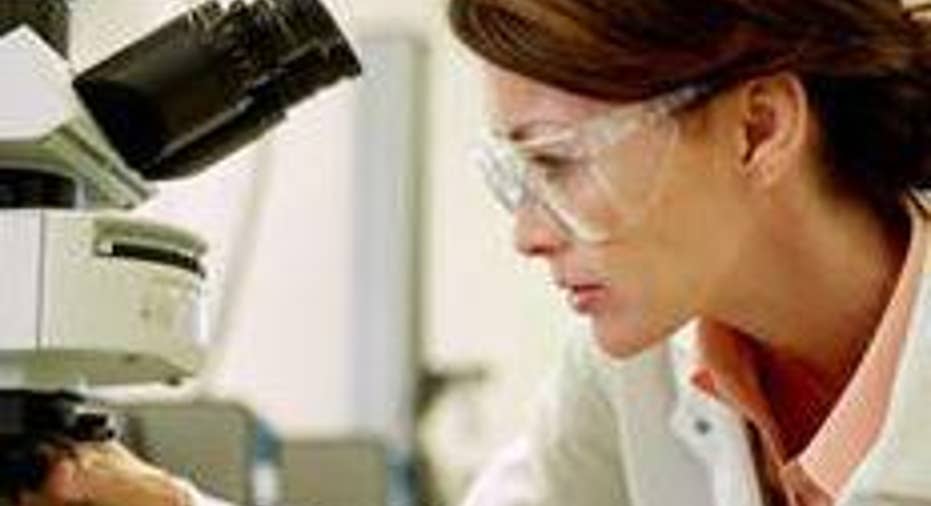 Image source: Bristol-Myers Squibb.
The FDA has given Bristol-Myers Squibb and AbbVie's multiple myeloma drug Empliciti a green light, and that could mean that the way doctors have traditionally treated recurring multiple myeloma is about to change. If so, then Empliciti could become a billion-dollar blockbuster.
Redefining careMultiple myeloma occurs when abnormal plasma cells build up in the bone marrow and form tumors that can reduce the number of white and red blood cells that are produced in the bone marrow.
The cancer is diagnosed in 26,850 Americans every year and despite advances that are improving survival, there's still a significant need for new therapies because 11,240 people die from multiple myeloma every year.
Currently, newly diagnosed multiple myeloma patients are treated with dexamethasone or dexamethasone plus Celgene's (NASDAQ: CELG) Revlimid, or a combination that includes Takeda's Velcade, a proteasome inhibitor. However, because there's no cure for multiple myeloma, these and other medications -- including Celgene's Pomalyst -- are frequently used to help keep the disease from worsening.
The approval of these therapies has led to multiple myeloma five-year survival rates improving to 46.6% from 26.6% in 1975. Adding Bristol-Myers Squibb and AbbVie's Empliciti to second-line treatment may improve these survival rates further.
In trials, dosing Empliciti alongside dexamethasone and Revlimid in patients who have seen their disease return or fail to improve after first line therapy delayed disease progression by 19.4 months, which is far longer than the 14.9-month delay experienced by patients receiving only dexamethasone and Revlimid.
Additionally, 78.5% of patients taking the Empliciti combination therapy saw complete or partial tumor shrinkage and that was better than the 65.5% reported in the dexamethasone plus Revlimid arm of the study.
Image source: AbbVie.
A billion-dollar marketCelgene expects sales of Revlimid to top $5.6 billion this year, Velcade's sales totaled $2.9 billion last year, and sales of Pomalyst exited the third quarter at a billion-dollar annualized clip.
Those numbers suggest that Empliciti has blockbuster potential, too -- especially since Empliciti will cost roughly $10,000 per month , which is a little south of Revlimid's $14,000 monthly price tag but is north of Velcade's $9,000-per-month cost.
Looking forwardIn the U.S., Bristol-Myers Squibb will get 70% of any profit on sales of Empliciti and AbbVie will get 30%. Outside the U.S., Bristol-Myers Squibb will pay AbbVie a royalty. As a result, Empliciti will move the needle more for Bristol-Myers Squibb than it does for AbbVie.
Ultimately, how much Empliciti contributes to each of these companies' top and bottom line will depend a lot on payers. Because each of these multiple myeloma drugs is pricey, payers may balk at using Empliciti in the second-line setting. Instead, they may try to convince doctors to use it as a third-line therapy and if so, then that would reduce its peak sales potential. For that reason, investors will want to keep an eye on Bristol-Myers Squibb's quarterly earnings releases in 2016 to see how quickly the drug's sales ramp.
The article Can Bristol-Myers Squibb And AbbVie's Empliciti Become a Top Seller? originally appeared on Fool.com.
Todd Campbell owns shares of Celgene. Todd owns E.B. Capital Markets, LLC. E.B. Capital's clients may have positions in the companies mentioned. The Motley Fool owns shares of and recommends Celgene. Try any of our Foolish newsletter services free for 30 days. We Fools may not all hold the same opinions, but we all believe that considering a diverse range of insights makes us better investors. The Motley Fool has a disclosure policy.
Copyright 1995 - 2015 The Motley Fool, LLC. All rights reserved. The Motley Fool has a disclosure policy.