Can AstraZeneca Live Up to Its $45 Billion Promise?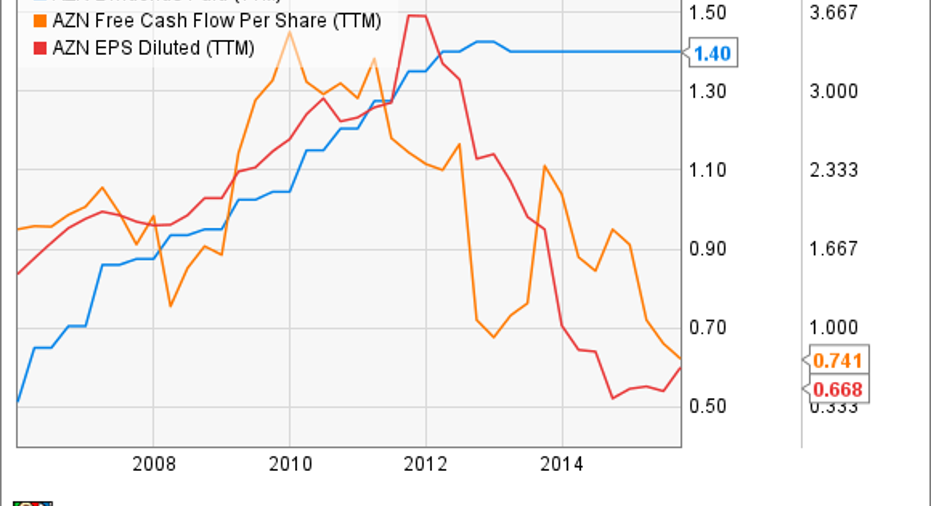 Back whenAstraZeneca was fighting off a takeover attempt byPfizer, management promised a whopping $45 billion in revenue by 2023. We're a year closer to what may be the world's largest self-imposed deadline, but a couple billion further from the goal.
That's not to say the company hasn't been making strides toward returning to growth. Two recent approvals are already adding to its top line. A little further ahead, two new drugs with applications pending at the FDA could begin contributing in 2016. Let's take a these four drugs to see if the company's late-stage pipeline can deliver on management's $45 billion promise.
Crushing the resistanceAstraZeneca's most recent offering is Tagrisso. It's in a fairly common class of cancer-fighting drugs known as tyrosine kinase inhibitors.These drugs are good at shrinking tumors that express an unusual amount of epidermal growth factor receptor protein, or EGFR. Opinions vary, but more than one-tenth of the 188,000 Americans diagnosed with non-small cell lung cancer fall this year probably fall into in this group.
The trouble is a majority of patients that respond to this therapy initially end up developing resistance. For these advanced patients, options were extremely limited -- until now.
What makes Tagrisso so special is that it targets the EGFR-mutationandthe T790-mutation which is responsible for resistance to these drugs in most cases.
Tagrisso is now the only approved kinase inhibitor for this well-defined, relatively large patient population. Its unique indication not only sounds impressive, but it also delivers results. During clinical trials, the drug shrank tumors in more than half of patients who had progressed on or after treatment with other kinase inhibitors. The effects are also durable, with the median response lasting over a year.
Image source: AstraZeneca.
Safe and effective new therapies in underserved but well-defined patient populations are what regulators crave. It's no wonder the FDA ushered the drug through the regulatory process three months ahead of schedule.
The quick approval was especially good news for AstraZeneca investors because a similar investigational therapy, rociletinib, was also approaching the finish line. Developed byClovis Oncology , the potential competitor showed similar response rates during clinical trials.At least it looked like a similar rate when the company submitted its application...
Unexpected advantageIt looks like AstraZeneca may not have needed the quick approval to gain an advantage over Clovis anyway. Just after the FDA announced Tagrisso's approval, Clovis disclosed a request from the regulator to provide additional information for rociletinib. Apparently there was a problem with the confirmed and unconfirmed response analyses submitted as part of its application.
In a nutshell, Clovis had submitted some immature data in the original application. As the data matured, the number of patients with unconfirmed responses who converted to confirmed responses was lower than expected.With the current confirmed response rate far lower than that seen with Tagrisso, the newsdecimatedClovis' stock.
At best, the new submission of data will probably delay rociletinib's potential approval by a few months. Now that the only competitor for this defined subset of lung cancer patients is delayed, the runway is clear for a successful Tagrisso launch.
When AstraZeneca was making its case for rebuffing Pfizer's offer last year, management insisted Tagrisso could reach $3 billion in peak annual sales. That was much higher than most analyst estimates. Following the catastrophe at Clovis, however, this figure is far more realistic.
Beyond Tagrisso?Tagrisso's quick approval is a big step in the right direction, but it's hardly enough to return the company to growth on its own. Even adding management's generous estimate to the company's trailing-12-month revenue leaves it about $17.5 billion away from its $45 billion promise. That's a daunting challenge under any circumstances, but with Crestor and Nexium -- responsible for 31% of revenue year to date -- quickly losing ground to generic competition, it seems nearly impossible.
Image source: AstraZeneca.
However, the company's pipeline is brimming with growth drivers. Sales of heart attack-preventing Brilinta have been disappointing since its debut a few years ago, but the FDA approved a key label expansion in September. Now the drug can be given to patients with a history of heart attack beyond the first year of treatment.Gains from this expansion should take time to accumulate, but third-quarter U.S. sales of the blood thinner hit $170 million, already up 73% compared with the same period last year.With patients able to remain on treatment longer, this drug finally has a chance to reach AstraZeneca's estimate of $3.5 billion in annual sales by 2023.
Looking further ahead, an estimated 27 million Americans living with chronic obstructive pulmonary disorder, or COPD, could have another option soon. A new drug application for AstraZeneca's PT003, acquired along with Pearl Therapeutics for $1.2 billion, is under review at the FDA. A decision is expected in the second quarter of next year.
Another recent acquisition that could soon add to the company's top line was the $2.7 billion all-cash acquisition of ZS Pharma and its best-in-class hyperkalemia treatment, ZS-9. The drug, which is widely expected to reach blockbuster status, could begin contributing to sales soon. Its application is already in the hands of the FDA, and a decision is expected in May.
Analyst estimates for peak annual sales of PT003 and ZS-9 are $3.5 billion and $1.0 billion respectively. If PT003 and ZS-9 win approval and reach their respective estimates, it would push AstraZeneca a bit closer to its $45 billion dollar goal. However, if you expect management to continue using acquisitions to make up for shortfalls within its own pipeline, you might be disappointed.
AstraZeneca's operations haven't generated enough profit to cover the dividend for several quarters. In fact, the company issued $6 billion in debt to fund the $2.7 billion ZS Pharma acquisition and pay down existing obligations.The company is hardly in danger of becoming insolvent, but with just $4.6 billion in cash on hand at the end of the third quarter, and an inability to meet dividend payments with earnings, I expect acquisitions going forward to be limited.
If acquisitions are off the table, that leaves responsibility for reaching the $45 billion in revenue by 2023 on the company's current pipeline. The good news is that combined peak sales estimates for Tagrisso, Brilinta, PT003, and ZS-9 total $11 billion annually. Even if they disappoint by half, these four drugs alone could offset Crestor and Nexium losses. This means years of sliding revenues are probably over, or at least nearing a bottom.There are so many candidates with blockbuster potential nearing the finish line that I wouldn't say reaching the goal impossible, but it will require some luck.
The article Can AstraZeneca Live Up to Its $45 Billion Promise? originally appeared on Fool.com.
Cory Renauer has no position in any stocks mentioned. The Motley Fool has no position in any of the stocks mentioned. Try any of our Foolish newsletter services free for 30 days. We Fools may not all hold the same opinions, but we all believe that considering a diverse range of insights makes us better investors. The Motley Fool has a disclosure policy.
Copyright 1995 - 2015 The Motley Fool, LLC. All rights reserved. The Motley Fool has a disclosure policy.