Can American Water Works Rise Above the Competition?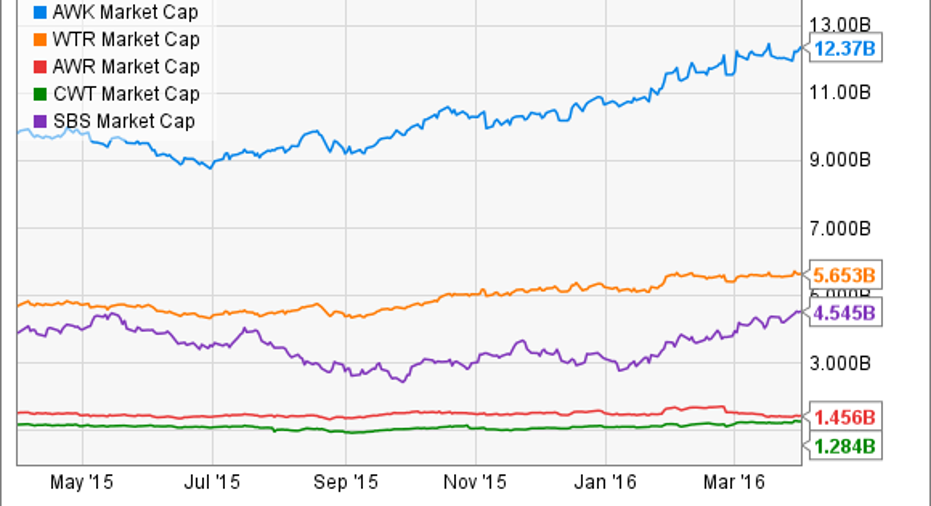 Image Source: Pixabay.com
Delivering water for over 130 years, American Water Works is certainly not wet behind the ears. Of course, there's also no guarantee the company will be around for another hundred years. As every investor should know, past performance doesn't guarantee future results. So let's look at the company's competition to see if it merely treads water among its peers or rises above the rest.Corporate bodies of waterProviding water and wastewater services to approximately 3 million people, Aqua America operates in eight states. This number pales in comparison with American Water, which provides the same services to about 15 million people in 47 states, plus Washington D.C., and Ontario.
AWK Market Cap data by YCharts
Representing the only significant foreign competitor, Companhia de Saneamento Basico do Estado de Sao Paulo , also known as Sabesp, is a Brazilian provider of water and sewage treatment services. Though it lags Aqua America by market cap, it far exceeds it based on the number of customers served. According to Sabesp, it provides water, directly and indirectly, to 28.4 million people throughout the state of Sao Paulo and provides sewage treatment services for more than 22 million people.Rounding out the peer group are two companies that operate primarily in California. Through its subsidiary, Golden State Water Company, American States Water Company provides water and wastewater services to about 260,000 customers in 10 counties throughout California. Unlike its peers, American States also distributes electricity to about 24,000 customers in Northern California.California Water Service Group , meanwhile, operates in four states and provides water and wastewater services to more than 490,000 customers. Testing the watersInvestors who are drawn to water utilities and interested in a domestic company may consider Aqua America; however, they must tread carefully. Lacking sufficient geographic diversity, Aqua America poses more risk than American Water. Whereas American Water conducts its regulated business in 16 states, Aqua America operates in only eight. In addition, it's overly dependent on its largest subsidiary, Aqua Pennsylvania, which in fiscal 2015 accounted for approximately 52% of the company's operating revenue and 76% of revenue for the regulated segment. American Water doesn't face the same risk.In fiscal 2015, New Jersey contributed the most in terms of regulated business segment revenue -- 26% -- while Pennsylvania came in second at 22%.Sabesp, operating out of Brazil, offers an opportunity for investors considering a foreign investment. However, an investment in a Brazilian company is not for the faint of heart -- the country's president is facing possible impeachment. Recently releasing earnings for fiscal 2015, Sabesp reported net operating revenue grew 4.4% compared with fiscal 2014, while adjusted EBITDA grew 36.2%. But the news isn't all rosy. Despite these gains, the company didn't recognize the same growth on the bottom line. Net income dropped 41% year over year, from 903 million reals in fiscal 2014 to 536.3 million reals in fiscal 2015.
As big as that drop is, it pales in comparison with what has transpired over the past five years. During that time, net income has dropped more than 61% from the 1.38 billion reals it reported in fiscal 2011. American Water, on the other hand, has enjoyed much more success. For fiscal 2015, the company reported net income of $476 million -- a 10.7% improvement over the $430 million it reported in fiscla 2014 and a 53.5% gain over the $310 million it reported in fiscal 2011.
Although California Water Service Group conducts operations in four states, the company's operations in California account for 94% of its total customers and 94% of its total consolidated operating revenue. This lack of geographical diversity in its operations has the potential to compromise the company's success should something negative happen statewide -- and it has. California is experiencing one of the worst droughts in its history, and the situation has hindered the company's ability to achieve growth.
Similarly, American States Water Company primarily relies on its operations in California. Through its Golden State Water Company business, it serves more than 260,000 customers across 10 counties. This group accounts for about 90% of the company's total water revenue. Like California Water Service Group, the company has suffered over the past year because of the drought.
AWK Revenue (TTM) data by YCharts
Over the past year, American Water has grown its top line and effectively spun it into profit. Here we see the results of the competitive advantage American Water retain. The company has demonstrated superior profitability in realizing improving returns on equity and invested capital, whereas California Water Service Group and American States Water Company have been on the decline.
The bottom line on the bottom lineRevenue growth, ROE, and ROIC are all important metrics to consider when comparing peers, but it's all for naught if there's no look at the earnings. As before, we find that American Water is outperforming its peers.
AWK EPS Diluted (TTM) data by YCharts
To say that the past five years have been challenging for Sabesp is a gross understatement. The political turmoil and constant water-supply concerns suggest that little relief exists on the horizon. Though its situation isn't as bad as Sabesp's, California Water Service Group has also seen profits dry up over the past few years. Reeling from the historic drought, the company is currently struggling to keep its head above water -- diluted earnings per share for the trailing 12 months are down nearly 21% over the past year.
Aqua America and American States Water Company have both seen profits rise over the past five years; however, they both lag American Water. And, like California Water Service Group, the past year has been a challenge. Whereas American Water has grown diluted EPS by almost 6%, Aqua America has seen earnings dive nearly 16%, and American States Water Company is down over 1%.The takeawayFor investors attracted to the utilities sector, American Water warrants a look. Before diving in, investors should take a look at the rest of the pool -- weighing the competition and how they may affect the company's prospects. Perhaps the greatest threat, Aqua America, at the moment doesn't seem to pose a major threat -- nor do the rest of its peers. But that's not to say that the tide can't soon turn.
The article Can American Water Works Rise Above the Competition? originally appeared on Fool.com.
Scott Levineenjoys drinking water but has no position in any stocks mentioned. The Motley Fool recommends Companhia de Saneamento Basico (ADR). Try any of our Foolish newsletter services free for 30 days. We Fools may not all hold the same opinions, but we all believe that considering a diverse range of insights makes us better investors. The Motley Fool has a disclosure policy.
Copyright 1995 - 2016 The Motley Fool, LLC. All rights reserved. The Motley Fool has a disclosure policy.