Calumet Specialty Products Partners Got Hammered in 2016, and 2017 Doesn't Look Much Better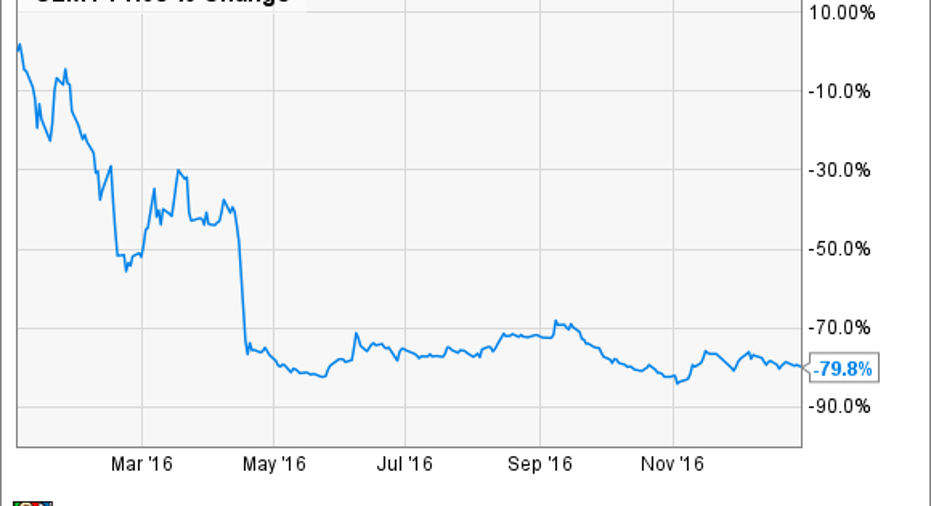 While the rest of the oil and gas industry was having a banner year in 2016, Calumet Specialty Products Partners (NASDAQ: CLMT) was having an incredibly bad year. Investors in the specialty petroleum product manufacturer saw shares decline close to 80%.
To really understand how this could happen in one year, though, we have to back up a couple of years to set the stage for 2016. So let's take a look at the factors that led up to this tragically bad year for Calumet's stock, what the catalyst was to send shares plunging, and whether there is any hope for a strong recovery -- or any recovery -- in 2017.
Image source: Getty Images.
Painting itself into a corner
Calumet Specialty Products Partners is the tale of two businesses. On one hand, it has this small gem of a business producing non-fuel petroleum products like paraffin waxes and lubricants. Over the years, this has shown to be a pretty reliable business, as it generates decent margins and steady cash flow, which isn't very common in a cyclical business like refining.
Unfortunately for shareholders, Calumet's management decided this business wasn't enough and, starting in 2011, diversified by acquiring several conventional refineries, broke ground on the first refinery in decades in the U.S., and even invested in a oilfield services business. Since Calumet is a master limited partnership that passes most of its profit and cash flow to investors rather than retaining it for reinvestment, it used a lot of debt to fuel those acquisitions. Between 2011 and 2016, total debt at Calumet blew up from a very modest $300 million to more than $2 billion today. It doesn't matter how great the business you are acquiring is, taking on that much debt in a short time is destined to cause problems.
CLMT Total Long Term Debt (Quarterly) data by YCharts.
For a while, these issues were masked by the fact that 2015 was a great year to be in the refining industry. High refining margins and better than normal EBITDA levels made the company's debt levels look manageable. At the end of 2015, though, refining margins started to contract and investors got a view of a much worse situation. As things worsened in 2016, Calumet's cash situation became so dire it had to suspend its payout to shareholders. That, and the sudden realization that the company's current business wasn't able to stand on its own, sent shares plummeting throughout the year.
Long time for a turnaround
In early 2016, Calumet appointed Timothy Go to the CEO position. As a longtime veteran of Royal Dutch Shell's refining business, Go's job is to improve the company's operations and bring its specialty product and fuels refining business back to profitability. It's not going to be an easy task. The company's current operations can't even generate enough operational profits to cover its cash interest expenses, and that doesn't include the pay-in-kind loans (where interest is paid in additional debt rather than cash) currently outstanding.
One of Go's stated goals is to better utilize the company's existing assets. An example is retooling its facilities to run a much higher rate of Canadian heavy oil. Typically, this oil is much less expensive than the light, sweet oil coming out of shale wells today, and refiners able to process it can earn higher margins. To do this, though, involves capital spending and, coincidentally, more debt.
On paper, Go's plan makes a lot of sense. If the company can pull it off, then it will certainly be in a much better position -- management estimates it can generate upward of $200 million in annual EBITDA with Go's initiatives. There is a big difference between a plan on paper and physical execution, though, and the odds aren't exactly stacked in the company's favor.
What a Fool believes
Anyone who is bargain-basement-hunting for stocks has likely come across Calumet. It's hard to look at that 80% decline in 2016 and not wonder if the worst is over. The thing is, the worst mightactually be over for this company, but that doesn't necessarily mean that greener pastures are right around the corner. This turnaround story is going to be a long slog that is almost certainly going to have its ups and downs. Unless we see refining margins expand incredibly this year -- unlikely based on oil prices increasing -- 2017 is going to be another ugly one for the company, and it's probably best to wait this one out to see if Calumet's management can actually right the ship.
10 stocks we like better than Calumet Specialty Products Partners When investing geniuses David and Tom Gardner have a stock tip, it can pay to listen. After all, the newsletter they have run for over a decade, Motley Fool Stock Advisor, has tripled the market.*
David and Tom just revealed what they believe are the 10 best stocks for investors to buy right now... and Calumet Specialty Products Partners wasn't one of them! That's right -- they think these 10 stocks are even better buys.
Click here to learn about these picks!
*Stock Advisor returns as of January 4, 2017
Tyler Crowe has no position in any stocks mentioned. The Motley Fool has no position in any of the stocks mentioned. The Motley Fool has a disclosure policy.