California lawmakers revive farmworker overtime bill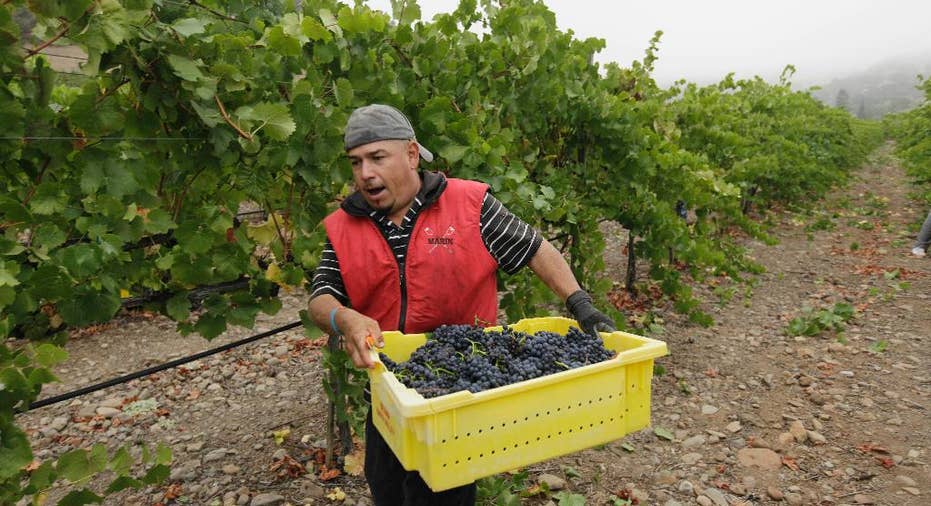 California's state Senate on Monday revived a bill that would make the state the first in the United States to give farmworkers the same overtime pay as people who work in other industries, a last-ditch effort to reverse a nearly 80-year-old practice of exempting field hands from wage rules.
The provision passed with only Democratic support after a debate over whether it would help or hurt an estimated 829,000 people who work on California farms harvesting fruit and vegetables, tending dairy cows and performing a wide variety of other agricultural tasks.
Hourly workers in California are generally entitled to pay at one-and-a-half times the hourly rate after they have worked eight hours in a day or 40 hours in a week. But for agricultural workers, the threshold required to get overtime pay is 10 hours a day or 60 hours a week.
"It's time that we do right by these men and women who work these fields every single day to nourish our bodies," said Senate President Pro Tem Kevin de Leon, D-Los Angeles.
The bill sponsored by Assemblywoman Lorena Gonzalez, D-San Diego, would gradually eliminate the disparity over a three-year period beginning in 2019. Farms with fewer than 25 employees would get an extra three years to meet the standard.
The Senate's 21-14 vote sets up a showdown in the Assembly, which narrowly rejected a nearly identical bill in May. Since then, Gonzalez agreed to give more time for smaller farms to comply and stepped up an online campaign to build support.
"Eventually humanity wins out," Gonzalez said. "I think people realize just how tough of a job it is and how this inequality is really affecting people's lives."
Republicans contend farm work is inherently seasonal and shouldn't be subject to the same rules as traditional labor. They said the bill would raise costs for farmers and make it more difficult for them to compete with rivals in other states and countries.
It also would lead farmers to hire more workers, critics said, leaving their existing employees with fewer hours and smaller paychecks — or prompt farm owners to replace labor-intensive crops with products more conducive to automation.
"This bill, instead of trying to help the farmworkers, is hosing the farmworkers," said Sen. Tom Berryhill, R-Twain Harte.
The United Farm Workers union has lobbied intensely this year for increased farmworker overtime and is well connected to Democratic lawmakers. Farmworkers and supporters tried to draw attention to their cause last week with a 24-hour fast held outside the state Capitol in Sacramento.
Approval by the Assembly and Democratic Gov. Jerry Brown would make California the first state with equivalent overtime rules for farm and nonfarm workers, according to the UFW.
Farmworkers have been exempt from overtime pay requirements since Congress approved the Fair Labor Standards Act in 1938 to outline workplace protections. Farmworkers were again exempted in 1999 when California guaranteed overtime pay after eight hours in a day, not just 40 in a week.
Livestock and dairy workers, irrigators and equipment operators would probably benefit most from the proposed change in California's overtime rule, said Philip Martin, a professor emeritus of agricultural and resource economics at the University of California, Davis.
Many seasonal harvest workers pick for less than eight hours a day, he said, though some work six days a week and could become eligible for a few weekly hours of overtime pay.
California, the nation's largest agricultural producer, has for decades been a battleground over farmworker rights. Cesar Chavez brought together farmworkers and founded the UFW in the Central Valley in the 1960s, organizing thousands of workers at who demanded better wages and working conditions.
California was the first state to give farmworkers collective bargaining rights, workers compensation and unemployment service. It also requires that employers provide rest breaks and access to water and shade.
___
Associated Press writer Alison Noon contributed to this story.