Buying The Dip in Gold ETFs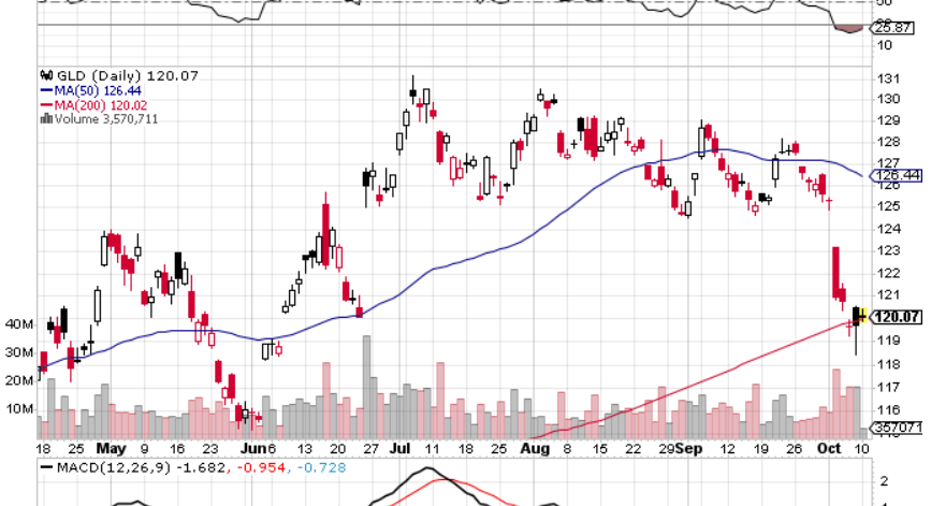 Due to speculation that gold prices could see more near-term downside, the The SPDR Gold Shares (NYSEArca: GLD), iShares Gold Trust (NYSEArca: IAU) and ETFS Physical Swiss Gold Shares (NYSEArca: SGOL) have recently retreated.
For gold bugs, the good news is that some investors see value in gold ETF and are buying these funds after the yellow metal's recent decline. That is an important catalyst because as gold ETFs, such as GLD have swelled in size over the years, these funds are now viewed as primary drivers of gold's price action.
SEE MORE: Record Investment Demand for Gold ETFs
Gold has found support from the weaker greenback, however the enthusiasm could be tempered by uninspiring economic data in the US and overseas.  Japan's flat GDP growth and weaker retails sales in the US have cast doubt over global economic growth, which limits Gold's potential as an inflation hedge," according to OptionsExpress.
"Gold's weakness gave investors in top physical gold-backed exchange traded fund – SPDR Gold Shares (NYSEARCA: GLD) – an excuse to top up on their holdings. On Friday, investors bought 11.3 tonnes of gold swelling GLD vaults to 958.9 tonnes or 30.8 million ounces," reports Frik Els for Mining.com.
Improving economic data has increased bets that the Federal Reserve could hike interest rates as soon as December, which would weigh on gold ETFs, particularly if a rate hike spurs the dollar higher.
SEE MORE: Gold ETFs Retreat on Strengthening USD, Rate Hike Outlook
Precious metals have been under pressure as hints of an improving economy and a number of hawkish statements from Fed officials raised the prospect of a tightening monetary policy.
"GLD's holdings hit a 2016 high early July, but some 23.8 tonnes have been pulled out from the fund's vaults since then, reducing the value of holdings by $3.86 billion as the gold price retreats. Year to date, holdings are up 316 tonnes," according to Mining.com.
For more information on the gold bullion market, visit our gold category.
SPDR Gold Shares
Tom Lydon's clients own shares of GLD.
The opinions and forecasts expressed herein are solely those of Tom Lydon, and may not actually come to pass. Information on this site should not be used or construed as an offer to sell, a solicitation of an offer to buy, or a recommendation for any product.
This article was provided by our partners at ETFTrends.