Buying Tesla Would Be a Terrible Move for Apple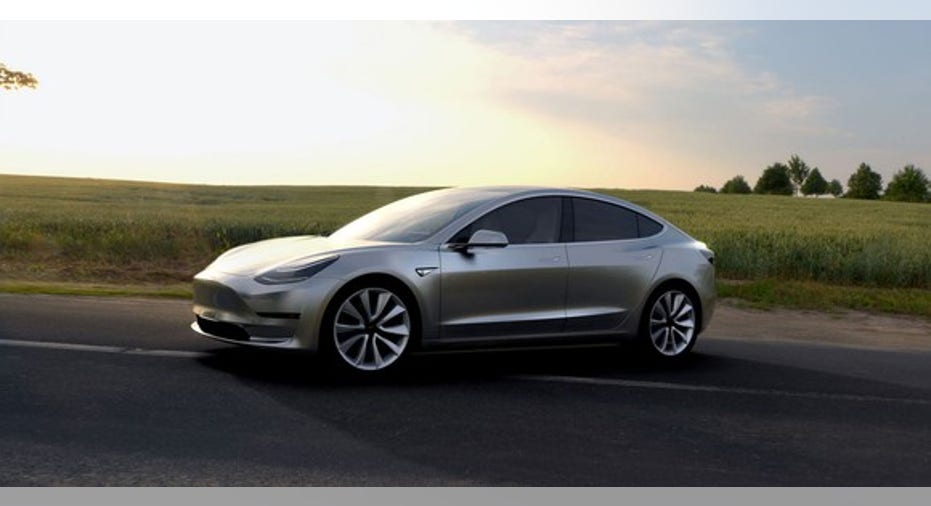 As iPhone sales growth has slowed -- and now gone into reverse -- numerous people have urged Apple to do something. Many seem to be hoping for it to make a transformative acquisition. Electric-vehicle upstart Tesla Motors appears to be the preferred target among various analysts, stock pundits, and investors.
Most investors have usually downplayed the possibility of a deal like this, as Apple has never acquired a big company like Tesla. However, on Apple's earnings call last month, CEO Tim Cook didn't rule out making a large acquisition.
Many people think that Apple should try to buy Tesla. Image source: Tesla Motors.
Nevertheless, buying Tesla would probably be a terrible move for Apple. Let's take a look at three reasons why an Apple-Tesla tie-up could backfire.
Tesla needs Elon Musk
On the surface, Apple and Tesla might seem like a good match. They're both known for making extremely good products and therefore benefit from strong customer loyalty. Additionally, Apple may be trying to develop an electric vehicle of its own. Buying Tesla could help speed its entry into that market.
However, it's important to recognize how important Elon Musk's visionary leadership has been to Tesla's success. Not only does he attract and motivate talented engineers, but he has also played a key role in growing Tesla's passionate customer base.
If Apple were to buy Tesla, there would be a big risk that Musk would leave the company within a year or two. Even if he's given a lot of autonomy, Musk doesn't seem like the type who wants to work for a boss. And he could easily spend more time on his other ventures, like SpaceX.
Buying Tesla could easily cost Apple $40 billion-$50 billion or more. Without Musk at the helm for the long term, it's much less likely that Tesla is worth that much money.
Elon Musk would be a bad Apple CEO
Perhaps recognizing this problem, Vivek Wadwha opined that Apple should buy Tesla and also hire Musk as its CEO in a recent column on MarketWatch. Wadwha argues that Apple hasn't developed anything truly innovative during Cook's tenure as CEO and that it needs a visionary like Steve Jobs -- or Musk -- at the helm.
However, just being a visionary isn't enough to succeed. You also have to be 100% committed to the products you are creating. Musk clearly feels that way about Tesla and SpaceX. It seems very unlikely that he would become equally passionate about the iPhone just by being appointed CEO of Apple.
The iPhone produces the vast majority of Apple's profit. Image source: Apple.
That's a problem, because the iPhone accounts for the vast majority of Apple's value. If Apple acquired Tesla, the iPhone would still account for the vast majority of its value. This one product line generated $155 billion of revenue at extremely high margins last year.
Therefore, the main thing Apple needs in its CEO is somebody who can extract as much value as possible from the iPhone franchise. Cook has done a commendable job on this front: iPhone sales have soared from less than 50 million in the year before he took the reins at Apple to more than 200 million annually today.
There's a significant risk that Musk would allow the iPhone to languish if he were Apple's CEO, focusing development resources on Tesla vehicles instead. That would be a poor trade-off for investors.
(To be fair, Wadwha suggests that Cook could return to his previous role as COO, focusing on execution. However, only one person can actually be in charge -- and if Musk were appointed CEO, it would be him.)
Tesla wouldn't move the needle on growth
Finally, even if the issue of Musk's long-term role at Apple were somehow resolved, it's not clear that buying Tesla would actually help Apple stock.
Analysts expect Apple to generate revenue of $227 billion next year. By contrast, they are expecting a little more than $11 billion of revenue from Tesla. Buying Tesla would thus add only 5% to Apple's revenue.
Even if Tesla could meet Musk's unrealistic goal of boosting output to 1 million vehicles per year by 2020, it would add "only" $50 billion to Apple's top line, assuming an average selling price of $50,000. Assuming no growth in the rest of Apple's business, the impact of this Tesla sales explosion would be modest 5% annual revenue growth.
Rapid growth at Tesla might not lead to rapid growth for Apple as a whole. Image source: Tesla Motors.
If Tesla only makes it halfway to its goal by 2020, it would provide a measly 2.5% annual growth contribution. This is hardly enough to get investors excited about Apple stock. Indeed, there's a reason why companies spin off fast-growing units -- they're usually a lot more valuable to investors as pure growth companies than as pieces of slow-growing conglomerates.
If anything, an investment makes more sense
If Apple is really confident in Tesla's growth prospects -- and doesn't think its own electric-car project is worth pursuing -- it might make more sense to make a minority investment in Tesla than to buy it outright. (Coincidentally, Apple just made a big investment this past week, sinking $1 billion into Chinese ride-sharing start-up Didi.)
A minority investment would give Musk the autonomy and the capital he needs to maximize Tesla's value. As part of the investment, Apple might also provide some operational support or partner with Tesla in areas of joint interest like battery technology or in-vehicle entertainment. Meanwhile, it would earn a share of the upside if Tesla becomes wildly successful.
Thus it's possible that Apple and Tesla could strike a mutually beneficial partnership. By contrast, an outright merger could turn into a disaster.
The article Buying Tesla Would Be a Terrible Move for Apple originally appeared on Fool.com.
Adam Levine-Weinberg is long January 2017 $85 calls on Apple. The Motley Fool owns shares of and recommends Apple and Tesla Motors. The Motley Fool is long January 2018 $90 calls on Apple and short January 2018 $95 calls on Apple. Try any of our Foolish newsletter services free for 30 days. We Fools may not all hold the same opinions, but we all believe that considering a diverse range of insights makes us better investors. The Motley Fool has a disclosure policy.
Copyright 1995 - 2016 The Motley Fool, LLC. All rights reserved. The Motley Fool has a disclosure policy.