Buyer Beware: Beer Stocks Are Looking Frothy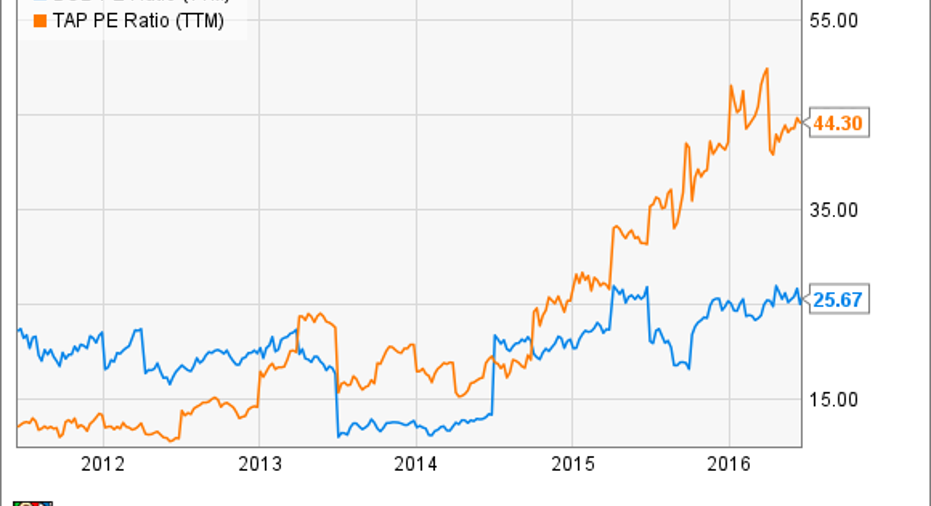 Image source: Getty Images.
A rush of big beer buyouts has bolstered the industry over the past few years, helping to drive the value of the biggest companies higher. But big beer has now been consolidated so far that companies are going to have to start standing on their own merits for investors. As they do, their values look very frothy for investors.
Valuations have gotten out of control
Investors are often willing to pay a premium for companies they know will be earning money for years to come and beer definitely falls into that category. But the earnings multiples at whichAB InBev and Molson Coors trade are very optimistic.
BUD PE Ratio (TTM) data by YCharts.
These earnings multiples are compared to price-to-earnings ratios of 18.8 for the Dow Jones Industrial Average and 24.3 for the S&P 500 as a whole. Both companies are struggling right now, and neither is a growth engine in today's market.
First-quarter revenue at AB Inbev was up 3.1%, but volumes dropped 1.7% as more consumers chose craft beers. A similar dynamic played out at Molson Coors, where sales were up 2.3% in the quarterand sales to retailers fell 1.3%. Price increases are being pushed through by both companies and that's leading to rising revenue and margins. If volumes continue to fall, there's a slippery slope coming in big beer.
Beer drinkers don't want more light beer
The major challenge is that beer drinkers are drifting toward local craft beers and away from the major light beer brands, a trend that has been happening for over a decade. According to the Brewer's Association, overall beer volumes were down 0.2% in the U.S. in 2015, but craft beer volumes were up 12.8%.
This puts AB Inbev and Molson Coors in a very tough position. They can acquire craft brewers, as they've done in the past, but they usually have to pay a premium for those acquisitions. And another craft brewer will come behind it.
The other move is to double down on existing brands to regain share, which costs advertising dollars and goes against the margin squeezing strategy they're instituting today. There's really no good way to grow without some form of acquisition and that'll keep a lid on investor returns going forward.
Beer stocks have a lot working against them
The slow growth and high valuations make this a tough industry to buy into today. Brands like Budweiser, Coors, and Molson may be household names, but overpaying for businesses that are slowly losing customers is a bad strategy for investors. That's why I'm staying away from big beer stocks.
The article Buyer Beware: Beer Stocks Are Looking Frothy originally appeared on Fool.com.
Travis Hoium owns shares of Molson Coors Brewing. The Motley Fool recommends Anheuser-Busch InBev NV. Try any of our Foolish newsletter services free for 30 days. We Fools may not all hold the same opinions, but we all believe that considering a diverse range of insights makes us better investors. The Motley Fool has a disclosure policy.
Copyright 1995 - 2016 The Motley Fool, LLC. All rights reserved. The Motley Fool has a disclosure policy.