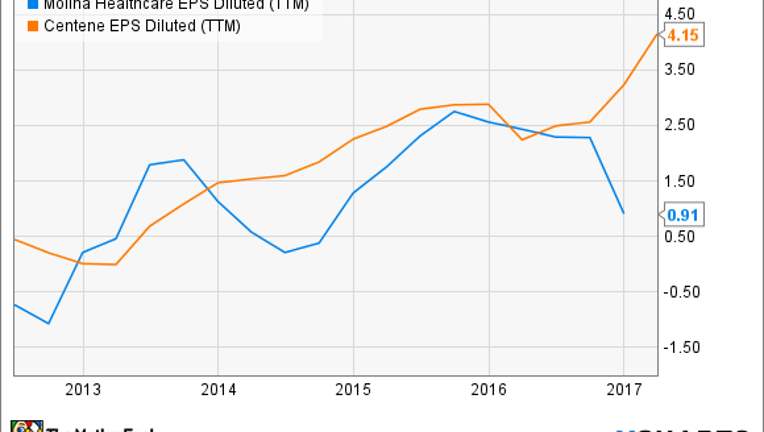 News thatMolina Healthcare's (NYSE: MOH)board of directors is shaking up its C-suite sent shares soaring this week, but investors might want to avoid buying stock in Molina until it gets its house in order. Instead, it might be better to buy shares inCentene Corp (NYSE: CNC), a competitor that's putting up best-in-class financial results.
What's the story?
Molina and Centene make the majority of their money running state Medicaid programs. Individual states will often contract with these insurers to run their Medicaid programs to avoid the burden associated with managing members and to achieve cost savings.
IMAGE SOURCE: CENTENE CORP.
It's a good business to be in, especially since the passage of the Affordable Care Act, or Obamacare. Obamacare includes an opt-in provision that allows willing states to expand Medicaid coverage to more residents, with federal funding.
Overall, 32 states, including D.C., adopted Medicaid expansion, leading to an additional 16.7 million people becoming covered by the program since 2013, and since Medicaid insurers' revenue is based on per-member contracts, these new members are supporting sales and profit growth industrywide.
Some insurers, however, are faring better than others when it comes to turning those additional dollars into profit. Centene, for example, has done a better job of delivering earnings-per-share growth than Molina Health.
MOH EPS Diluted (TTM) data by YCharts
Different directions
The two companies' first-quarter financials paint too very different pictures of financial health. Centene's results show it's executing at a high level, while Molina Health's results show it's got some housekeeping to do.
In discussing its first-quarter financials, Centene was laser-focused on its growth, regardless of Washington's regulatory whims and whispers. Meanwhile, Molina is focused on what's gone wrong, sothat the company can get back on track.
At Centene, organic growth and the acquisition ofHealth Net are fueling sales and earnings expansion. In the quarter, Centene's membership was12.1 million, which was up over 600,000 from the first quarter of 2016, and those members translated into $11.7 billion in revenue.
The company reported membership growth in Medicaid, and also in Medicare and in Obamacare.Centene boasts more than 1.2 million Obamacare plan members, up 500,000 from last year, and management says it's considering expanding into new markets in 2018, absent Obamacare's repeal-and-replace.
Centene's health benefit ratio, or the ratio of spending on member healthcare to premiums, clocked in at 87.6% in the first quarter, or 1.1% better than last year, and that performance helped management deliver earnings per share of $1.12, up 51% from last year.
Over at Molina, the first quarter was less rosy.
Molina announced that CEO Dr.J. MarioMolina and CFO John C. Molina will be replaced by Joseph White, the company's longtime chief accounting officer, because of disappointing financial results.Dale Wolf, chairman of the board of directors, said:
Wolf's comments might have you thinking that Molina's quarter was a disaster. It wasn't. But Molina is clearly underperforming competitors, including Centene, in terms of profitability.
In the quarter, Molina served 4.8 million members across state programs, such as Medicaid, Medicare, and Obamacare, and those members generated $4.6 billion in revenue.
The ratio of premiums spent on member healthcare was 88.4% in the quarter, and while that was a year-over-year improvement, it wasn't as good as Centene's ratio. On the bottom line, Molina reported EPS of $1.47. However, if you back out tailwinds due to a one-time breakup fee, EPS drops to $0.53. Last year, Molina's adjusted EPS was $0.43, so this was still an improvement.Still, it's not nearly the kind of growth that Centene delivered in the period.
The quarter's profit performance was also dragged down by an increase in spending ongeneral and administrative expenses. The ratio of G&A spending to revenue increased to 8.9% in Q1 from 7.8% a year ago.
Profitability also took a hit because of costs associated with members in Illinois. Costs from dates of service in 2016 and earlier reducedEPS by $0.22 in the quarter, as the company spent 112% of premiums on member healthcare.
Where do we go from here?
It could be months before Molina Health announces permanent replacements to serve as CEO and CFO, and even longer for those replacements to offer up a program to investors that shows how Molina plans to boost its profit.
That uncertainty in leadership, coupled with how quickly this decision appears to have been made, suggests that there could be negative unintended consequences for Molina's business, either in terms of fallout among employees, or hiccups in renewing contracts.
Overall, I think most investors should avoid the risk of owning Molina, and own Centene shares instead. Molina could execute a nice turnaround in its business, but there's no guarantee. Until investors have more insight into the company's plans, there are simply too many question marks for me to recommend owning shares.
10 stocks we like better than CenteneWhen investing geniuses David and Tom Gardner have a stock tip, it can pay to listen. After all, the newsletter they have run for over a decade, Motley Fool Stock Advisor, has tripled the market.*
David and Tom just revealed what they believe are the 10 best stocks for investors to buy right now... and Centene wasn't one of them! That's right -- they think these 10 stocks are even better buys.
Click here to learn about these picks!
*Stock Advisor returns as of May 1, 2017
Todd Campbell has no position in any stocks mentioned.His clients may have positions in the companies mentioned.The Motley Fool has no position in any of the stocks mentioned. The Motley Fool has a disclosure policy.