Buy Groupon After a 50% Price Drop? 3 Things You Need to Know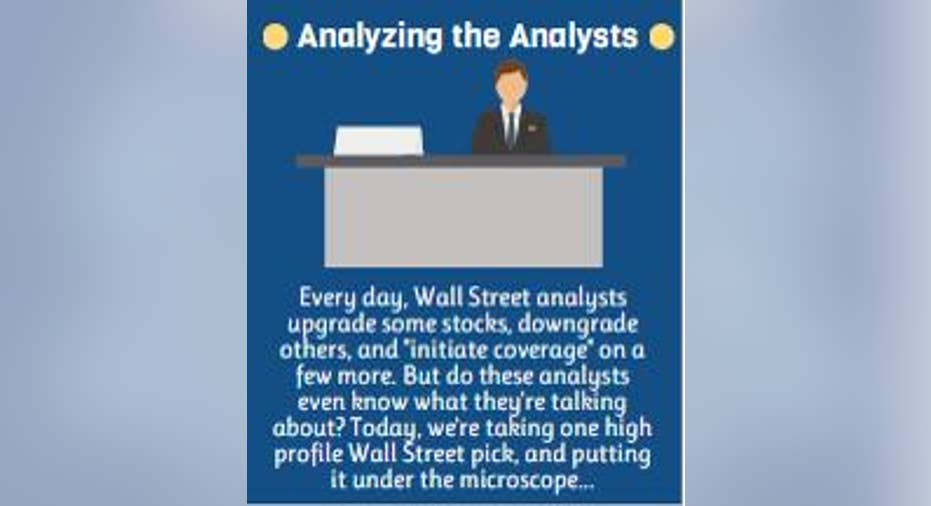 The past 52 weeks have seen Groupon stock drop nearly 50% -- a slide exacerbated by last week's lackluster results. Now, one analyst is saying it's time to sell the online deals site, while another analyst still sees hope for a rebound.
Which analyst is right? Read on, and then tell us what you think.
Thing No. 1: Don't buy Groupon yetStreetInsider.com features a couple great write-ups of on analyst moves related to Groupon this morning. The first, coming from investment banker Jefferies, goes a little something like this:
Groupon's Q1 earnings report last week was "better than expected," with the company reporting a $0.01 adjusted loss for the quarter despite analyst predictions of a $0.02 loss. Revenue was also better than expected. But even so, a loss is still a loss, and revenue declined year over year.
Although management held steady on its revenue guidance for this year, and upped profits guidance slightly, Jefferies fears that the company remains "a work in progress" and, until that progress is finished, suggests investors hold off on buying Groupon stock.
Deal, or no deal? Image source: Groupon.
Thing No. 2: Not yet, or not ever?Analysts at investment banker RBC Capital are even less sanguine about Groupon stock. Rather than hold out the possibility of a later endorsement of Groupon, as Jefferies did, RBC went right ahead and downgraded the stock.
Warns RBC, fundamentals at Groupon are "deteriorating," with billings continuing to trend down, revenue turning down as well, and customers -- while up in the most recent quarter -- costing Groupon an arm and a leg to acquire through increased marketing costs: "GRPN added 950K NA Active Customers (to 26.9M), the highest net add in 8 q's, although the surge is largely due to the incremental $39MM in marketing GRPN spent in Q1 in NA "
That all convinced RBC to cut its rating on the stock to underperform, and its price target to $3 per share.
Thing No. 3: Both analysts are right -- but RBC is more rightGroupon beat estimates last week, there's no denying that. And yet, as my fellow Fool Rick Munarriz pointed out at the time, investors reacted to the beat by subtracting 19% from Groupon's market capitalization.
Why?
Well, for one thing, despite revenue beating expectations last week, management declined to raise guidance to add the extra revenue from Q1 to its forecast for all of fiscal 2016. That suggests little confidence at Groupon itself that things are getting better. It more suggests that Q1 was a fluke (albeit a happy one).
And one more thing...That's not the worst thing about Groupon, though. I admit -- in years past, I've been intrigued about the valuation on Groupon stock myself. This was primarily because the company's respectable free cash flow number ($73 million in cash profits generated over the past 12 months -- much better than the reported $14 million GAAP loss), had me thinking the stock might be a bargain at an enterprise value of just 18 times FCF.
But the more I look at the stock, the less I like it. Consider:
Trailing-12-month free cash flow at Groupon is $73 million today. But according to S&P Global Market Intelligence data, it was $171 million at the end of last year, and $207 million the year before that. (And $289 million the year before that.)
Do you see the trend? Yes, Groupon is still generating lots of cash. But year after year after year, Groupon has been generating less and less cash from its business. Unless something changes, the company will soon begin consuming cash rather than generating it, at which point the company's cash-rich balance sheet is going to start deteriorating fast.
My advice is simply this: We can all see where Groupon is headed. And you probably don't want to own Groupon stock when it gets there.
The article Buy Groupon After a 50% Price Drop? 3 Things You Need to Know originally appeared on Fool.com.
Fool contributorRich Smithdoes not own shares of, nor is he short, any company named above. You can find him onMotley Fool CAPS, publicly pontificating under the handleTMFDitty, where he's currently ranked No. 294 out of more than 75,000 rated members.The Motley Fool has no position in any of the stocks mentioned. Try any of our Foolish newsletter services free for 30 days. We Fools may not all hold the same opinions, but we all believe that considering a diverse range of insights makes us better investors. The Motley Fool has a disclosure policy.
Copyright 1995 - 2016 The Motley Fool, LLC. All rights reserved. The Motley Fool has a disclosure policy.