Buy Exact Sciences Stock After a 72% Price Drop? 3 Things You Need to Know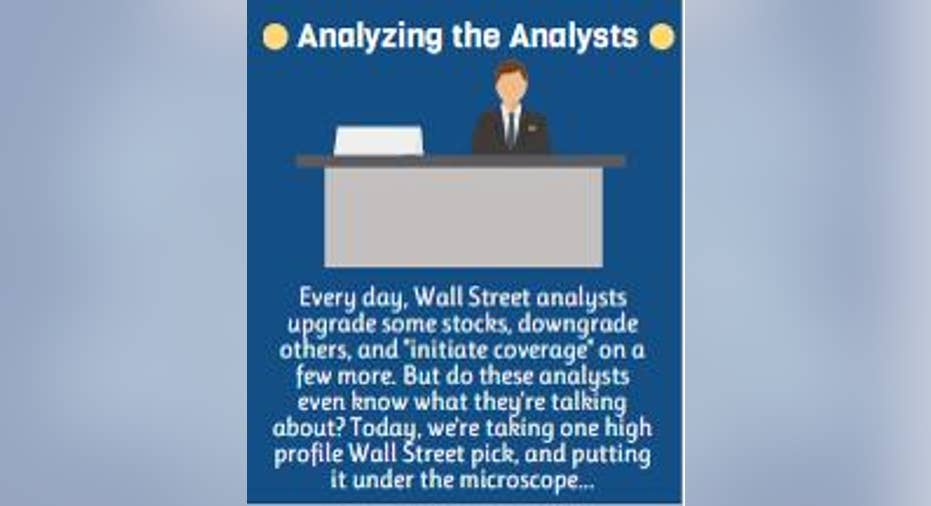 Shares of early cancer-detector Exact Sciences stock have lost 72% of their value over the past 52 weeks. This week alone, the stock shed 14% in the two days following its Q1 2016 earnings report -- a report that showed Exact Sciences beat analyst estimates for both sales and earnings.
And adding insult to injury, one day after announcing this earnings beat, we learn that analysts at Mizuho Securities have just downgraded the stock. So why has there been such negative reaction to what appeared to be positive news out of Exact Sciences?
Image source: Exact Sciences.
Thing No. 1: First things firstStreetInsider.com sketched out the broad points of Mizuho's downgrade is a short briefing this morning, noting that Mizuho cut its rating for Exact Sciences stock from buy to neutral -- and cut its target price nearly in half, to $6.50.
With Exact Sciences currently selling for just $5.90 per share or so (post-sell-off), though, that still seems to imply that there's 10% upside in the stock.
Thing No. 2: Why so glum, chum?But if that's the case, then what has Mizuho feeling so pessimistic? Well, here's the thing: Exact Sciences reported $0.49 in losses last quarter, and sales of $14.8 million. That exceeded expectationsof a $0.54-per-share loss on sales of only $14.7 million. But Exact Sciences notedthat in Q1, it paid for a "nine-week, five-market television advertising test" to see if TV advertising might drive additional sales.
Clearly, the experiment worked -- Exact Sciences CEO Kevin Conroy noted that it performed 40,000 Cologuard tests in the quarter, a 260% year-over-year increase. More important, during the test period itself, Cologuard test orders jumped 50%, and Exact Sciences saw "a 100-percentage point increase in new ordering physicians in the test markets versus control markets."
Encouraged by this success, Exact Sciences says it will be "launching a nationwide television campaign to expand patient awareness, secure new prescribing physicians and drive repeat orders of Cologuard."
Thing No. 3: And that's bad why, exactly? This has Mizuho worried that "spending and investments [will] remain elevated in order to continue to drive demand." Simply put, they're scared that the cost of the nationwide TV campaign will significantly accelerate marketing spending at Exact Sciences, and call this a "funding" risk for the company.
Mizuho also isn't convinced that the marketing investment will pay off, and casts doubt on management predictions of a "sharp acceleration in 2H" sales resulting from the TV advertising campaign.
Bonus thing: The most important thingIs Mizuho right to worry? Let's take a look: Last quarter, Exact Sciences spent $4.8 million more on costs of goods sold (than it spent in Q1 2015), and $9.2 million more on advertising. That's $14 million in total spending increases, all in the interests of generating only $10.6 million greater sales.
That already doesn't look like a great return on investment. And Exact Sciences also increased spending on R&D and administrative costs significantly, resulting in an overall loss from operations roughly 33% higher this year than last.
In short, Exact Sciences' advertising push seems to have passed the point of "diminishing returns" the very moment it began. Mizuho is right to worry that spending even more on advertising may only accelerate the company's losses. Meanwhile, according to data from S&P Global Market Intelligence, Exact Sciences' cash reserves shrank by $44.3 million between the end of Q4 2015 and the end of Q1 2016, implying a cash burn rate of roughly $177 million at the current ad-spend.
At that rate, Exact Sciences looks to be on track to burn through its remaining cash hoard in as little as 18 months at current spending rates. Accelerating ad-spend on a nationwide TV campaign would likely accelerate the rate of cash burn even further.
Mizuho was right to downgrade Exact Sciences this morning. And investors are right to be worried.
The article Buy Exact Sciences Stock After a 72% Price Drop? 3 Things You Need to Know originally appeared on Fool.com.
Fool contributorRich Smithdoes not own shares of, nor is he short, any company named above. You can find him onMotley Fool CAPS, publicly pontificating under the handleTMFDitty, where he's currently ranked No. 294 out of more than 75,000 rated members.The Motley Fool has no position in any of the stocks mentioned. Try any of our Foolish newsletter services free for 30 days. We Fools may not all hold the same opinions, but we all believe that considering a diverse range of insights makes us better investors. The Motley Fool has a disclosure policy.
Copyright 1995 - 2016 The Motley Fool, LLC. All rights reserved. The Motley Fool has a disclosure policy.