Buy Berkshire Hathaway for a 13% Profit? 3 Things You Need to Know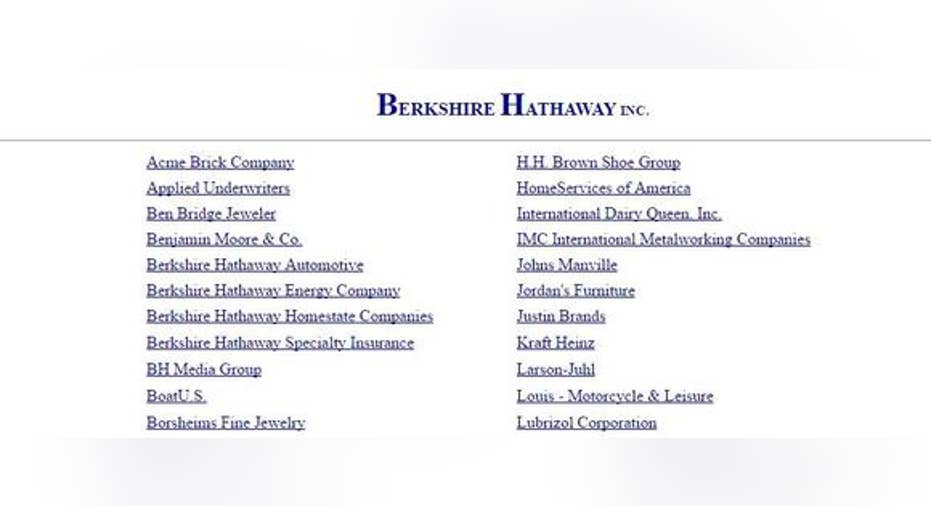 Down 3% over the past year, Berkshire Hathaway stock is a giant of American industry that is basically tracking the performance of the rest of American industry (i.e., the S&P 500 index). But according to one analyst at least, you're much better off buying a few shares of Berkshire Hathaway's B shares than investing in the S&P.
Why?
Here are three reasons.
Berkshire Hathaway owns a lot of companies. Here are just a few of them. Image source: Berkshire Hathaway.
Reason No. 1: UBS endorses Berkshire Hathaway stockSix weeks or so ago, the ratings watchers at StreetInsider.com highlighted an unusual move by giant Swiss investment bank UBS, issuing an endorsement for a stock priced well north of $200,000 a share: Berkshire Hathaway. At the time, UBS was only looking closely at Berkshire's A shares, which it rated an outperform and valued at about $244,500 apiece -- that's about a 13% profit from today's prices.
Six weeks later, though, UBS came back to give Berkshire Hathaway another look this morning, and decided to recommend the company's B shares as well. Observed UBS: "Our valuation methodology and outlook for Berkshire [is] the same for both share classes. Class B shares possesses dividend and distribution rights equal to one-fifteenhundredth of that of Class A shares, which will be used in creating an equivalent price target."
Reason No. 2: Too big to failWell alrighty then. So what was UBS' "methodology" for recommending Berkshire Hathaway's $200,000-plus price-tagged A shares in the first place? Basically, it breaks down into two parts. In part 1, examining the risk of buying Berkshire, UBS says it sees: "limited downside given BRK's intentions to repurchase shares at 1.2x book value." (For more on that price target, click here).
Meanwhile on the upside, UBS says that: "We believe that the current uncertain economic and market environment plays into the hands of BRK, with its structural advantages of permanent capital, strong cash generation and industry-leading portfolio of businesses."
And when you consider how volatile the oil market has been lately, and add to that today's jobs report showing weaker-than-expected growth, and unemployment stuck at 5%, you can understand why UBS might be going back to wondering how Berkshire will fare if the economy goes to pot.
Reason No. 3: Plenty big enough to succeedIn fact, let's take a closer look at two of the things UBS likes most about Berkshire Hathaway: Its "portfolio of businesses" and its "cash generation."
Since its origin as a small New England textile maker lucky enough to become the primary investment vehicle of Warren Buffett, Berkshire Hathaway has grown into a conglomerate boasting no fewer than 62 separate subsidiaries, including such famed names as Duracell, Kraft Heinz, and GEICO. Buffett loves to buy these kinds of brand-name companies on the cheap, and since companies tend to get cheaper when the economy hits a rough patch, buying opportunities could start cropping up soon if the economy stalls.
And what happens then? Well, at last report, S&P Global Market Intelligence data showed Berkshire Hathaway with nearly $65 billion in cash on its hands, just waiting to be spent on buying new subsidiaries. The company is generating $15.4 billion or more in positive free cash flow annually -- a number it's beaten or maintained for three years straight. To put that in context, at present rates of cash generation Berkshire Hathaway could conceivably buy itself a company the size of SanDisk(or given its aversion to tech companies, perhaps something more like Nucor) once a year, every year, forever -- until there are no more companies costing under $15 billion left to buy.
Berkshire Hathaway could do this, moreover, without touching a penny of its already accumulated $65 billion in cash. Or one magical year, it could blow all its cash and buy something like a Qualcomm or Lockheed Martin -- and then return to just buying SanDisks and Nucors the very next year.
The most important thingThat's just how big and powerful -- and profitable -- Berkshire Hathaway is today. With or without Warren Buffett to lead it, Berkshire Hathaway has become a corporation easily capable of eventually buying up the bulk of the U.S. economy (given enough time). And UBS is right to point this out.
But does this mean that you should buy Berkshire Hathaway stock?
Well, let me put it this way: Buffett himself says he will happily buy back all the Berkshire Hathaway stock available when it's selling for 1.2 times book value. The shares cost 1.4 times book value today -- but if you try to wait for it to sink to 1.2 times book to buy it, you will have to compete with Buffett himself to get ahold of the shares.
Good luck with that.
The article Buy Berkshire Hathaway for a 13% Profit? 3 Things You Need to Know originally appeared on Fool.com.
Fool contributorRich Smithdoes not own shares of, nor is he short, any company named above. You can find him onMotley Fool CAPS, publicly pontificating under the handleTMFDitty, where he's currently ranked No. 294 out of more than 75,000 rated members.The Motley Fool owns shares of and recommends Berkshire Hathaway and Qualcomm. The Motley Fool recommends Nucor. Try any of our Foolish newsletter services free for 30 days. We Fools may not all hold the same opinions, but we all believe that considering a diverse range of insights makes us better investors. The Motley Fool has a disclosure policy.
Copyright 1995 - 2016 The Motley Fool, LLC. All rights reserved. The Motley Fool has a disclosure policy.