Buy 3D Systems, ExOne, or Stratasys Stock? 1 Analyst Makes the Call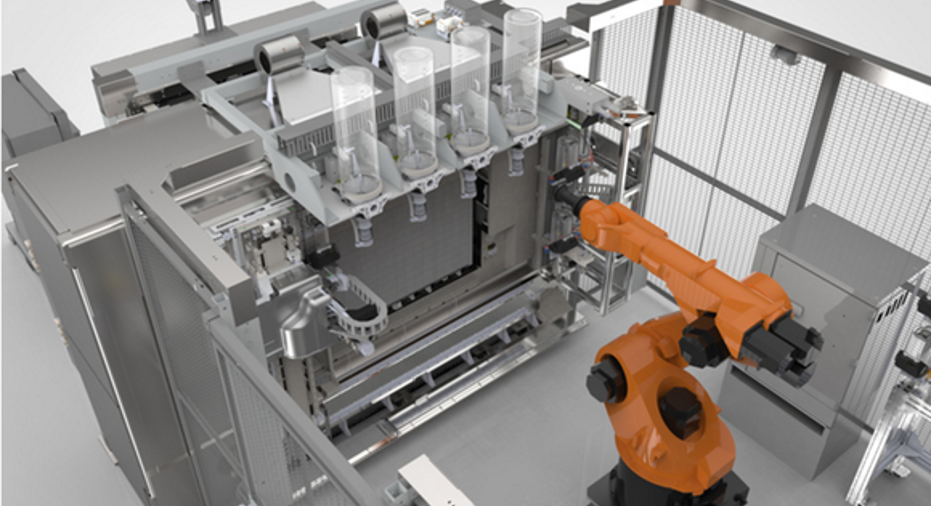 It's been a rough five years for investors in the 3D printing industry, who watched in amazement as shares of industry leaders like 3D Systems (NYSE: DDD), Stratasys (NASDAQ: SSYS), and ExOne (NASDAQ: XONE) soared early in the decade, only to turn tail and head for the basement in 2015.
Like so many other investors in red-hot tech sectors, we've seen our shares boom and bust -- and can only hope that they will survive to boom again. And at long last, the protracted slump of the 3D printing industry may finally be coming to an end, at least for a couple of the key players.
Yesterday, analysts at FBR Capital announced they will begin covering shares of 3D Systems, Stratasys, and ExOne. Two of these stocks they like. One of them, they don't. Here's what you need to know about that.
1. Stratasys is still "the largest additive manufacturing company"
Viewed as a whole, FBR sees "additive manufacturing entering a long-term upswing" as an industry, with "total industry revenues" likely to grow 20% to 30% annually "through 2020."
Image source: Stratasys.
As explained in a write-up on StreetInsider.com, FBR believes "more end markets" are expanding their use of 3D printing (which is also commonly known as additive manufacturing), accelerating the growth contributed by industries in which 3D has already become prevalent. At the same time, the analyst believes that Stratasys' specialization in the field of manufacturing high-end commercial and professional 3D printers will help to stave off competition as new companies enter the field, and as they attempt to compete with it.
As "the largest additive manufacturing company on a volume basis," FBR sees Stratasys as the company to beat -- and rates in an outperform with a $29 price target.
2. "Outsized returns" from ExOne?
If Stratasys stock is the safest and most obvious choice for investing in the 3D printing phenomenon, FBR views ExOnestock as the "high-risk, high-reward" candidate. Even more "highly specialized" in the niche field of "binder-jetting," FBR believes that ExOne's business model could produce "outsized returns" due to the "fairly high" profit margins in its chosen field of business.
That's where the rewards may come from -- but now let's consider the risks. According to FBR, ExOne only has enough money to remain on "solid ground" financially for about two more years. (S&P Global Market Intelligence data show ExOne has $32 million in the bank, offset by $2 million in debt -- and is burning cash at the rate of just over $5 million a year -- so apparently, FBR believes ExOne needs to keep about $20 million in cash free and on hand to run its business.)
Now admittedly, $5 million in annual cash burn is not a good thing. But as of last year, ExOne was burning through cash at three times that rate -- more than $15 million. So at the very least, the company has done a good job of reducing its cash-burn rate. As FBR sees it, if revenue increases over the next couple of years, there's still a chance for the stock to outperform. FBR's best guess is that ExOne stock is worth about four times the sales it's expected to make in 2017, resulting in an estimated valuation of $18 per share -- and an outperform rating from FBR.
3. 3D Systems is not like the others
Which brings us to 3D Systemsstock. Although as "the additive manufacturing sector's second-largest player, and with exposure to diverse technologies within the sector," you might expect 3D Systems to be FBR's second-favorite stock, or even its first. In fact, it's the only one of these three 3D printing stocks to not win an endorsement from the analyst.
Why not? Well, for one thing, FBR says that "from a valuation perspective, we traditionally have seen SSYS shares trade fairly in line with 3D Systems shares; however, we believe current levels offer an attractive discount" -- on Stratasys shares, not 3D's.
Additionally, FBR worries that 3D Systems' broader efforts in the 3D space, because they are less focused, may leave the company vulnerable to competition on multiple fronts -- a sort of death-by-a-thousand-cuts scenario. "Smaller competitors across the additive spectrum" pose the risk of nibbling away at multiple 3D Systems revenue streams, whereas Stratasys and ExOne have the advantage of being able to focus their efforts on keeping competitors at bay on just a handful of fronts.
Rounding out FBR's worries, 3D management is "highly cautious about providing any financial guidance." While some investors might view this as a positive -- management declining to overpromise and risk underdelivering -- FBR sees the lack of guidance as a negative, in that it gives the analyst fewer numbers on which to base a great thumping recommendation of the stock. For this reason, FBR rates 3D only market perform, and assigns the stock a price target only pennies above where it trades today: $18.
Final thoughts: Which of these three would you invest in?
Is FBR right to shy away from 3D Systems at the same time as it endorses by Stratasys and ExOne? Well, 3D's price-to-sales ratio of 3.1 certainly makes it look riskier than Stratasys stock, which costs just 1.8 times sales. On the other hand, ExOne, which also wins FBR's endorsement, sells for the princely valuation of 5.5 times sales.
On the other, other hand, while none of these three stocks is currently earning money from a GAAP perspective, 3D Systems is currently the only one of the three producing positive free cash flow from its business -- $16.5 million over the past year.
Mind you, I can't say that the resulting 122-times-free-cash-flow valuation on 3D Systems stock excites me, exactly. But the simple fact that 3D Systems is the only company out of this list of three that is generating cash, rather than burning it, makes FBR's decision to drop 3D Systems at the bottom of its list look pretty curious, indeed.
A secret billion-dollar stock opportunity The world's biggest tech company forgot to show you something, but a few Wall Street analysts and the Fool didn't miss a beat: There's a small company that's powering their brand-new gadgets and the coming revolution in technology. And we think its stock price has nearly unlimited room to run for early in-the-know investors! To be one of them, just click here.
Fool contributorRich Smithdoes not own shares of, nor is he short, any company named above. You can find him onMotley Fool CAPS, publicly pontificating under the handleTMFDitty, where he currently ranks No. 282 out of more than 75,000 rated members.
The Motley Fool recommends 3D Systems and Stratasys. Try any of our Foolish newsletter services free for 30 days. We Fools may not all hold the same opinions, but we all believe that considering a diverse range of insights makes us better investors. The Motley Fool has a disclosure policy.