Buffett's Least-Favorite 4-Letter Word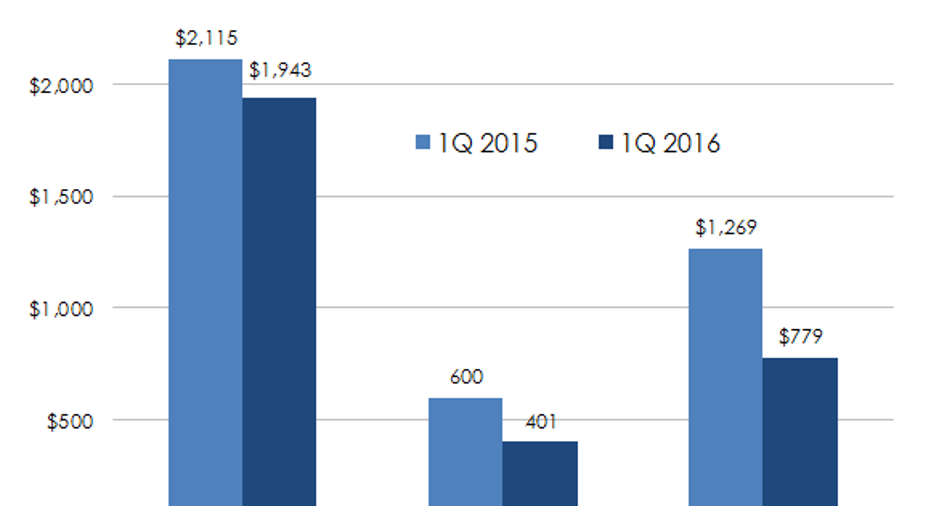 If one of Buffett's favorite four-letter acronyms is "BNSF," one of his least-favorite words has to be "coal."
Berkshire Hathaway's railroad saw coal volumes deteriorate in the first quarter of 2016, leading to a 24% decline in operating profit for the railroad. Revenue fell by about 15% compared to the year-ago period.
Isolating what really mattersThe moving parts on the income statement can make railroads something of a head-scratcher. A decline in fuel surcharges had a substantial effect on revenue, but a decline in coal volume resulted in the decline in profit.
It's the consequence of a quirk in how railroads pass on the high cost of fuel to their customers. BNSF charged fuel surcharges averaging about $53 per carload last quarter, down from about $196 per carload in the same period last year.
Because these surcharges are offset by increases or decreases in BNSF's fuel expenses, the amount BNSF paid for fuel, net of surcharges, was $271 million in the first quarter of 2016 vs. $230 million in the first quarter of 2015.
In other words, fuel prices have a huge impact on revenue from period to period, but they hardly move the needle on profits. Fuel surcharges fell to 2.7% of revenue in the first quarter of 2016 vs. 8.8% of revenue during the year-ago period.
The problematic revenue declinesThe revenue changes that really matter are the ones that come from declines in volume and revenue per car, adjusted for the change in fuel surcharges. This quarter, the problems aren't difficult to spot -- BNSF's coal volume declined by a whopping 33% from the year-ago period.
Declining coal volume remains one of the biggest long-term threats to the railroad industry. In his annual letter to shareholders this year, Buffett wrote that "BNSF, along with other railroads, is certain to lose significant coal volume over the next decade."
At the annual meeting, he also provided some kind of shorter-term guidance, noting that "all of the major railroads were down significantly in the first quarter and probably will continue to be down, almost certainly will continue to be down, the balance of the year."
BNSF's first-quarter filings blame the decline in coal volume on higher customer inventories, low gas prices (natural gas is an alternative fuel source for coal power plants), and a decline in electricity generation due to a mild winter. Though the one-third decline in coal volume this quarter may be much more severe than one would expect over the next decade, it does show just how important coal is to railroad profits.
The article Buffett's Least-Favorite 4-Letter Word originally appeared on Fool.com.
Jordan Wathen has no position in any stocks mentioned. The Motley Fool owns shares of and recommends Berkshire Hathaway. Try any of our Foolish newsletter services free for 30 days. We Fools may not all hold the same opinions, but we all believe that considering a diverse range of insights makes us better investors. The Motley Fool has a disclosure policy.
Copyright 1995 - 2016 The Motley Fool, LLC. All rights reserved. The Motley Fool has a disclosure policy.