Buffett's firm's 3Q profit drops 24 pct on investments value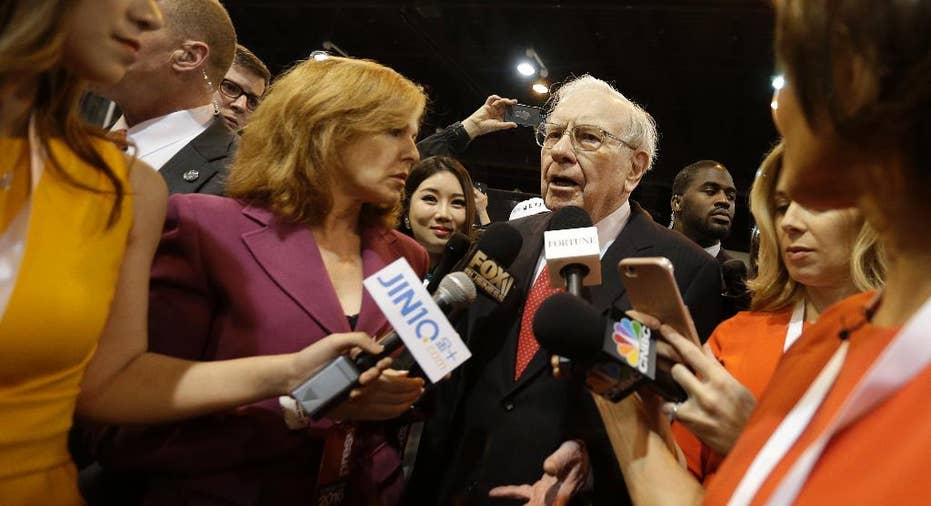 Berkshire Hathaway Inc. reported a 24 percent drop in third-quarter profit on Friday because last year's results were helped by a huge paper gain on the value of its Kraft Heinz Food Co. stake.
The conglomerate billionaire Warren Buffett leads posted solid results at most of the more than 90 companies it owns, posting net income of $7.2 billion, or $4,379 per Class A share, in the quarter. That's down from $9.43 billion, or $5,737 per A share, a year ago when it recorded a $4.4 billion after-tax gain from the merger of Kraft and Heinz.
Buffett says operating earnings offer a better view of quarterly performance because they exclude investments and derivatives, which can vary widely. Analysts generally base their estimates on Berkshire's operating earnings, which came in at $2,951 per Class A share.
The four analysts surveyed by FactSet expected Berkshire to report operating earnings per Class A share of $3,021.83.
Revenue at the Omaha, Nebraska-based company grew slightly to $59.07 billion in the quarter, up from $58.99 billion last year.
Berkshire officials do not typically comment on the company's quarterly earnings reports, and no one from the company responded to a message from The Associated Press on Friday.
Berkshire's BNSF railroad weighed down the company's profits because it hauled less freight, especially coal and crude oil, Edward Jones analyst Jim Shanahan said. The railroad generated $1.02 billion net income, down from $1.16 billion a year ago.
But Berkshire's profit was helped by the Precision Castparts and Duracell acquisitions it made early this year, and its mountain of cash grew to nearly $85 billion at the end of September, up from roughly $73 billion in June.
The record amount of cash Berkshire is holding will only add to speculation about what Buffett's next acquisition might be.
CFRA Research analyst Cathy Seifert noted acquisitions play a key role in Berkshire's growth since many of its subsidiaries tend to grow at about the same rate as the overall economy.
"I thought it was a so-so quarter," Seifert said. "They're going to have to continue to do acquisitions to produce growth."
Berkshire already owns more than 90 subsidiaries, including clothing, furniture and jewelry firms. It also has major investments in such companies as Coca-Cola Co. and Wells Fargo & Co.
Berkshire said it held $22 billion of Wells Fargo stock at the end of the quarter, so there wasn't any sign that Buffett sold off any of Berkshire's 10 percent stake in the bank after the scandal related to Wells Fargo's sales practices.
Berkshire shares have climbed 8.5 percent since the beginning of the year. They closed Friday at $214,545, up 4 percent in the last 12 months.