Buffalo Wild Wings Goes Bland as Same-Store Sales Fall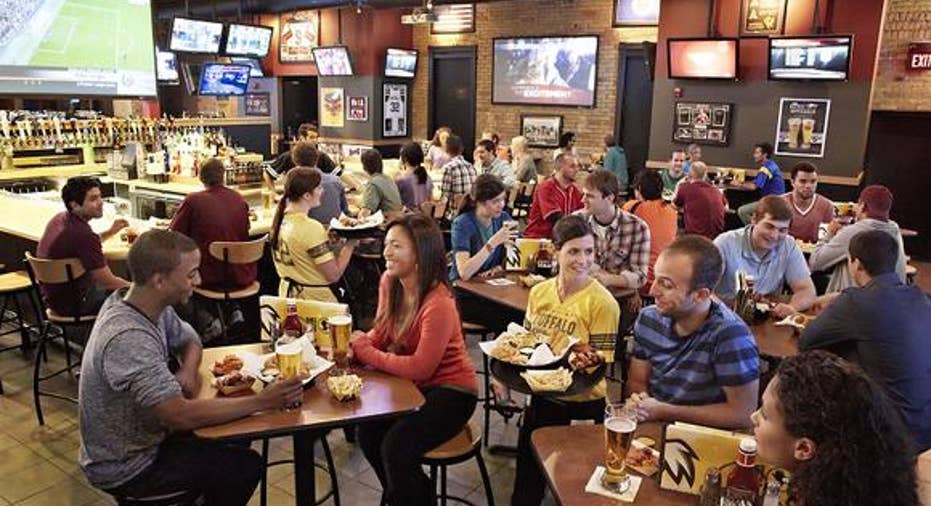 IMAGE SOURCE: BUFFALO WILD WINGS.
Buffalo Wild Wings released first-quarter 2016 results Tuesday after the close, and with shares of the wings, beer, and sports-themed restaurant chain down around 12% as of this writing, it's evident the report left a bad taste in Mr. Market's mouth. So what gives?
Quarterly revenue climbed 15.4% year over year, to $508.3 million, driven by a combination of new locations and franchise acquisitions. More specifically, company-owned restaurant sales climbed 16.6%, to $483.9 million, driven by 100 additional B-Dubs locations compared to this time one year ago, and held back by a 1.7% same-store sales decline. And franchise royalties and fees fell 5%, to $24.3 million, due to seven fewer franchised locations and a 2.4% decline in franchised same-store sales. Regarding the former, note Buffalo Wild Wings acquired a total of 54 franchised restaurants last year to bring them into the company-owned fold.
That translated to a 12.8% increase in net income, to $32.8 million, and -- thanks to share repurchases over the past year, including 173,892 shares repurchased in Q1 for $25 million -- 13.5% growth in earnings per diluted share, to $1.73.
"We are dissatisfied..."To be fair, Buffalo Wild Wings didn't provide specific financial guidance for the quarter. But CEO Sally Smith admitted, "We are dissatisfied to report a same-store sales decline and we're undertaking several sales-driving initiatives to regain momentum. We were able to manage costs and improve our restaurant-level margin [...]."
There's no denying Buffalo Wild Wings did, indeed, do an admirable job managing costs. Cost of labor in Q1 fell 60 basis points from the same year-ago period, to 30.8% of restaurant sales, as restaurant teams effectively managed hourly labor in the tough environment, and the company had lower bonus payouts compared to the same year-ago period given its same-store sales declines. Meanwhile, cost of sales also fell 60 basis points year over year, to 29.7% of restaurant sales, despite a 3% increase in the per-pound cost of traditional wings, to $1.97.
"Excluding traditional wings," explained Buffalo Wild Wings COO James Schmidt, "we had favorability in the remainder of our commodity basket."
In addition -- as I discussed in my earnings preview earlier this week -- Schmidt noted Buffalo Wild Wings' recently renewed pricing agreement on traditional wings saved the company more than $1 million during the quarter.
Who ordered the turnaround?But what, exactly, is Buffalo Wild Wings planning to return its same-store sales to growth?
First, the company notes its takeout business is already performing well, representing 16% of gross sales during the quarter. Within that at company-owned restaurants, 14% of takeout sales are made either online or through mobile devices, compared to 8% in last year's first quarter, and Buffalo Wild Wings has seen a solid increase in average check size for online orders versus call-in. As a result, Buffalo Wild Wings will start by highlighting its takeout services with special large takeout packages leading up to UFC 200.
Second, Buffalo Wild Wings is working on strengthening its FastBreak program -- which I argued last year represents the company's effort to grab low-hanging fruit in its underserved lunch daypart -- with a "speed-of-service" guarantee.
Third -- and though some might argue this should be a given, anyway -- Buffalo Wild Wings will work on improving and promoting its value proposition. That includes launching a new (and successfully tested) Happy Hour menu on May 2, promoting its value offerings both inside the restaurant through B-Dubs TV and in local communities using guest experience captains and coordinated media campaigns, and increasing advertising while exploring new pricing and bundling options for its popular Wing Tuesdays promotion.
Finally, Buffalo Wild Wings hopes to replicate its past successes in soccer by capitalizing on the upcoming Copa America and Euro Cup soccer tournaments. To do so, Buffalo Wild Wings has struck partnerships with the likes of Heineken and Pepsi to promote its restaurants as the place to be for all 80 games of these tournaments. Looking even further out, Buffalo Wild Wings also realizes that soccer is a year-round sport, and winning this market could serve to dampen the ebbs and flows of seasonal sports like basketball, baseball, and American football.
Looking forwardBuffalo Wild Wings now expects full-year earnings per diluted share of $5.65 to $5.85. That's good for growth of 13.7% to 17.7% over 2015, but also a reduction from previous EPS guidance of $5.95 to $6.20. This also assumes "improving" same-store sales, versus previous expectations for same-store sales growth in the mid-single-digits over 2015.
In the end, there's no honey glazing the fact this was a disappointing quarter for Buffalo Wild Wings, even though the company maintains its long-term goal of nearly tripling its number of restaurants to 3,000 worldwide. While I don't plan on selling my shares anytime soon given that immense runway for growth, it's no surprise to see shares trading down right now in light of Buffalo Wild Wings' same-store sales struggles.
The article Buffalo Wild Wings Goes Bland as Same-Store Sales Fall originally appeared on Fool.com.
Steve Symington owns shares of Buffalo Wild Wings. The Motley Fool owns shares of and recommends Buffalo Wild Wings. Try any of our Foolish newsletter services free for 30 days. We Fools may not all hold the same opinions, but we all believe that considering a diverse range of insights makes us better investors. The Motley Fool has a disclosure policy.
Copyright 1995 - 2016 The Motley Fool, LLC. All rights reserved. The Motley Fool has a disclosure policy.