Brown, Legislature differ sharply on California budget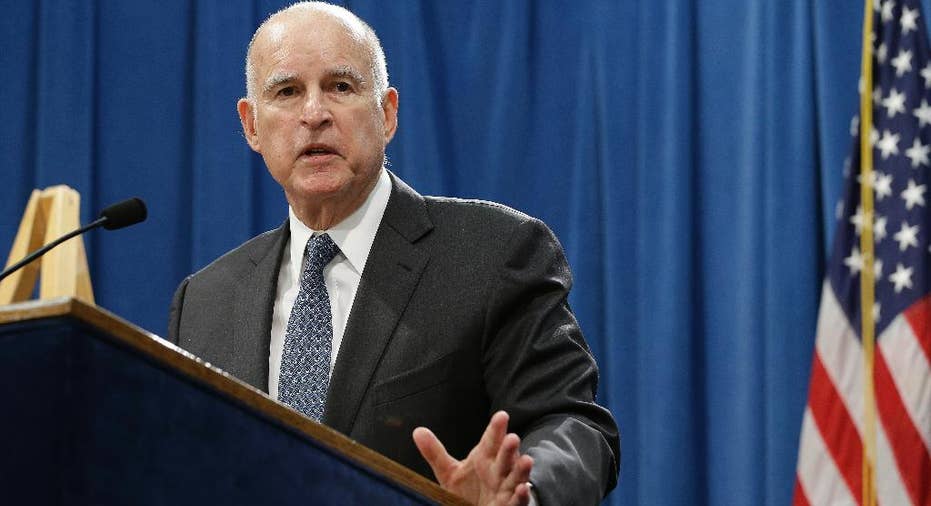 Gov. Jerry Brown sees a budget deficit and an urgent need for spending cuts.
Legislative leaders see a surplus with room to comfortably increase expenditures.
Always at odds when it comes to the budget, the Democratic governor and the Democratic Legislature are particularly far apart this year as they embark on six months of spending negotiations amid uncertainty about federal funding under the incoming administration of President-elect Donald Trump.
Brown staked out a conservative opening position Tuesday, warning of a potential $1.6 billion budget deficit and proposing a spending plan that keeps general fund expenditures flat at $122.5 billion. Since costs rise every year, his plan would require cuts to keep pace, and he suggested eliminating billions of dollars allocated to education, state building construction, subsidized housing, college scholarships and child care providers.
He seeks to boost the state's reserve fund to $7.9 billion — up from $6.7 billion in the current budget year — to help soften what he warned is an inevitable recession after 10 years of economic recovery.
"You've got to save your money or you're going to lose the farm," Brown said, acknowledging that he expected "some shoving back and forth" with lawmakers as a final budget compromise is negotiated by June.
Democratic legislative leaders gave Brown's budget a tepid reception. Acknowledging the need for caution in the face of federal uncertainty, they nonetheless rejected Brown's proposed cuts to college scholarships and child care while insisting they will still push to increase spending on social welfare programs.
"This is not a time to eliminate important programs that lift up the middle class," Assemblyman Kevin McCarty, D-Sacramento, said in a statement.
Brown said months of lower-than-expected revenue, combined with the likelihood of a recession and the potential for drastic cuts in federal spending, demand restraint.
His projection for a deficit was a stark contrast with the forecast released in November by the Legislature's nonpartisan budget expert, Legislative Analyst Mac Taylor, who projected a surplus as high as $2.8 billion.
Drawing on that forecast, Assembly Democrats in December called for $1 billion in new spending for things such as expanding the state earned-income tax credit, mandatory full-day kindergarten and reducing college costs.
To maintain current spending, Brown proposes cutting $3.2 billion from future commitments, about half by giving schools and community colleges less than expected. He wants to stop enrolling new college students in the Middle Class Scholarships program, saving more than $30 million, cancel $300 million in upgrades to state buildings and drop a $400 million proposal for affordable housing that the Legislature rejected last year.
Brown also proposed canceling higher payments for state-funded child care providers.
The governor's budget includes $800 million more to cover people who joined Medi-Cal under Obamacare. He also revisited his previous proposal, which has stalled in the Legislature, to increase gas and vehicle taxes to raise $4.2 billion per year for road construction and maintenance. In all, California's spending plan would reach $179.5 billion when restricted "special funds" and bonds are included.
Brown also proposed eliminating driver's license suspensions for people who fail to pay court fines — a move sought by social justice activists who say the practice traps people in poverty.
Many Republicans, who are more often aligned with Brown than legislative Democrats on spending, offered qualified support for the governor's approach but said he should look to fix roads with existing funds rather than new taxes.
Sen. Jim Nielsen, R-Gerber, the ranking Republican on the Senate budget committee, called the budget "perilously balanced" and urged Brown to continue holding the line on spending.
"We cannot be getting loose with the purse in California," he said.
Trump and the Republican-led U.S. Congress have vowed to repeal or alter many programs that affect California, from immigration to President Barack Obama's health care law. California has embraced the program and has enrolled about 5 million people in private health insurance or publicly funded Medi-Cal coverage.
The proposed budget assumes federal policies remain the same, but Brown noted the uncertainty is another reason to maintain the fiscal prudence for which he consistently advocates.
"If they do go down that road, it will be extremely painful for California," Brown said.
___
Associated Press writer Don Thompson contributed to this report.