Brookfield Infrastructure Partners L.P. in 10 Charts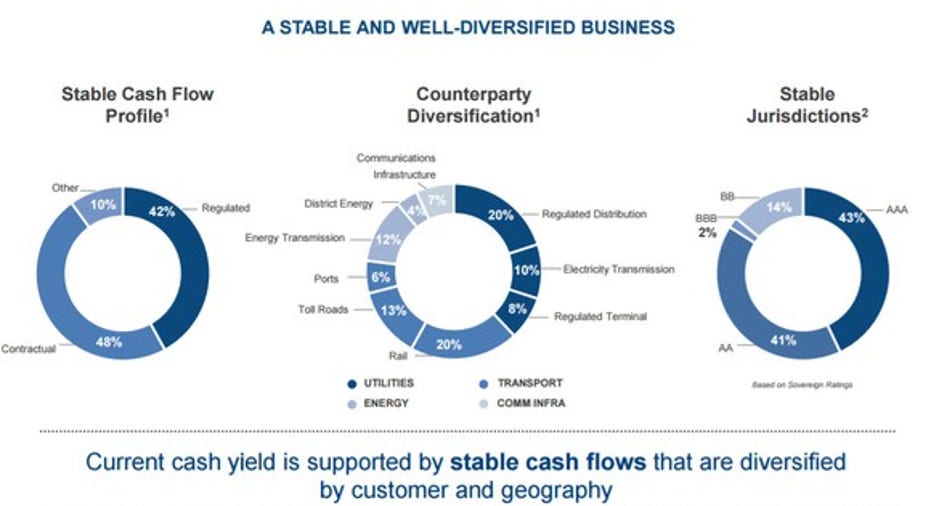 Image source: Getty Images.
Brookfield Infrastructure Partners L.P. (NYSE: BIP) has a rather simple business model. It acquires mission-critical infrastructure networks that facilitate the movement and storage of energy, water, freight, passengers, and data. As a result, these assets typically throw off steady cash flow, most of which the company returns to investors via a growing quarterly distribution. That said, there's a bit more to this story, which the following 10 charts should help explain.
A global portfolio of critical infrastructure assets
Brookfield Infrastructure Partners owns a variety of infrastructure business around the globe, including pipelines, power lines, ports, railroads, toll roads, and communication towers. In fact, as of the end of the third quarter, it owned stakes in 31 businesses across five geographies, representing $14 billion of assets. However, while these assets seem rather disconnected, as the following chart shows, Brookfield has organized them into four clearly defined segments.
Image source: Brookfield Infrastructure Partners investor presentation.
The utilities segment owns several critical infrastructure assets, including the company that transmits electricity to 98% of Chile's population and an Australian coal terminal that handles nearly 20% of the global seaborne metallurgical coal exports from the country. These assets support stable revenue underpinned by long-term contracts with inflation-linked growth. Furthermore, more than 80% of cash flow has no volume risk.
The transportation segment owns several irreplicable networks, including the sole freight rail network in Western Australia, and one of the U.K.'s largest port service providers. These assets also supply relatively stable cash flow, with 80% supported by long-term contracts or regulation, though only 35% of that cash flow has no volume risk.
The energy segment operates one of the largest energy transmission pipelines in the U.S. as well as several district energy businesses around the world. These assets also generate revenue under long-term contracts, with 70% of cash flow having no volume risk.
Finally, the communications segment owns an extensive portfolio of communications towers in France that provide stable, inflation-linked cash flow underpinned by long-term contracts.
As this next chart shows, both the utilities and energy segments currently do most of the heavy lifting by supplying the bulk of Brookfield's cash flow:
Data source: Brookfield Infrastructure Partners. Chart by author. Figures in millions.
That said, the energy segment has been the company's primary growth driver. Meanwhile, communications is the newest addition and should become a more meaningful contributor to future results as Brookfield builds out that segment.
Stable cash flow
One of the hallmarks of Brookfield Infrastructure Partners is the stability of its cash flow. As this slide shows, the company ensures this security in several ways:
Image source: Brookfield Infrastructure Partners investor presentation.
The first pie chart shows that 90% of the company's cash flow comes from stable sources, such as long-term contracts or regulated assets. The next chart notes the diversity of sources, with no one asset type supplying more than 20% of cash flow. Finally, the company typically owns assets in investment-grade countries, which should reduce economic volatility.
A history of steady growth
Brookfield's business model of acquiring stable infrastructure assets has been wildly successful over the past several years. As this slide shows, the company has grown its earnings and dividend by double-digit rates since going public in 2009:
Image source: Brookfield Infrastructure Partners investor presentation. FFO = funds from operations.
Visible organic growth on the horizon
Brookfield has no intention of slowing down. While the company has primarily grown via acquisitions over the past several years, it expects organic growth to be a major driver in future years. The chart on the slide below shows that the company sees three factors driving 6% to 9% annual earnings growth:
Image source: Brookfield Infrastructure Partners investor presentation.
In addition to this embedded organic growth, Brookfield is currently working on several significant acquisitions. Leading the way is its participation in a consortium led by parent company Brookfield Asset Management (NYSE: BAM) to acquire 90% of a Brazilian natural gas pipeline transmission business from oil giant Petrobras (NYSE: PBR) for $5.2 billion. Brookfield Infrastructure intends to invest $1.2 billion in the transaction to acquire a 28% stake in the Petrobras pipeline company. In addition to that, Brookfield reportedly agreed to buy a 51% stake in a portfolio of tower assets in India for $1.65 billion. Furthermore, parent company Brookfield Asset Management recently entered exclusive talks to buy India's largest wireless tower owner. Given its multifaceted global approach, Brookfield has ample expansion options as it seeks to continue building its infrastructure portfolio.
All for an attractive price
Typically a company with Brookfield's pedigree would sell for a premium price in the market. However, that is not the case here. As these final two charts show, units are undervalued relative to where peers trade and it has abundant capital appreciation potential just from its organic growth profile:
Image source: Brookfield Infrastructure Partners investor presentation.
The chart on the left notes that peers in the utility, transportation, and energy industries typically trade for a yield in the 3% to 4% range. However, Brookfield's current yield of 4.6% undervalues units compared to these peers.
That said, even if the market does not rerate the company higher, there's still substantial capital appreciation potential as noted in the chart on the right. Driving this upside is the company's organic growth program, which should boost the value of its assets as it delivers annual distribution increases in the range of 5% to 9% per year. For example, growth at that higher-end rate results in the distribution increasing from its current rate of $1.56 per unit up annually up to $2.40 per unit. If the company still traded at a 4.6% yield in five years, it would imply a unit price of $52, which is substantially higher than the current $34 trading price. Bottom line: Brookfield's global infrastructure portfolio should deliver steadily growing income and value in the years ahead.
Investor takeaway
Brookfield Infrastructure Partners owns a premier portfolio of global infrastructure businesses that move people and goods. Because of the critical nature of these assets, it gets paid a steady supply of cash flow to operate them efficiently and effectively. Finally, the company has ample opportunity to grow its portfolio, which should lead to steady wealth generation for investors in the form of consistently growing cash flow and capital appreciation. These are all of the characteristics an investor could want in a core long-term holding.
10 stocks we like better than Brookfield Infrastructure Partners When investing geniuses David and Tom Gardner have a stock tip, it can pay to listen. After all, the newsletter they have run for over a decade, Motley Fool Stock Advisor, has tripled the market.*
David and Tom just revealed what they believe are the 10 best stocks for investors to buy right now... and Brookfield Infrastructure Partners wasn't one of them! That's right -- they think these 10 stocks are even better buys.
Click here to learn about these picks!
*Stock Advisor returns as of January 4, 2017
Matt DiLallo owns shares of Brookfield Asset Management and Brookfield Infrastructure Partners. The Motley Fool recommends Brookfield Infrastructure Partners. The Motley Fool has a disclosure policy.