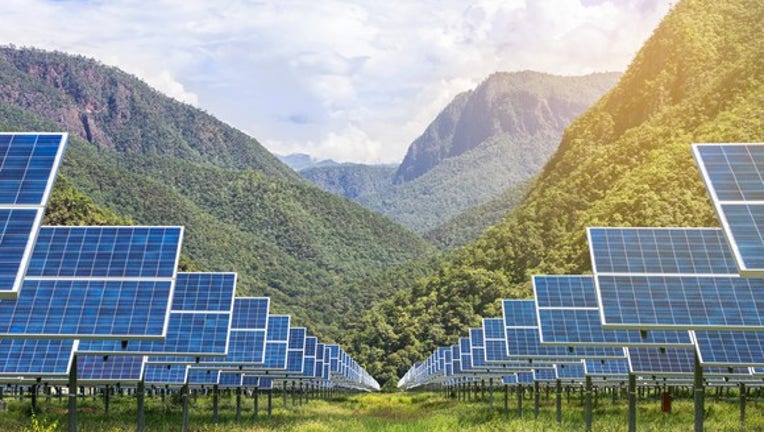 Last month, Brookfield Asset Management (NYSE: BAM)announced it had reached agreements to bring a pair of green-energy yieldcos into its portfolio.
Canada's largest asset manager -- working with spinoff Brookfield Renewable Partners(NYSE: BEP), in which it holds a majority stake --is purchasing TerraForm Global (NASDAQ: GLBL) outright and boosting its existing stake in the relatedTerraForm Power (NASDAQ: TERP)to 51%.
This will bolster the renewable energy portfolio of the Brookfield family of companies, which have been active in the segment for years. Is the deal worth the money it's laying out for the purchase, however? Let's unpack it to find out.
Partnering on the deal
Brookfield Asset Management has agreed to pay around $787 million and assume roughly $455 million in TerraForm Global's debt, in the deal. This puts its total commitment at around $1.24 billion. Brookfield Renewable Partners will contribute about $500 million in financing. Asset Management is to assume full ownership of TerraForm Global, plus become TerraForm Power's sponsor with the expanded stake.
Asset Management has not yet stated whether the two yieldcos will be shifted into Renewable Partners' asset portfolio, although that seems like the most logical development.
IMAGE SOURCE: GETTY IMAGES
The boards of directors of both TerraForm Power and TerraForm Global have approved the proposed transactions. The two deals are expected to close in the second half of this year.
The twin yieldcos are spinoffs of the once high-flying renewable energy purveyor SunEdison. They were cleaved into separate, publicly traded companies in 2014 and 2015. Subsequently, SunEdison filed for bankruptcyprotection in April 2016.
Water, wind, and sun
Brookfield Asset Management is an old player in the renewable power game, stretching back decades. It readily points out that, thanks to Brookfield Renewable Partners, itis the world's largest operator of hydroelectric assets, with more than 200 such facilities on this continent and in South America.
In 2006, Asset Managementmade the logical jump into modern renewables, specifically wind power. These days Renewable Partners operates over 35 such facilities, which have enough capacity (1,600 megawatts) to provide electricity to more than 300,000 homes.
Still, hydro is the Brookfield family's core renewable; around 86% of its clean power portfolio is in the category.
Meaning that the purchase of the TerraForms will broaden and expand that list of assets considerably. TerraForm Power alone has nearly 3,000 megawatts of net capacity, based on ownership. This total is more or less evenly divided between solar and wind. Around 84% of that capacity is situated in North America.
TerraForm Global is smaller, with just under 920 megawatts through its operations in South America (Brazil and Uruguay), Asia (India, China, Malaysia, and Thailand), and South Africa. 61% of its portfolio is wind, with solar comprising the remainder.
This Fool's take
Brookfield Asset Management didn't specify how it would fund the deal. Regardless, it's well within the company's immediate financial means, as it held over C$10 billion ($7.5 billion) in cash and short-term investments at the end of its Q4 2016.
If it goes the borrowing route to any degree, the yieldcos won't add much to an already high pile -- Brookfield Asset Management had nearly C$92 billion ($69 billion) in debt at that time. Glancing at the profit and loss statement, we can see that the company's total interest expense clocked in at almost C$4.3 billion ($3.2 billion) during the fiscal year; if the deal is funded by loans, they won't move that number much higher.
Plus, Asset Management is saving a chunk of change withRenewable Partners' $500 million or so contribution. The latter says that "it expects to fund [this] through current liquidity."
If we make a crude calculation based on the approximate price per megawatt of net capacity purchased for that $1.24 billion sticker price, Brookfield is paying roughly $0.32 to control the pair of TerraForms. Considering that the deal gives it control of more than twice its renewables capacity at present, that looks like a very attractive price.
10 stocks we like better than Brookfield Asset ManagementWhen investing geniuses David and Tom Gardner have a stock tip, it can pay to listen. After all, the newsletter they have run for over a decade, Motley Fool Stock Advisor, has tripled the market.*
David and Tom just revealed what they believe are the 10 best stocks for investors to buy right now... and Brookfield Asset Management wasn't one of them! That's right -- they think these 10 stocks are even better buys.
Click here to learn about these picks!
*Stock Advisor returns as of February 6, 2017
Eric Volkman has no position in any stocks mentioned. The Motley Fool has no position in any of the stocks mentioned. The Motley Fool has a disclosure policy.