Broadcom Ltd. Expects Samsung to Try to Claw Back Premium Smartphone Share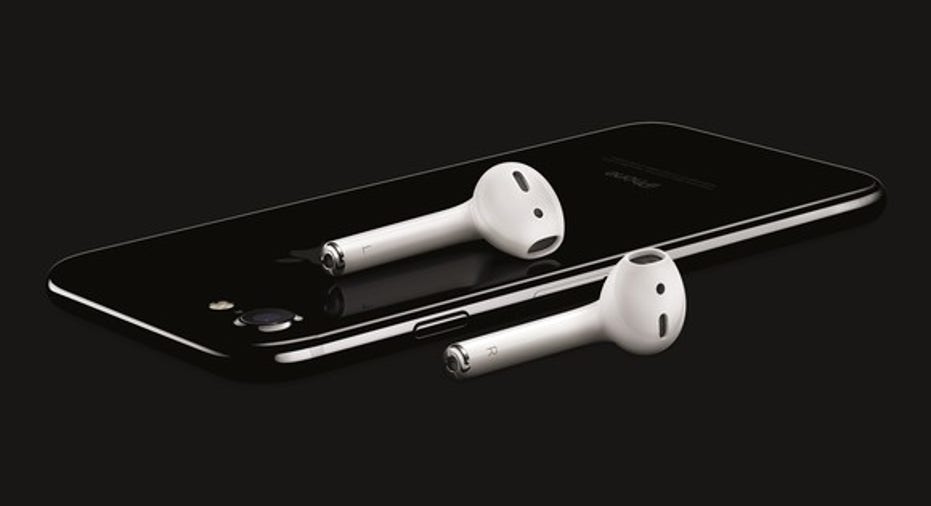 Broadcom (NASDAQ: AVGO) is an interesting chip company to follow, particularly for investors looking to get reads on how Apple (NASDAQ: AAPL) and Samsung (NASDAQOTH: SSNLF) are doing in the high-end smartphone market.
Indeed, Broadcom is a key supplier of Wi-Fi and RF chips to both companies, as well as to other high-end smartphone vendors. As Broadcom's wireless chip business depends heavily on those two companies' sales, its financial commentary often includes "clues" that indicate that the near-term future might hold for Apple, Samsung, and others.
Image source: Apple.
One key takeaway from Broadcom's most recent earnings results is that Samsung is looking to make a serious effort to take high-end smartphone market share, potentially at Apple's expense.
Apple revenue down, Samsung revenue up
Apple and Samsung don't launch flagship smartphones at the same time -- Apple's products come in the fall, while Samsung's flagship Galaxy S devices tend to arrive in the spring. The word is that Samsung will announce the Galaxy S8-series smartphones in late March of 2017 with availability happening in late April.
According to Broadcom CEO Hock Tan, Broadcom's wireless revenue dropped 13% sequentially in the company's most recent quarter "driven by the expected seasonal decline in demand from a major North American customer."
In other words, demand for wireless chips that go into the iPhone was down as Apple moves past the peak of the iPhone 7 product cycle.
For the second quarter of 2017, Broadcom says it expects to "hit the bottom of annual product cycle transition at a major North American customer" -- in other words, sales of components to Apple in support of the iPhone 7 cycle will trough in the current quarter, with sales likely rebounding as Apple begins to build up inventory of its next-generation iPhones.
However -- and this is where it gets good -- Tan says that the company expects that a "significant portion" of the decline that it expects to see from Apple to be offset by the ramp up of sales to its "large Korean smartphone customer." In other words, Samsung.
To be clear, Tan says that the company still expects wireless revenue to be down quarter over quarter (so the Samsung ramp-up won't completely offset the iPhone ramp down), but he expects an increase in Broadcom chip content inside of the new Samsung phones to help drive a high-single-digit decline that's "better than the typical double-digit declines [Broadcom has] experienced in prior years."
Potentially more than just content
Broadcom's financial commentary and expectations vis-a-vis the Samsung S8 ramp appear to be driven more by the content increase rather than potential market share gain. However, Tan did indicate that Samsung is trying quite hard to recapture share.
Indeed, he said that Broadcom's "Korean customer" is "coming in with a vengeance to try to recover share."
Only time will tell how much share Samsung can recapture with its Galaxy S8 line of smartphones (and if that share gain comes at Apple's expense or that of other Android phone vendors), but initial leaks show that the device at least looks nice,with a very high screen-to-body ratio as well as top-notch specifications.
However, it won't be too long before Samsung formally launches the devices and the company gives some indication of the initial sales velocity of the new phones.
10 stocks we like better than AppleWhen investing geniuses David and Tom Gardner have a stock tip, it can pay to listen. After all, the newsletter they have run for over a decade, Motley Fool Stock Advisor, has tripled the market.*
David and Tom just revealed what they believe are the 10 best stocks for investors to buy right now... and Apple wasn't one of them! That's right -- they think these 10 stocks are even better buys.
Click here to learn about these picks!
*Stock Advisor returns as of February 6, 2017
Ashraf Eassa has no position in any stocks mentioned. The Motley Fool owns shares of and recommends Apple. The Motley Fool has the following options: long January 2018 $90 calls on Apple and short January 2018 $95 calls on Apple. The Motley Fool recommends Broadcom. The Motley Fool has a disclosure policy.