Bristol-Myers to pay $1.85B in cancer deal with Nektar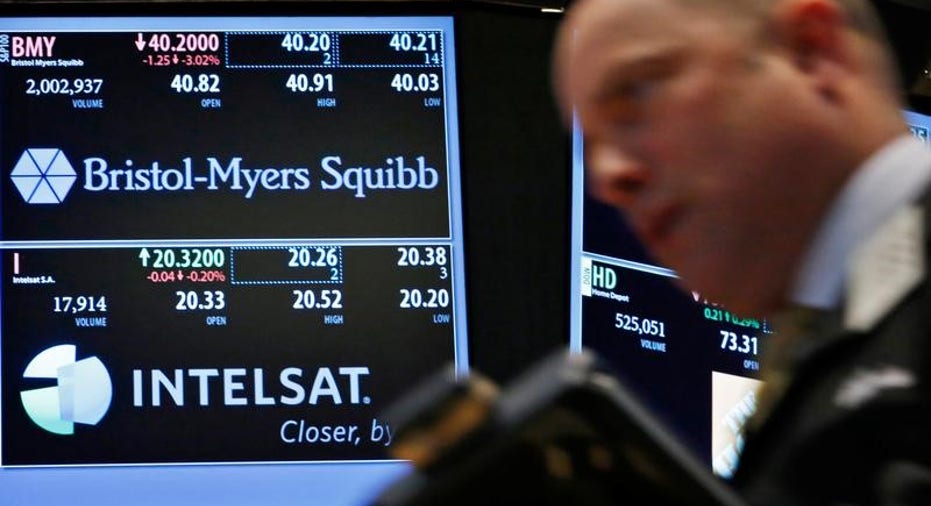 (Reuters) - Bristol-Myers Squibb Co will pay Nektar Therapeutics $1.85 billion in cash and share purchase for a global development and commercialization deal on a promising Nektar cancer drug, the companies announced on Wednesday.
In one of the largest single-drug collaboration deals ever, Nektar will receive $1 billion in cash upfront and Bristol-Myers will purchase about 8.28 million Nektar shares at $102.60 per share, or an equity stake of just under 5 percent of the company. Nektar shares closed at $75.66 on Nasdaq on Tuesday.
The partnership is built around the Nektar drug, NKTR-214, which will be tested in combination with Bristol's immuno-oncology (IO) drugs Opdivo and Opdivo and Yervoy in 20 cancer indications across nine different tumor types, including melanoma, kidney and lung cancers, following "very encouraging" early data from clinical trials.
"We've been in a clinical collaboration with Nektar since 2016. This partnership was a natural next step," Paul Biondi, head of business development for Bristol-Myers, said in a telephone interview.
The combination therapies could become "potentially a new backbone in the IO space," he added.
Early immunotherapy leader Bristol-Myers has been viewed by investors as having fallen behind Merck & Co in the burgeoning field, especially in the most lucrative lung cancer space.
NKTR-214, an interleukin-2 (IL-2) agonist, is designed to increase the number and activation state of cancer-fighting T cells in the tumor microenvironment, while limiting IL-2 toxicity, with the hope of improving and lengthening patient responses.
Under the deal terms, Nektar is also eligible to receive an additional $1.78 billion in milestone payments, of which $1.43 billion are development and regulatory milestones and the remainder are sales milestones.
Following approvals, Nektar will book revenue for worldwide sales of NKTR-214 and the companies will split the global profits, with Nektar receiving 65 percent and Bristol-Myers 35 percent, they said. Bristol-Myers will retain 100 percent of product revenues for its own medicines.
The transaction is expected to be completed in the second quarter of 2018, the companies said.
(Reporting by Bill Berkrot, Editing by Rosalba O'Brien)