Bristol-Myers Squibb Caught the Eye of This Top Investing Firm in the Third Quarter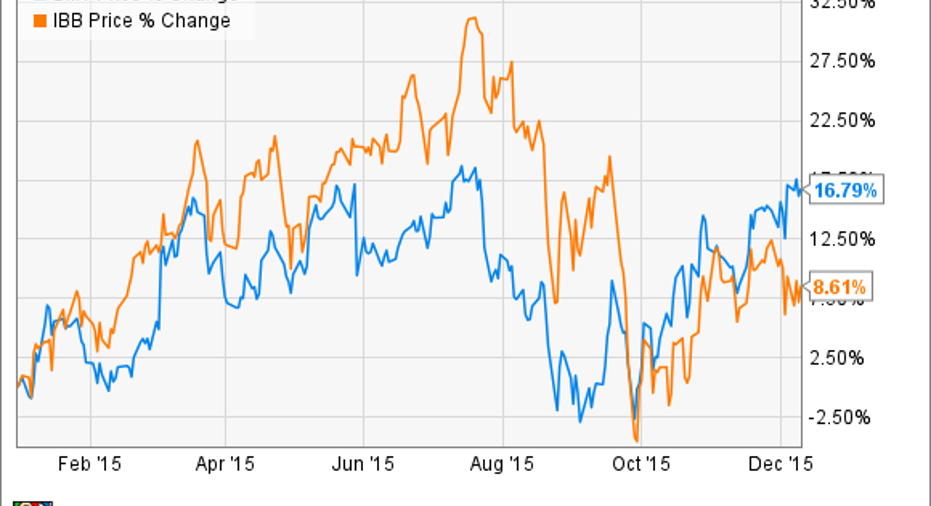 Bristol-Myers Squibb has defied the black hole known as the patent cliff to become one of the top-performing large-cap biopharmaceutical stocks this year. According to S&P Capital IQ, Bristol's shares have even outperformed the usually strong iShares Biotechnology Index.
Part of the reason behind Bristol's surging share price this year has been its appeal to large institutional investors. The recently filed 13Fs revealed, for instance, that Citadel Advisors, a top money management firm, increased its stake inBristol-Myers Squibb by 77% in the third-quarter. This largish purchase brought the value of Citadel's holdings in the drugmaker up to $417 million at last count.
All told, the company saw a small, but positive, increase in its institutional ownership in the third quarter, showing that Wall Street is definitely intrigued by this Big Pharma stock right now.
What do these institutional investors see in Bristol?AlthoughBristol-Myers Squibb has been dealing with its own patent expiration issues and divested a major source of revenue when it sold its share of its Diabetes Alliance franchise to its ally, AstraZeneca, the company is actually starting to generate growth on its top and bottom lines. Analysts covering this stock, for example, have the drugmaker's EPS growing by 3.2% in 2015 and by a stellar 20% next year. On the revenue front, its top line is expected to grow by 2.9% this year and by 5.5% in 2016.
Breaking these numbers down,Bristol-Myers Squibb's growth is being generated from a combination of cost-saving measures that the company instituted as it headed toward the patent cliff, combined with the strong commercial performance of newer drugs likes PD-1 inhibitor Opdivo, blood-thinner Eliquis, which is being co-developed with Pfizer, and its surprisingly strong hepatitis C franchise consisting of Daklinza and Sunvepra, among others.
Image source: Bristol-Myers Squibb
Aside from its strong growth prospects, funds are also probably interested in the company because of its dedication to paying a respectable dividend that tends to hover around the industry's average of 2.4%. Though the drugmaker only generated around $1.8 billion in positive cash flows in the past 12 months, management has refrained from slashing the dividend as it struggles with patent expirations, and even decided to boost the payout by 3% starting in the first quarter of 2016. It therefore appears committed to rewarding its shareholders, which tends to be a great way to attract major funds like Citadel.
Is Bristol still a good buy?Unlike its Big Pharma counterparts,Bristol-Myers Squibb is starting to push past the patent cliff and into the next stage of its life cycle, where it will be focused largely on the high growth immuno-oncology space. So, in this sense, the company does look like a compelling buy.
A deeper look, though, seems to suggest otherwise. Because of Bristol-Myers Squibb's soaring share price -- up nearly 17% year-to-date -- the company's shares are trading at a 12-month, trailing price-to-earnings ratio in excess of 64. That's markedly higher than the P/E ratio of the iShares Biotech ETF, implying that investors appear to be willing to pay a massive premium for BMY shares at present. As the iShares Biotech ETF inherently comes with less risk because of its broad sampling of pharma companies, though, I personally think it offers more value thanBristol-Myers Squibb at this stage.
Overall, I'm not sure how much upsideBristol-Myers Squibb has left in the short term, and its risk profile is somewhat unappealing given that most of next year's growth is already baked into the share price. There's no guarantee that these rosy revenue estimates will come to fruition after all. So it looks to me like a pharma stock to shy away from at the moment.
The article Bristol-Myers Squibb Caught the Eye of This Top Investing Firm in the Third Quarter originally appeared on Fool.com.
George Budwell owns shares of iShares NASDAQ Biotechnology Index (ETF) and Pfizer. The Motley Fool has no position in any of the stocks mentioned. Try any of our Foolish newsletter services free for 30 days. We Fools may not all hold the same opinions, but we all believe that considering a diverse range of insights makes us better investors. The Motley Fool has a disclosure policy.
Copyright 1995 - 2015 The Motley Fool, LLC. All rights reserved. The Motley Fool has a disclosure policy.