Breaking Open Piggy Bank, Apple Unveils Dividend, $10 Billion Buyback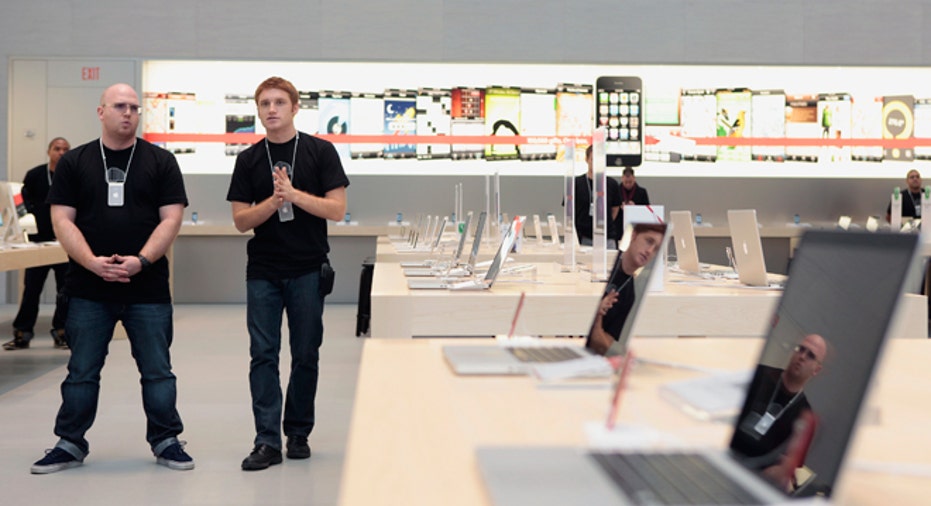 Bowing to serious shareholder pressure, Apple (NASDAQ:AAPL) disclosed plans on Monday to return $45 billion to shareholders over the next three years by paying a quarterly dividend and buying back shares.
The moves represent a dramatic change for the iPad and iPhone maker, which had for years resisted calls to return shares. But Apple's enormous success and a lack of acquisition targets left the company with about $100 billion on its balance sheet.
Apple said it plans to initiative a quarterly dividend of $2.65 a share sometime in its fiscal fourth quarter. The company also said its board of directors has signed off on a $10 billion plan to buy back shares beginning in its fiscal 2013. The two moves will return about $45 billion to shareholders.
"Even with these investments, we can maintain a war chest for strategic opportunities and have plenty of cash to run our business," CEO Tim Cook said in a statement.
Apple, which listed $97.6 billion in cash and cash equivalents on its balance sheet as of the end of December, has seen its shares rocket higher this year amid blockbuster results and signs it would pay a dividend.
Cook's predecessor, co-founder Steve Jobs, who passed away last year, had opposed stock buybacks and dividends for years.
"We have used some of our cash to make great investments in our business through increased research and development, acquisitions, new retail store openings, strategic prepayments and capital expenditures in our supply chain, and building out our infrastructure. You'll see more of all of these in the future," Cook said.
Shares of Apple rose 1.92% to $596.87 Monday morning as U.S. markets opened. Apple's shares have surged more than $100 over the past five weeks, vaulting it beyond ExxonMobil (NYSE:XOM) as the world's most valuable company.
By paying a dividend, Apple joins a number of more mature tech companies, including Microsoft (NASDAQ:MSFT), Cisco Systems (NASDAQ:CSCO) and Oracle (NASDAQ:ORCL).
The Apple dividend will cost about $9.88 billion a year and would carry a yield of 1.8% based on the current stock price, which is shy of Microsoft's 2.45% and Intel's (NASDAQ:INTC) 3.03%.
Hayong Yun, a finance professor at Norte Dame, said paying out a dividend can be "good news for Apple shareholders because it reduces the risk of Apple management misusing cash."
However, Yun noted Apple's shares didn't leap on the news. "One possibility for this is the market's perception of Tim cook's vision of Apple: taking a less innovative course and hence need less cash in the future," Yun said.
During a conference call with analysts and reporters, Cook said Apple has "looked at" a stock split and would be willing to execute one if it thought it was "in the best interest of Apple and its shareholders." However, Cook said at this point, a stock split is not in the cards, especially because "there is very little to support that it helps the stock."
Cook said Apple, which is keeping $64 billion overseas, has told the White House and Congress it believes the "current tax laws provide a considerable economic disincentive" to repatriate cash back in the U.S.
Cook declined to give specifics on the debut of the iPad 3, but did say the company "had a record weekend and we're thrilled with it." Last week iPad deliveries were delayed as demand soared, wiping out supplies.