Box office streak of African American-led films shows audience hunger for diverse content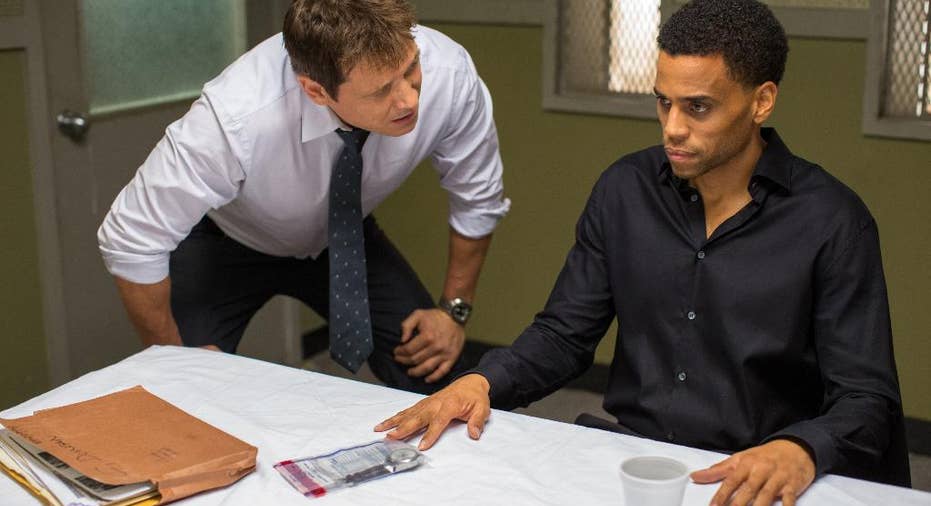 The top films at the box office over the past five weekends have included a music industry drama, a faith-based family film, and a romantic thriller. All had primarily African American casts and all at least doubled their modest budgets in their opening weekend.
"Straight Outta Compton," ''War Room" and "The Perfect Guy" blew past industry expectations and made headlines in what is usually a sleepy time of the year. The films are as different as they come, but in a time when African Americans are still underrepresented on screen, the five week streak is notable because it could signal changing times.
"It's practically unheard of to have five weeks in a row where the No. 1 movie in America is led by an African American cast," said Gitesh Pandya, editor of BoxOfficeGuru.com.
Paul Dergarabedian, Senior Media Analyst for Rentrak agreed.
"It is notable, but this is just how it should be. Movies should reflect the ethnic makeup of real life. It shouldn't be a shock to anyone to see these kinds of results at the box office," said Dergarabedian.
The box office success of films with black casts is nothing new, but it's typically treated as more of a novelty. As "Selma" director Ava DuVernay tweeted cheekily after "The Perfect Guy's" weekend win: "Wow! A film with black protagonists is #1 at box office! A shocker! What a surprise! How did it happen! What does it mean! (asterisk)blank stare(asterisk)."
DuVernay's sarcasm is understandable. Pandya has been covering this topic for 20 years and has seen the same results over and over again.
"Movies with African American casts that did well above expectations are often female-skewing films that appeal to a mature audience and do five or six times their budgets at the U.S. box office," he said. "There are some that don't work...The basic rules still apply. You have to make a good film. You have to have something that is exciting and engaging to audiences. And it helps to have some nice marketing, too."
For Pandya, the most interesting thing about the recent streak is the variety of genres and the fact that all were targeting different audiences — perhaps a sign that studios are finally starting to cater in earnest to audiences looking for more diversity.
Universal's "Straight Outta Compton," which has now made $155.9 million on its $29 million budget, the biggest success of the bunch, due in part to its immense crossover appeal, held the No. 1 spot for three straight weekends. Forty-nine percent of the audience was African American, according to Rentrak's PostTrak data, while the gender breakdown was even.
"War Room," a Christian film from Sony's TriStar and AFFIRM divisions, was marketed toward a niche, faith-based audience and attracted a crowd that was 60 percent female, 38 percent African American and 42 percent Caucasian.
"The Perfect Guy," meanwhile, triumphed this past weekend over the micro-budget horror film "The Visit," thanks to an older, female audience that turned out in droves.
Sony/Screen Gems executed a targeted marketing campaign for "The Perfect Guy," mimicking their strategy for "No Good Deed," which opened well on the same weekend last year. It became a veritable event film.
Screen Gems has become a leader in targeting African American audiences with one or two films a year. Past hits include "Think Like a Man" and the remake of "About Last Night."
Screen Gems has "proven time and time again that they are the best genre division in the movie business. ('The Perfect Guy') received an A CinemaScore. Clearly the audience enjoyed the movie," said Josh Greenstein, Screen Gems' president of Worldwide Marketing and Distribution.
From a business perspective, the current strategy is working, but for Darnell Hunt, director of UCLA's Ralph J. Bunche Center for African American Studies, the status quo approach isn't enough.
"The audience is changing. What worked 10 years ago is just not working anymore," said Hunt, who co-writes an annual report on Hollywood diversity. "They not only need to diversify on screen, but they need to diversify behind the camera: Who is producing, who is writing, and ultimately, in the executive suite, who is making decisions about what is considered viable. That is going to have to shift. I don't think the people who are currently in those positions are best qualified to do that," said Hunt.
In the diversity report, Hunt found that not only do minority audiences want content that reflects their own stories and experiences, but white audiences also want stories that reflect the diverse world around them. Simply, there should be more diverse films in the marketplace.
Phil Contrino, editor of BoxOffice.com, thinks that successes like these will help tip the scales.
"The numbers are there. African American audiences go to the movies. If you make good content that is going to appeal to them, it shouldn't be seen as a risky bet. All it takes is a couple big hits like this to really wake up the system. I think that's what's going to happen here," said Contrino.
For Pandya, the conclusion is simple.
"There is a hunger out there. There is an audience out there. And the right film will do very well," he said.
___
Follow AP Film Writer Lindsey Bahr on Twitter: www.twitter.com/ldbahr