BorgWarner Earnings Results Good, but Commentary Raises Concerns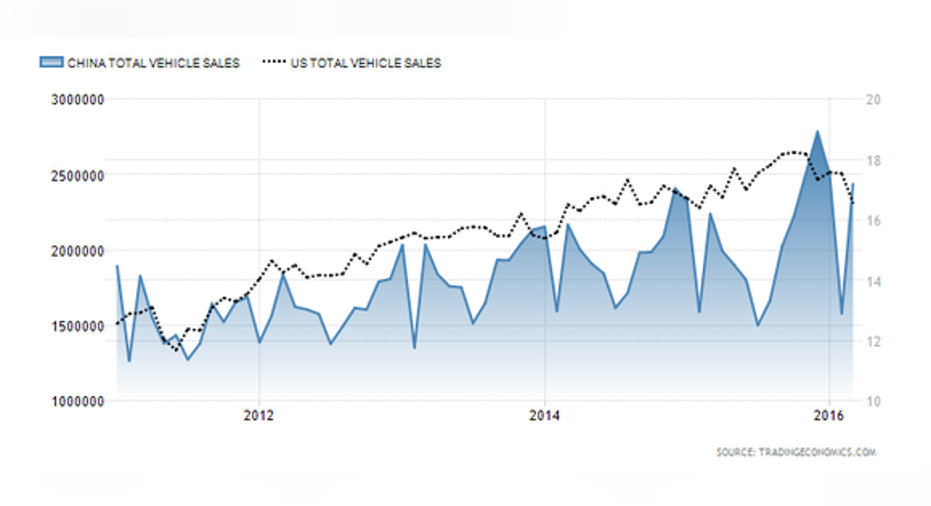 Having disappointed the market by failing to meet guidance in 2015, the onus is on 's (NYSE: BWA) management to restore confidence in their forecasting -- which goes a long way toward explaining the cautionary tone taken by CEO James Verrier during Thursday's earnings call. The first-quarter earnings themselves were good, and despite some operational disappointments, management of the auto parts supplier kept full-year earnings guidance intact. On the other hand, when any company's leadership says current risks outweigh opportunities, investors will want to take notice. Let's take a closer look at the quarter and what was said.
BorgWarner's first quarter: The raw numbers The headline figures:
First-quarter sales of $2.269 billion compared to a guidance range of $2.149 billion to $2.248 billion.
First-quarter net non-GAAP EPS of $0.80 compared to a guidance range of $0.75 to $0.79.
In short, it was a good quarter for BorgWarner, and second-quarter guidance is positive:
Second-quarter net sales growth is expected to be in the 10.6%-to-16% range.
Excluding the impact of foreign currency and the Remy acquisition, net sales growth is expected to be 1.5% to 4.8%.
Net diluted EPS is expected to be in the $0.78-to-$0.83 range, including $0.03 from the Remy acquisition.
As you probably could surmise, BorgWarner's results have a lot of moving parts: foreign currency issues, acquisition adjustments, integration costs, restructuring expenses, tax adjustments, etc. You get the picture. That said, let's look closely at the subtle change in full-year guidance:
Full-year net sales are now expected to be in a range of $8.879 billion to $9.253 billion, implying growth of 12.7% to 17.5%, compared to a previous estimate for 13.2% to 18.3% growth.
Excluding foreign currency headwinds and the impact of the Remy acquisition, net sales growth is still expected to be 2.5% to 5.5%.
Net diluted EPS is still expected to be in the range of $3.11 to $3.32, including $0.12 from Remy.
As noted earlier, the earnings guidance remains the same. The slight reduction in full-year net sales is primarily due to "lower growth expectations from Remy's commercial vehicle business."
But here's the thing: The key takeaway from the earnings is not so much about the slight reduction in sales growth. It's more about what it represents -- the potential for more disappointment down the line.
Risks outweighing opportunities Verrier's remark, "I would say the risks a little outweigh the opportunities as we see the world at this point," is clearly intended to reflect the key uncertainties facing BorgWarner and the automotive market in 2016:
Ongoing weakness in the commercial vehicle market, a key sector for BorgWarner.
Outlook for vehicle sales in China now that the initial impact of government incentives there has hit.
Whether North American car sales have hit a plateau, and if so, what it implies for car inventory reductions going forward.
The impact of the previous two points on its biggest customer,
Weak commercial vehicle sales are part and parcel of the current dichotomy in the global economy -- consumer spending is good, business spending is bad -- and Verrier served notice that some of the new programs the company had targeted in recent years were "coming into question and review."
Turning to vehicle sales in China and North America, as you can see from the graph below, vehicle sales inChina received a boost from tax-cut stimulus at the end of 2015, but it's unclear whether that will cause a pull-forward effect leading to a future sales decline. Similarly, U.S. vehicle sales look like they have peaked.
IMAGE SOURCE: TRADINGECONOMICS.COM.
BorgWarner's biggest customer, Volkswagen, has obviously had issues during the last year, but on the same day BorgWarner gave its results, the German car company's management offered a surprisingly bullish outlook for 2016. Said Volkswagen CEO Michael Muller:
It's good for BorgWarner investors to hear positivity from Volkswagen, but the market will want to see that optimism confirmed in the automaker's sales figures over the next few quarters.
Looking ahead BorgWarner's first-quarter results were solid enough, but as management pointed out, the coming quarter is likely to indicate the direction of the global auto market in 2016.
Looking at it from a "glass half-empty" perspective would suggest that Verrier's cautionary commentary could prelude disappointment in future quarters, but those with a "glass half-full" perspective will take heart from management's confidence that it will hit its guidance, and also see the upside should the auto market positively surprise in 2016.
The article BorgWarner Earnings Results Good, but Commentary Raises Concerns originally appeared on Fool.com.
Lee Samaha has no position in any stocks mentioned. The Motley Fool recommends BorgWarner. Try any of our Foolish newsletter services free for 30 days. We Fools may not all hold the same opinions, but we all believe that considering a diverse range of insights makes us better investors. The Motley Fool has a disclosure policy.
Copyright 1995 - 2016 The Motley Fool, LLC. All rights reserved. The Motley Fool has a disclosure policy.