Bootleg Libyan oil, shady havens: Slain reporter's beats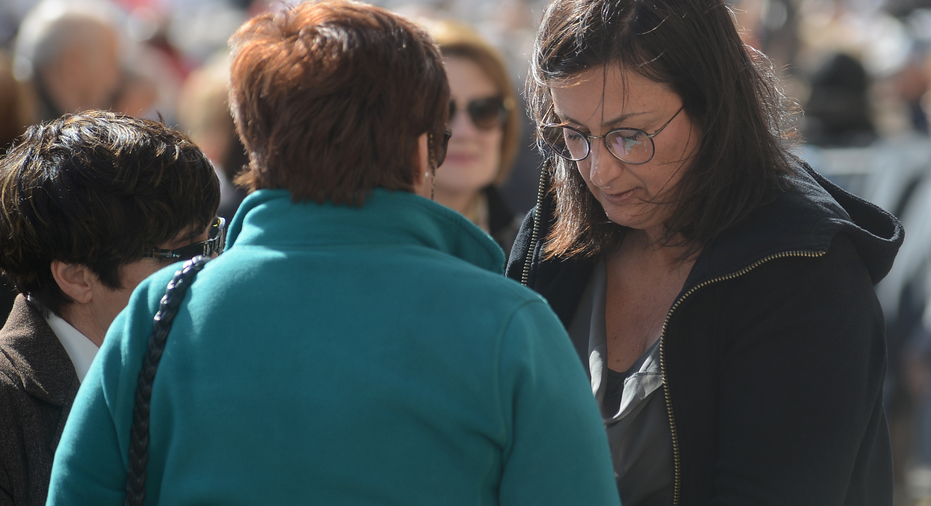 Malta, a tiny archipelago nation in the southern Mediterranean, is so attractive to those looking to shelter funds or operate under the radar of authorities that it's got a nickname to prove it: "treasure island."
Malta's reputation as a tax haven, its cozy links with nearby lawless Libya and its legal passports-for-sale program were just some of the topics that investigative reporter Daphne Caruana Galizia had dug into before she was blown up by a car bomb while driving.
That means investigators have many tangled paths to follow to discover who wanted the anti-corruption crusader dead as she drove down a country road Monday after filing her latest story about the proliferation of crooks in Malta, a European Union nation of 440,000.
The Italian daily La Repubblica, whose journalists had met with Caruana Galizia, said among the topics she was investigating in the last few months was Malta's place in a suspected trafficking ring for contraband Libyan oil.
Precisely that concern made headlines Wednesday, when prosecutors in Catania, Sicily, announced nine arrests, including of two Maltese men, in a black market diesel fuel trafficking scheme.
Prosecutors said the ring carried out some 30 sea voyages transporting fuel from a refinery west of Tripoli to boats off Malta, where the contraband was allegedly transferred and further shipped to Italy, where it wound up mixed in with gasoline for Italian motorists.
Among the nine suspects is an alleged member of the Sicilian Mafia, who prosecutors said had close links to the Maltese suspects.
Italian prosecutors said armed Libyan militias operating along Libya's coast near the Tunisian border were involved in the alleged diesel trafficking. It was not clear if the fuel smugglers were also involved in migrant trafficking, which has seen tens of thousands of migrants smuggled across the Mediterranean Sea from Libya to Europe.
Malta itself has a reputation as a tax haven, which has reportedly been attractive to the many online gambling companies that have set up shop there. But Italian prosecutors have warned for years now that the Naples-based Camorra syndicate and other Italian organized crime groups have heavily infiltrated international online betting operations.
Caruana Galizia came to international notice after she dug up Maltese links in leaked documents that emerged in the Panama Papers offshore accounts scandal, which revealed offshore companies held by politicians and other VIPs worldwide.
The same tax-haven reputation makes Malta, an EU member that also uses the shared euro currency, highly attractive for investments.
One of Caruana Galizia's favorite targets, Maltese Prime Minister Joseph Muscat, in interviews this week lamented that his nation's notoriety as a tax haven was undeserved. He insisted that Maltese financial institutions follow the same rules laid out by the European Commission for all members.
But a study published earlier this year, commissioned by the Greens/EFA group in the European Parliament, noted that Malta's on-paper flat tax rate of 35 percent for companies there actually works out to an effective tax rate of just 5 percent thanks to various refunds.
The study noted concerns as to whether Malta would meet all the criteria needed to avoid ending up the EU's "black list" of tax havens.
There has also been public outcry over Malta's program to offer passports for sale for 650,000 euros ($766,000), effectively allowing wealthy foreigners to buy their way into EU citizenship.
The government doesn't identify by nationality who bought the passports. But Malta's finance minister just last week announced that the program will be extended for another year due to its "success."
While Monday's slaying of the prominent journalist shocked the nation, the EU and journalists' groups worldwide, Malta is no stranger to car bombings.
In the last 10 years, there have been 15 Mafia-style bombings or similar attacks in Malta. Targets have included Maltese businessmen, a lawyer and some people with criminal links. Most of the reports about them say the crimes have gone unsolved.
"I am convinced that the Maltese authorities will do everything in their power to investigate and bring to light all the circumstances of this hideous crime," European Union chief Donald Tusk said Wednesday in Brussels.
Malta has asked forensic experts from the FBI and the Netherlands to help Maltese investigators probe Caruana Galizia's slaying. The journalist had reported receiving threats.
It's not clear if the bomb that killed her was placed in the car or on the road near her home and then detonated from a distance. Local media say she was driving a rented car.
European Union officials have indicated they will scrutinize the probe of the Caruana Galizia's slaying.
EU Justice Commissioner Vera Jourova said the bloc of nations was working on rules that would provide "better and stronger protection of whistleblowers." The journalist was killed "because she tried to find the truth, and she did it for all of us," Jourova said.
"We need brave people in the EU," she said.
___
Raf Casert and Lorne Cook contributed to this report from Brussels
___
Frances D'Emilio is on twitter at www.twitter.com/fdemilio