Boeing Stock Lands Nearly $1 Billion in Apache Attack Helicopter Contracts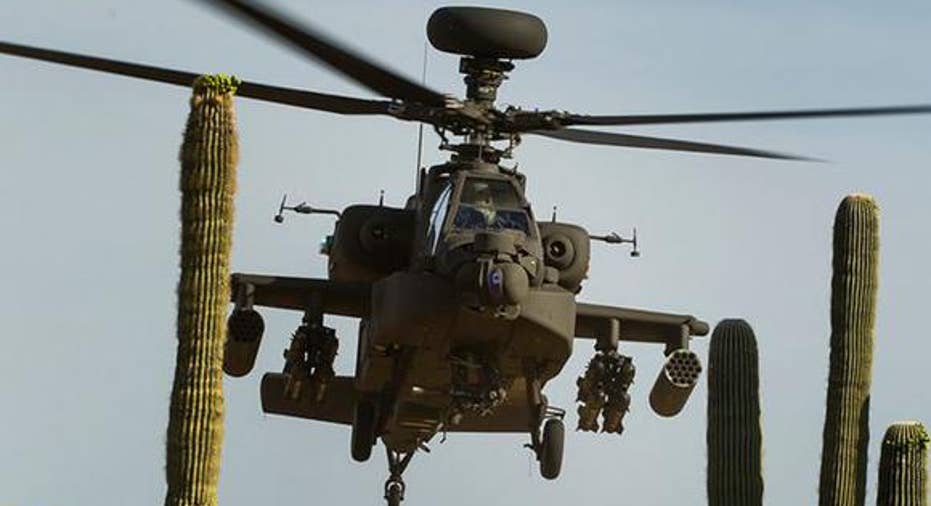 In the desert and out, Apache sales are heating up. Image source: Boeing.
Last month, Boeing won big when the U.S. Army placed an order for $896.9 million worth of CH-47F Chinook cargo helicopters. Last week, Boeing stock scored yet another win -- and once again, it was the U.S. Army opening its checkbook for Boeing.
The newsIn a major win for the Chicago aerospace giant, the U.S. Pentagon has asked Boeing to supply it with 117 remanufactured AH-64E Apache attack helicopters. "Remanufactured" is Pentagon-speak for "upgraded." In the context of Apaches, it generally refers either to AH-64E models that have been simply refurbished, or to older-model Apaches (-64As, Bs, Cs, or Ds) that have been upgraded to the -64E configuration.
This -64E configuration is currently the most modern Apache variant. Like the -64D before it, it includes the modern Longbow radar system, and features powerful new T700-GE-701D engines from General Electric, improvements in digital connectivity (including the ability to command and control unmanned aerial vehicles), and new composite rotor blades, which increase the helo's speed, climb rate, and payload.
Follow the moneyBoeing's new Apache contract, announced in the Pentagon's daily summary of contract awards on April 7, is actually a supplemental contract building on an earlier Apache production contract originally awarded to Boeing back in April 2014 -- a contract that was initially valued at only $103.8 million. Last week's award, however, vastly outweighs the size of the contract initially awarded to Boeing, adding $922.6 million in new funds to the Army's order.
In fact, when you factor in previous additions to the original contract -- including a $591.2 million order for 35 AH-64E Apache newbuilds placed in February 2015, the original contract has now swelled more than 15 times in size -- in just two years.
Boeing Stock

Market capitalization

$86.9 billion

Revenue

$96.1 billion

Net profit

$5.2 billion
DATA SOURCE: YAHOO! FINANCE.
How much is this contract worth to Boeing? Well, let's consider.
Boeing's Military Aircraft division builds the Apache. According to data from S&P Global Market Intelligence, this is Boeing's second-largest business, and took in $13.5 billion in revenue last year -- 14% of companywide revenue. It's also one of Boeing's more profitable divisions, earning pre-tax profit margins of 9.8%.
Thus, even if we assume that General Electric will ultimately receive part of the funds under this contract as the engine subcontractor, the likely profit for Boeing across the two years this contract has been growing still works out to more than $158 million (on more than $1.6 billion in total revenue). Last week's award alone should contribute more than $90 million of that profit, or about $0.14 per share.Should you buy Boeing stock?Within the big bucket of $5.2 billion that is Boeing's annual profit ($7.44 per share), a mere $90 million won't make much of a splash. Big as it is, even this contract is not in and of itself a reason to buy Boeing. First, you need to take a look at the valuation of Boeing stock as a whole.
Boeing Stock

Price-to-earnings ratio

17.6

Price-to-free cash flow

12.6

Price-to-sales

0.9

Projected 5-year growth rate

10%

Dividend yield

3.3%
DATA SOURCES: YAHOO! FINANCE, S&P GLOBAL MARKET INTELLIGENCE.
Valued on its price-to-earnings (P/E) divided by growth, Boeing boasts a PEG ratio of 1.8, which is right in line with the rest of the S&P 500 and suggests that at the very worst, Boeing stock is not frightfully expensive. The stock has also dropped 0.6 P/E points over the past month, so relatively speaking, it's cheaper than it once was.
At the same time, Boeing's price-to-free cash flow ratio, when divided by its growth rate and dividend yield (EV/FCF/growth), works out to less than 1.0. Boeing stock also sells for less than its price-to-sales ratio, and defense stocks ordinarily cost about the equivalent of sales. Both these facts suggest to me that Boeing stock is currently undervalued.
Long story short, it's not often you see this nice a price on the world's premier aerospace company. I can think of worse times to buy Boeing stock.
The article Boeing Stock Lands Nearly $1 Billion in Apache Attack Helicopter Contracts originally appeared on Fool.com.
Rich Smith does not own shares of, nor is he short, any company named above. You can find him onMotley Fool CAPS, publicly pontificating under the handle TMFDitty, where he's currently ranked No. 283 out of more than 75,000 rated members. Follow him on Facebook for the latest in defense news.The Motley Fool owns shares of General Electric Company. Try any of our Foolish newsletter services free for 30 days. We Fools may not all hold the same opinions, but we all believe that considering a diverse range of insights makes us better investors. The Motley Fool has a disclosure policy.
Copyright 1995 - 2016 The Motley Fool, LLC. All rights reserved. The Motley Fool has a disclosure policy.