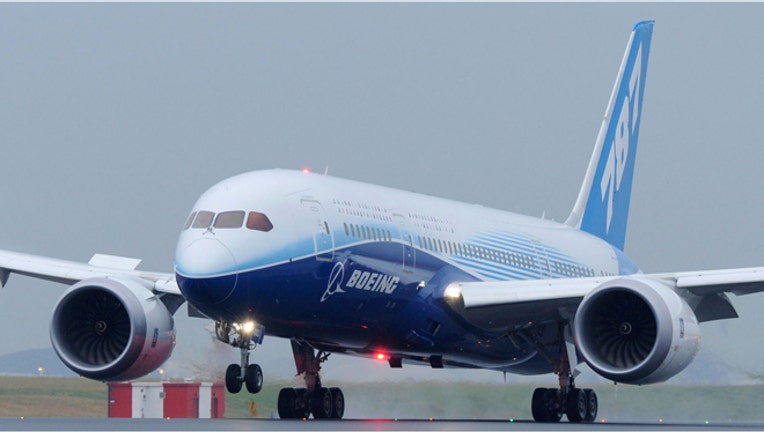 Shares of Boeing (NYSE:BA) slumped 3.5% Wednesday after All Nippon Airways grounded its fleet of 787 jets following a series of problems that most recently prompted an emergency landing.
The National Transportation Safety Board, which launched a probe into the Dreamliner last week following a fire in an auxiliary battery on a grounded flight, is now sending an investigator to Japan accompanied by representatives from the Federal Aviation Administration and Boeing to expand its investigation.
All Nippon Airways and Japan Airlines, which together operate half of the Dreamliners currently in operation and have been front and center in the lion's share of recent 787 problems, said they would park all 24 of their Dreamliners for at least two days.
The All Nippon Airways crew received multiple battery-fault warnings and said smoke and an odor filled the cockpit shortly after takeoff early Wednesday morning local time, according to initial reports. The jet landed less than 20 minutes after takeoff and there were a few minor injuries reported during the evacuation.
The mishap mounts on concerns regarding the safety of Boeing new, fuel-efficient 787 that the Chicago-based jet maker hoped would be revolutionary to the aerospace sector. The aircraft boasts the newest aviation technology and is expected to be lighter than predecessors and targeted for trans-Atlantic flights.
Several problems were reported last week by Dreamliner operators, nearly all by All Nippon Airways and Japan Airlines, including several fuel leaks, a crack in a cockpit window mid-flight and a fire in Boston. Many issues have been tied to problems with the auxiliary battery pack.
Among other 787 operators are United Airlines (NYSE:UAL). The largest U.S. carrier told FOX Business last week that it was continuing to work with the jet maker over the reliability of its 787s and has inspected all of its 787s, which are flying as scheduled.
Regulators, including the FAA, have launched an investigation but have not yet issued an order to ground the planes.
Boeing did not immediately respond for a comment but has continuously said it is aware of the issues and working with its customer.
The recent issues come on top of a two-year delivery delay following operational and developmental hiccups. The FAA last week said its investigation would look into several aspects of the 787's development, including manufacturing.
Shares of Boeing slipped about 3.2% to $74.49 Wednesday morning.